Serve up this chunky dip made from creamy butternut squash and a zesty blend of herbs and spices!
This low-hassle dip packs fresh herbs and spices for a recipe you'll want to add to your regular snack routine (warning: it's addicting!) Serve it with sliced veggies or Paleo crackers to munch on.
Butternut squash is a popular winter squash that tastes naturally sweet and nutty. When combined with spices like curry and tahini, it creates a kick with an earthy tone. Added garlic powder, fresh parsley, and lemon juice offer a bit of zest, while roasted pine nuts give it an extra crunch. If you're looking to be a bit more adventurous, you can also add extra spices like chili flakes, curcuma, or saffron.
Want to snack smarter and curb cravings? Get your FREE 25 Healthy Paleo Snacks Cookbook here.
Click here to get your FREE copy of our Snack Recipes Cookbook!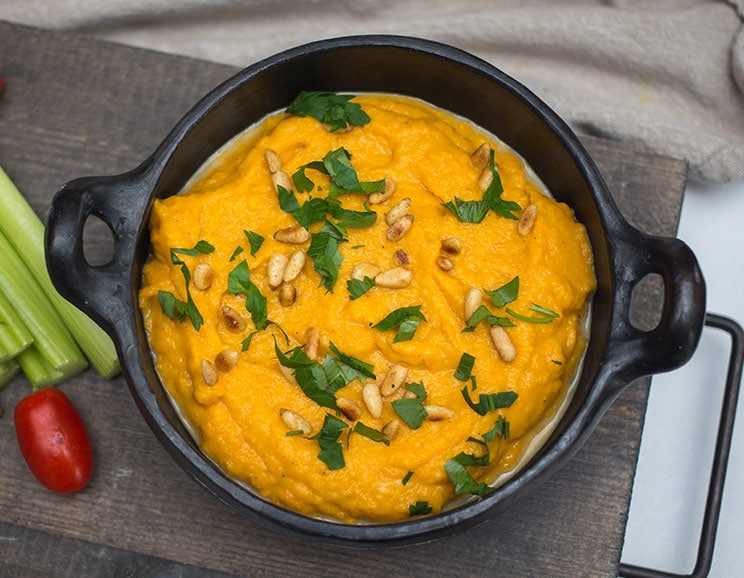 To get started, place the chopped butternut squash onto a baking sheet. Drizzle one tablespoon of olive oil with salt and garlic powder before baking for 30 minutes.
When finished, add the roasted squash into a blender and blend into a smooth purée. Make sure to blend out any large pieces and add the rest of the ingredients to the mixture. Sprinkle with parsley and pine nuts on top. Serve and enjoy!
Tip: Make a big batch ahead of time and serve when ready to enjoy. You can freeze in an airtight container for up to two months.
Sophie Viau
Chunky Butternut Squash Dip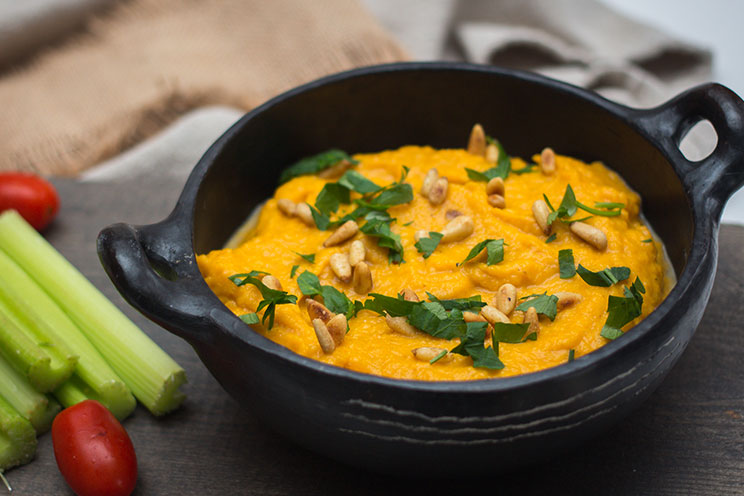 Inactive Time:
1 hr
1 hour
Cook Time:
50 mins
50 minutes
Prep Time:
10 mins
10 minutes
Chunky Butternut Squash Dip
Serve up this chunky dip made from creamy butternut squash and a zesty blend of herbs and spices.
Tools
Baking sheet

Blender

Medium bowl
Ingredients
3 cups butternut squash, chopped

1 t garlic powder

1 t of salt

2 T olive oil, divided

2 T tahini

1 T lemon juice

1 t curry powder

2 T water

Salt and pepper to taste

3 T pine nuts

¼ cup fresh parsley, chopped
Instructions
Preheat the oven to 350˚F.

Place butternut squash onto a baking sheet. Sprinkle with garlic powder, salt, and 1 tablespoon of olive oil.

Bake for 45 minutes, or until the butternut squash is fully cooked. Remove from the oven and let it cool.

In a blender, combine the cooked butternut squash, tahini, the remaining olive oil, lemon juice, and curry. Add the water in small amounts until the dip reaches your desired consistency. Season with salt and pepper.

Transfer to a bowl and let it cool in the fridge for at least one hour.

In the meantime, wipe the baking sheet clean and spread the pine nuts on top. Bake them at 375°F for 5 minutes, stirring halfway. Keep an eye on them since they tend to brown quickly.

Sprinkle the cooled dip with pine nuts and fresh parsley. Serve and enjoy!
Looking for Paleo ingredients? Here are a few we'd recommend:
Garlic powder (Frontier)
Pine nuts (NOW Foods)

(You'll Also Love: 21 Deliciously Easy Dip Recipes
)