If you haven't cooked with butternut squash yet, this easy and delicious Butternut Squash Soup recipe is a wonderful way to start. You get warm, comforting and soothing flavors all in one hearty bowl.
This velvety soup has all the elements of a perfect fall meal: the creaminess of the butternut, the amazing aroma of smoked paprika and cumin, and the softness of coconut milk. For a subtle sweetness, roasted coconut flakes and pomegranate seeds top this butternut squash soup.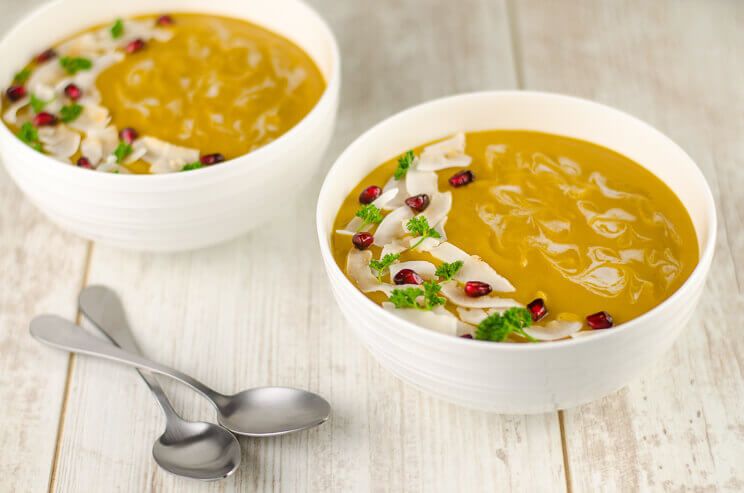 Preparing the butternut isn't hard as it seems—just be prepared with a good chef's knife and a sturdy peeler. Begin with washing the squash, and then peel it and split it lengthwise. Scrape out the seeds using a sharp-edged spoon, lay it on the flat side on a chopping board and start cutting it into small cubes. To cube the trickier rounded bottom of the squash, slice it into manageable half-moons and then cut them at an angle.
Want to go Paleo? Not sure where to start?
Start with this FREE Paleo For Beginners Guide Today!
This recipe is easy and quick. In under 30 minutes, you'll have the creamiest butternut squash soup you've ever tasted. Serve it straight from the blender, or make it the day before and reheat it!
Dina Hassan
The Best Butternut Squash Soup Recipe

Cook Time:
30 mins
30 minutes
Prep Time:
15 mins
15 minutes
The Best Butternut Squash Soup Recipe
This velvety soup recipe gives you the warm, comforting and soothing flavors you've been craving in one bowl.
Ingredients
For the Soup:
1 medium to large butternut squash

1 shallot

1 carrot

2 sweet potatoes

4 cups vegetable broth

½ cup coconut milk

1 t salt

1/4 t ground black pepper

1 t ground cumin

1 t smoked paprika
For the Garnish:
1/3 cup large coconut flakes

2 T chopped parsley

2 T pomegranate seeds

1/4 cup full-fat coconut milk
Instructions
Peel the outer skin of the squash, scrape out the seeds, and cut into small cubes.

Chop the shallot, carrot and potato into similar-sized cubes.

Heat the oil in a large pot over medium heat and add squash, shallot, carrot and potato. Saute for 5 minutes, or until lightly browned and the shallot is translucent.

Add the vegetable broth, coconut milk, salt, pepper, cumin and smoked paprika. Bring the pot to boil, cover and reduce the heat. Simmer for 25-30 minutes or until the squash and vegetables are tender.

While the soup is cooking, toast the coconut flakes over low heat, until fragrant and golden at the edges, then transfer to a bowl and set aside.

Remove the soup from heat, and let cool slightly. Working in batches, transfer the contents of the pan to a blender. Be careful to avoid splatters (soup will be hot!).

Blend until smooth. Pour into a large serving bowl.

Ladle soup into individual serving bowls. Use a spoon to drizzle coconut milk over each bowl, then lightly swirl a toothpick through the topmost layer.

Top with toasted coconut flakes, chopped fresh parsley and pomegranate seeds.

(You'll Also Love: Noodle-Less Butternut Squash Lasagna)