According to the research, 80% of people will have lower back pain at least one time in their life.
There are typically two primary causes of lower back pain: repetitive movements and prolonged postures. Repetitive movements could be constantly picking up things from the floor with poor mechanics or running with poor mechanics. Prolonged postures could be sitting for long periods of time. More often than not, they are the two culprits that lead to lower back pain.
There is hope, however. Studies have shown that poor hip motion, poor hip strength, and poor middle back motion are all risk factors for lower back pain. The good news: These can improve with proper exercise. The key is that you choose exercises that are appropriate for your back pain.
Suffering from a sore neck, back and shoulders? Get our mobility guide to ease pain and soreness.
Get The FREE Mobility Guide To Fix Your Pain Today!
Many of you reading this may have already seen a doctor. Others have been suffering from back pain and are unsure where to begin. In this article, I will map out where to start based on where you are symptom-wise. Lastly, for those of you who have gotten an MRI and discovered changes, there is hope. Oftentimes, imaging does not correlate to pain. In fact, here is a direct quote from a big review in 2014:
Signs of degeneration are present in a very high percentage of healthy people with no problem at all. Many imaging-based degenerative features are likely part of normal aging and unassociated with pain.
The Problem with Lower Back Pain Rehabilitation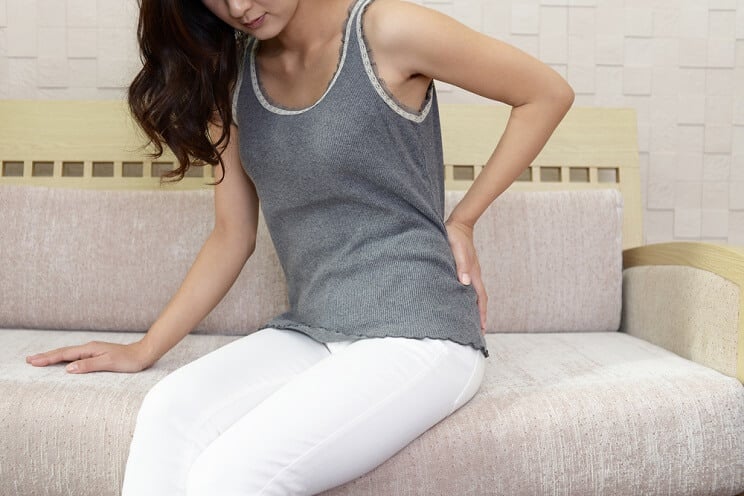 For those of you who have gone through some sort of formal rehabilitation, I am sure you are familiar with the cue of "draw your belly button to your spine." Formally, this is called abdominal hollowing. This has been a "go to" for many rehab professionals in the first phase of rehabilitation for low back patients. The idea of this hollowing was due to research noting there was a delay in the firing pattern of the transverse abdominal muscle (deep core muscles) in those with lower back pain. By trying to isolate the TrA muscle without the big rectus abdominal muscles (six-pack muscles), they thought they could improve low back pain. Makes sense, right? Turns out there was more to it.
Let's review some anatomy. The core is composed of multiple layers of muscle. You have your deeper core muscles, like the transverse abdominis and multifidus, and you have your more superficial muscles, like the rectus abdominis and internal/external obliques. As a group, all of these muscles make up the abdominal wall. So what gives?
Bring in the leading researcher Dr. Stuart McGill, who discovered through his research that all the muscles around the spine were compromised and delayed when LBP occurred. Therefore, by isolating only the TrA, the other muscles around got weaker! Dr. McGill found that abdominal bracing, the contraction of all core muscles, was a better program. Creating stability with all the muscles around the spine protected the back better.
As for why your low back feels "tight," the muscles in your low back become overactive and tighten as a way to act as a protective mechanism for the spine. And while tightness in your low back may make you feel like you need mobility, more often than not, lack of stability is the missing link.
Finally, it is important to be able to retrain your body so that it has spinal position awareness. Understanding what a good spinal position is will help tremendously for daily activities. Also, the ability to separate out hip movement from lumbar movement is crucial for maintaining spine health
---
7 Exercises for Mild to Severe Lower Back Pain
If You Have… No Pain to Mild Pain
1. Cat-Camel
2. Bent Knee Fallout
3. Hip Hinge
4. Quadruped Rockback
5. Glute Bridge
6. Side Plank
7. Standing Controlled Weight Shift
If You Have… Moderate to Severe Low Back Pain
1. Cat-Camel
2. Bent Knee Fallout
3. Hip Hinge
*Note: Limit your hip hinge to very small movements if in pain.
Cat-Camel | 3 sets of 15


The cat-camel movement is a safe range of motion movement. It is primarily used in the beginning stages of rehabilitation, but can be used throughout. The key is to avoid end range positions and instead work through the motion.
Get into an all fours position. First, round your back up towards the ceiling. You may feel a light stretch in your back. Next, let your back sway down towards the floor. Be sure to avoid head and neck movement. Perform nice and slowly.
Bent Knee Fallout (Safe Movement) | 3 sets of 10 per side


The bent knee fallout is an easy exercise to begin getting movement around your low back. The key is to keep your hips level as one leg falls out to the side. In other words, do not let your entire pelvis shift to the side of leg movement.
Lie on your back and keep your knees bent. Keeping your low back flat, slowly move one knee out to the side under control. Once your low back begins to move, stop and return to the starting position. This should be pain-free and under control.
Hip Hinge (Proper Movement) | 3 sets of 10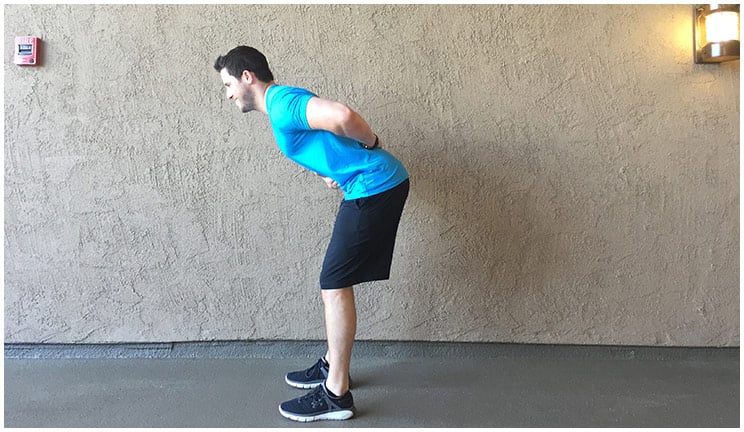 The hip hinge is one of the most important exercises to retrain movement patterns. This exercise will help you improve your spinal position so that you can begin the path of recovery or for prevention of future back injuries. Learning how to hinge from your hips instead of your back will help you complete daily activities safely.
Stand tall and place one hand on your belly and one hand on your lower back. From there, keep your core engaged and "push" your hips back slowly while maintaining a relatively "neutral" spine position. In other words, avoid flexing your lower back or arching it too much.
Quadruped Rockback | 3 sets of 15


The quadruped rockback exercise is designed to help you learn proper squatting mechanics and dissociation of hip and lumbar spine. Similar to the hip hinge, we are trying to retrain movement patterns here. Again, if your hips begin to tuck under into flexion, you will be putting undue stress on your lower back.
Get into an all-fours position. Arch and flex your back and find the center position. Maintain that center or "neutral" position and slowly sit back onto your heels. Stop when you begin to round your low back. If you are struggling to maintain that neutral position, push through your arms to help engage your core further.
Glute Bridge (Glute) | 4 sets of 12


Lie on your back. Begin the exercise by contracting your glutes and pushing through your heels to bridge up. Maintain a flat back while you do this. Slowly bring your hips down and repeat. You should feel this exercise in your glute muscles.
Side Plank (Outer Core) | 2 sets of 30-45 seconds per side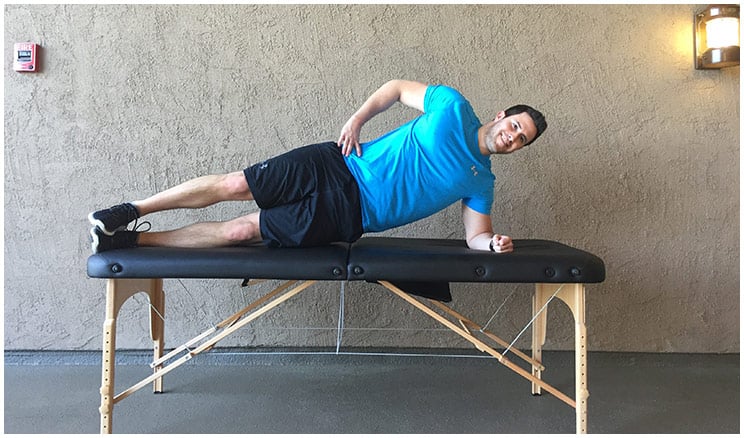 Place your elbow directly under your shoulder and feet stacked. Plank up and squeeze your glutes to ensure you are in a straight line. You should feel this in your outer core muscles.
Standing Controlled Weight Shift (Outer Core) | 3 sets of 10 per leg


Most of us think of working the core in a lying down position or a plank. However, we must learn to train our core in a functional position as well. The standing controlled weight shift does just that.
To perform this exercise, get into a shoulder-width position. Keeping your core engaged, slowly begin to march one of your legs up. The key is to avoid "shifting" more than a few inches towards the stance leg. If you need a cue, stand 3-5 inches away from a wall when performing this exercise.
While these exercises have starting sets and repetitions, be sure to continue to increase time and reps so that your back becomes more endurable. Studies have shown that endurance in the back muscles is very important in maintaining a healthy back.

(Read This Next: How to Use a Foam Roller for Back Pain)