This simple, natural eyeliner is made of activated charcoal that's free of icky toxins. The best part: it'll stay put throughout your day, and it won't smudge!
When it comes to your eyeliner, choosing (or in this case, making) one that's natural and free of toxins is essential—especially since it's applied so close to your waterline. Remember, it's not uncommon for the ingredients in store-bought eyeliners to irritate eyes and the skin around it.
I knew I had to make a change when I realized my eyeliner contained aluminum (an ingredient that may cause cancer when absorbed into the skin). I decided that if I was going to continue wearing eye makeup (even on a limited bases), I needed to find an alternative.
Want naturally radiant skin? We've created a FREE guide to give you the best tips & tricks for natural skincare. Click here to grab your copy!
Looking for a DIY solution, I searched my kitchen cabinets and thought about what I could possibly use to recreate the gel eyeliner I once loved.
Activated charcoal can be used to help reduce intestinal gas, treat poisonings and overdoses, and prevent hangovers. (1) It also has numerous topical uses, including a natural way to whiten teeth and a detoxifying ingredient in facial masks and scrubs.
Coconut oil is used to transform the activated charcoal into a gel-like consistency. This powerful ingredient also acts as a natural moisturizer, and it has many other benefits.
From start to finish, this natural eyeliner recipe takes no more than 15 minutes to create (including cleanup). My favorite part about it is that it's simple, and I know every ingredient that's inside of it.
Before you start, I recommend wearing an old t-shirt you don't mind getting stained. Activated charcoal can get messy.
There are a number of variations to this natural eyeliner recipe. First, there's the activated charcoal. You can either use loose, powdered charcoal, or simply unscrew capsuled charcoal. Next, you can opt to mix the activated charcoal with water, extra-virgin olive oil, almond oil, or (our recommendation) coconut oil.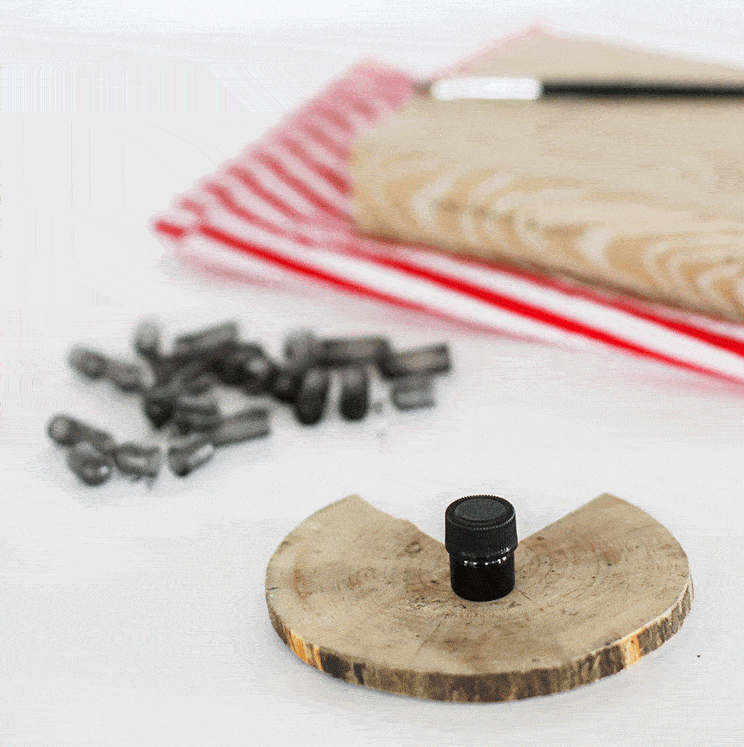 Here's some things to remember about this recipe:
After you make it, you'll notice that the consistency in the jar will have a more "wet" look than a traditional gel eyeliner. But once applied, it'll have a matte finish. My eyeliner basically stayed in the same consistency it was in after it cooled.
To remove this activated charcoal eyeliner, you can use fresh coconut oil, olive oil, or plain old water. I recommend using a face cloth, which will help thoroughly rub the charcoal off your skin. Keep in mind that if you're wearing other hard-to-remove makeup (such as mascara), coconut oil can also help remove that from your face.
If you want to get a classic look (dark and pigmented), use coconut oil. But for a less dramatic effect, use water in your mix. Then you'll create a less pigmented, softer look.
After I applied the DIY eyeliner and waited 60 seconds for it to dry, it didn't smudge or fade, despite wearing it for an entire day.
Destiny Lalane
Homemade Natural Eyeliner with Activated Charcoal & Coconut Oil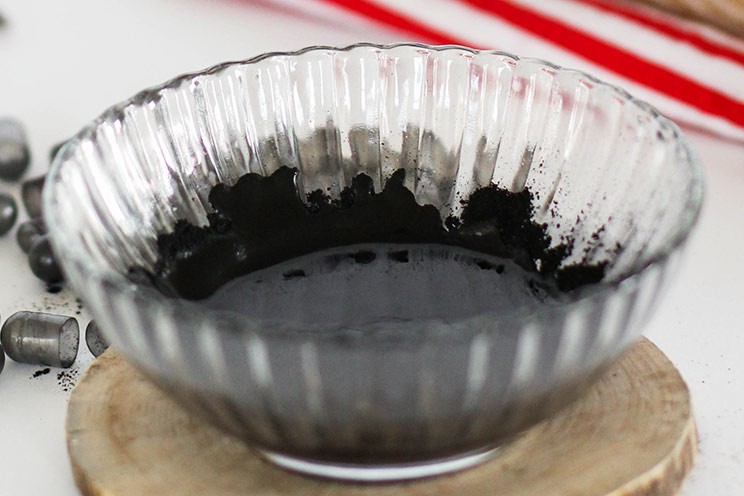 Cook Time:
10 mins
10 minutes
Prep Time:
5 mins
5 minutes
Homemade Natural Eyeliner with Activated Charcoal & Coconut Oil
This simple, toxin-free 2-ingredient eyeliner is all-natural, and won't smudge!
Tools
Medium Bowl

Spoon

Saucepan

Small Jar or Container

Eyeliner Brush
Ingredients
10 activated charcoal capsules

2 t coconut oil (or 4 t warm water)
Instructions
First, you'll want to make sure that your work station is prepped with an old towel or t-shirt. Due to the nature of activated charcoal, it can potentially stain light tabletops, counters, and dishware.

Take a medium-sized bowl, and place it in front of you. Place a cup of your activated charcoal capsules to the side.

If you're using powdered charcoal, simply pour your charcoal into the bowl. If you're using capsuled-activated charcoal, gently unscrew each cap one-by-one, and dump the activated charcoal into the bowl in front of you.

Throw out the empty capsules, or wipe down any charcoal that may have fallen during the process.

Place a saucepan on your stove, and set the temperature on low. Head the coconut oil (or water) for 2 minutes (or until completely melted).

Pour the coconut oil into the bowl of activated charcoal. Mix until smooth.

Let the mixture sit for 5 minutes (or until cooled).

Use an eyeliner brush to apply the finished product. If you're using a brush from your previous makeup kit, don't forget to wash your brush to remove toxins, residue, and bacteria. If you used coconut oil to make your eyeliner, apply it like regular liquid eyeliner. If you used water, press to apply.

Store in a room-temperature or cool area.

(You'll Also Love: DIY Organic Powder Foundation Recipe + Beetroot Blush Recipe)