This braciole-inspired recipe with a Paleo twist is perfect for a cozy date night at home. Fresh herbs and almond meal are rolled in sliced steak for a romantic meal for two.
They say the way to a person's heart is through their stomach. This home-cooked meal is the perfect way to celebrate a romantic night with that special someone. Inspired by the timeless Italian recipe for braciole, this old-world dish gets a Paleo makeover by using almond meal instead of breadcrumbs or grated cheese. Almond meal creates a bready texture. And when fused with aromatic herbs, it takes on a cheese-like flavor.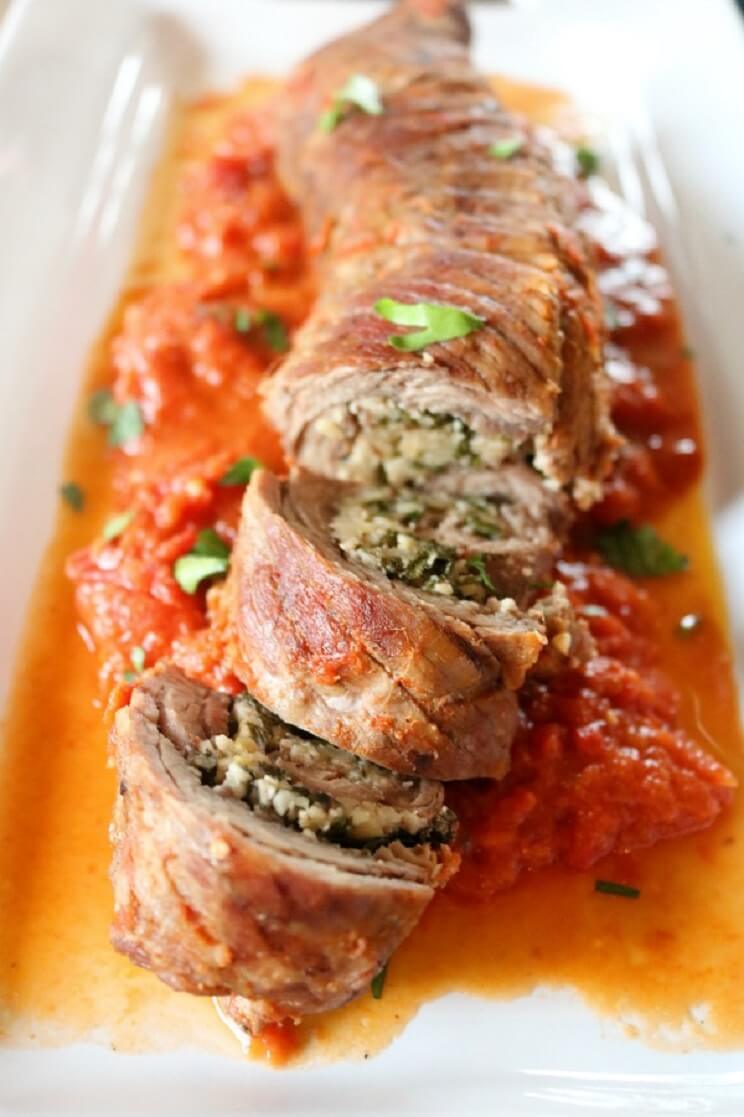 Start by prepping the steak. Use a sharp knife to butterfly the steak down the side, taking caution not to cut holes. You can also ask your butcher to butterfly the steak for you; most will be happy to. Season the steak with some sea salt and black pepper on both sides. Next, mix the ingredients for the filling, and evenly spoon the mixture over steak.
Love slow cooker recipes?
Click here to get your FREE copy of our delicious Slow-Cooker Recipes!
Now let's get rolling (pun intended). Starting from the longest side, use your hands to tightly roll up the steak. To hold the steak while it braises, secure it with twine. Brown the steak on both sides, and pour in crushed tomatoes.
You can sprinkle in a few extra herbs to season the sauce. Oregano, basil, or a sprig of rosemary will do.
This recipe doesn't take long to cook, thanks to the thinness of the steak. About an hour or 1 ½ hours is plenty of time for the steak to braise. The flavor of the browned steak will also infuse into the tomatoes, making for a mouth-watering, savory dish.
Once tender, snip off the twine with scissors, and slice the steak into pinwheels that're about 1-2 inches thick. Serve with tomato sauce and a glass of your favorite organic red wine.
Jennafer Ashley
Romantic Braciole-Inspired Paleo Recipe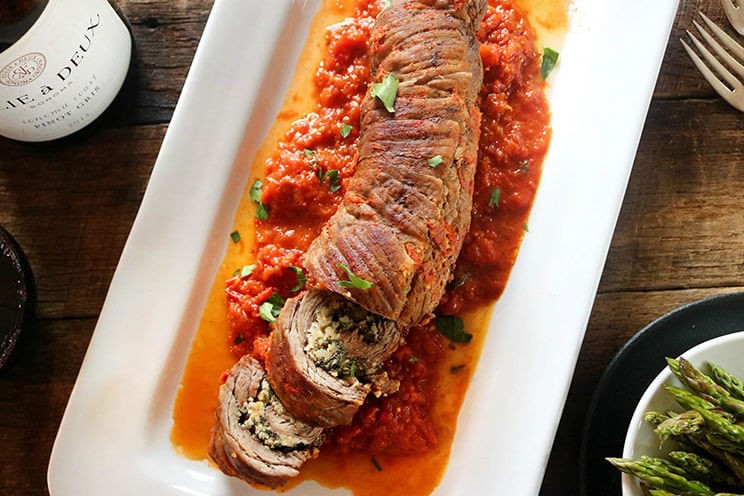 Cook Time:
1 hr 30 mins
1 hour 30 minutes
Prep Time:
15 mins
15 minutes
Romantic Braciole-Inspired Paleo Recipe
Fresh herbs and almond meal are rolled in sliced steak for a romantic meal for two.
Tools
Sharp knife

Small bowl

Twine

Dutch oven

Tongs
Ingredients
1 lb flank steak

1/2 cup fresh parsley (chopped)

1/2 cup fresh basil (chopped)

1/3 cup almond meal

1 t minced garlic

2 cups crushed tomatoes

1/2 t sea salt (divided)

1/4 t black pepper (divided)

2 T extra virgin olive oil
Instructions
Using a sharp knife, butterfly the steak lengthwise. Season both sides with half of the salt and pepper.

In a small bowl, combine parsley, basil, almond meal, garlic, 1 tablespoon extra-virgin olive oil, and the remaining salt and pepper. Sprinkle the mixture over the steak to cover the surface (1 inch from the edges).

Roll the long end of steak to form a spiral log. Secure with 3-4 pieces of twine. Heat 1 tablespoon of extra-virgin olive oil in a Dutch oven over medium heat. Brown steak on 1 side for 5 minutes. Then using tongs, flip it over, and brown an additional 3 minutes.

Pour tomatoes into Dutch oven, and cover with lid. Reduce heat to low and cook for an hour and a half.

Remove steak from Dutch oven, and place onto serving plate. Remove twine and slice steak. Serve with crushed tomato sauce.
Tip: For a complete date-night meal, serve one of these side dishes with the main course:


(You'll Also Love: One-Pan New York Strip Steak Dinner for Two)