The secret behind these creamy chocolate truffles that taste sinfully good? A powerful, healthy ingredient: avocado!
Made with just a handful of ingredients, these treats are free of the refined oil and sugar found in store-bought treats. Instead, these homemade truffles are naturally sweetened with dates, while avocado creates a silky texture and adds a dose of healthy fat.
Start by blending the ingredients for 5 minutes until the batter is smooth and creamy. Depending on the size of your avocado, a little extra coconut flour may be required. Add a tablespoon at a time, until the right consistency is reached. The batter should be thick enough that it can be rolled into balls.
Love Paleo Desserts? Then you'll love our FREE Paleo Dessert Cookbook.
Click here to get your FREE copy of our delicious Dessert Recipes!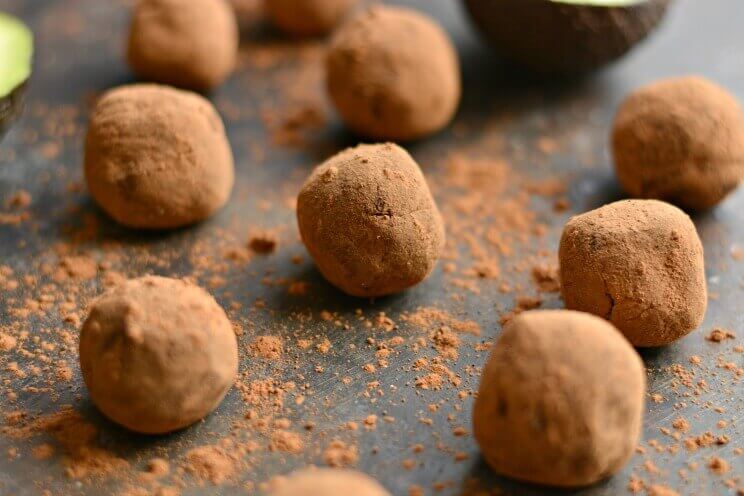 Next, roll the batter into bite-sized balls. Then transform them into decadent truffles by rolling them over a piece of parchment paper with dark cocoa powder sprinkled on top. The "dusting" gives the truffles a coating of chocolatey goodness.
Once they're dusted, transfer to the refrigerator to harden 1-2 hours. Store them in the refrigerator when they're not being eaten to maintain their firmness.
Eat these cacao avocado truffles as a healthy snack on-the-go or bring them to a party to share with friends. But between you and me, you may want to keep them to yourself.
Tips:
You can make these truffles extra-decadent by adding cacao nibs and shredded coconut flakes to the dusting!
For a super smooth texture, soak the dates for a minimum of 3 hours before draining.
Megan Olson
Silky Dark Chocolate Avocado Truffles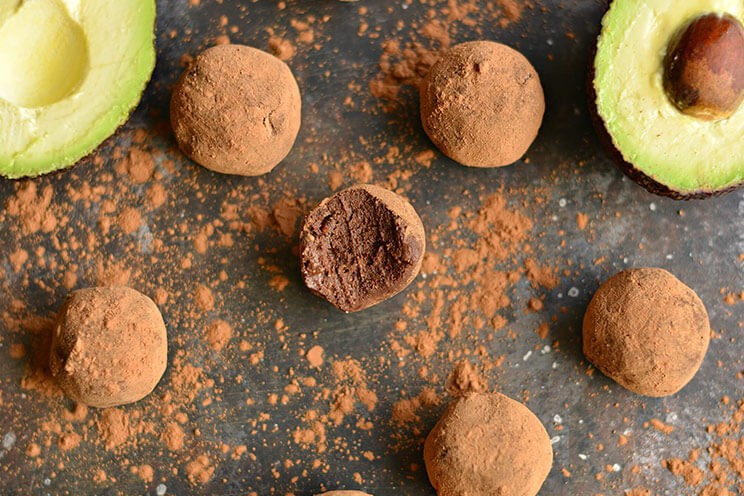 Prep Time:
10 mins
10 minutes
Silky Dark Chocolate Avocado Truffles
The secret behind these creamy, antioxidant dark chocolate truffles that taste sinfully good? A powerful, healthy ingredient: avocado!
Tools
Blender

Parchment Paper

Tape
Ingredients
1 ripe, medium avocado

½ cup dates, soaked and drained

¼ cup dark cocoa powder + 2 T reserved for dusting

1 ½ T melted coconut oil

1 ½ T coconut flour

dash of sea salt
Instructions
Place all ingredients in a blender (except for the 2 tablespoons of cocoa powder, which are reserved for dusting).

Blend on high for 5 minutes (until silky smooth).

Prepare an assembly line with a plate and a parchment paper. Tape the paper down to prevent it from moving. Sprinkle it with the 2 tablespoons of cocoa powder.

Scoop one tablespoon of the batter and roll into a ball.

Roll the ball over the cocoa powder on the parchment paper. Place it on the plate.

Repeat until all batter is rolled into balls and covered in cocoa powder.

Refrigerate balls 2-3 hours until hardened and enjoy!

(You'll Also Love: Chocolate Turmeric Truffles with Coconut Oil)