Feed your French fry craving with these crunchy turnips roasted to golden-brown perfection!
This no-fry alternative cuts down the carbs and nixes the preservatives you'd find at fast-food joints and spices things up with flaky sea salt and garlic! Pair them with a Paleo dipping sauce and serve alongside your favorite burger or sandwich.
Fiber-rich turnips are super crunchy, low in carbs, and are extremely versatile to cook with. Similar to white potatoes, you can use them in a variety of different recipes like roasts, salads, or casseroles. When prepping, trim and save the leafy greens on top so you can sauté them with bacon or add to soups later.
Looking for low carb keto recipes to burn fat and lose weight?
Click here to get your FREE Keto Breakfast Recipes Cookbook!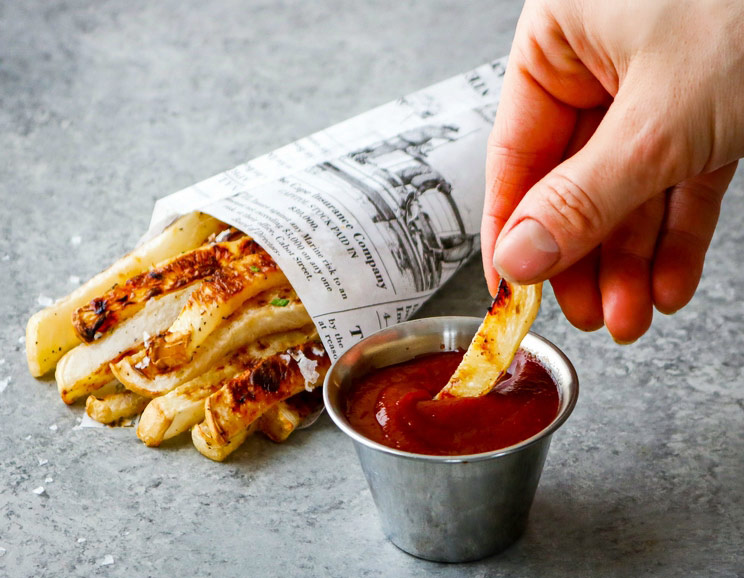 The ABCs for Roasting the Crispiest Turnip Fries
The first step is setting your oven to a temperature of 425°F. This high-heat temperature is ideal for browning and takes half the time it would if you were to bake them at anything lower.
When shopping for turnips, choose the largest ones available for easier slicing. The trick is to cut them into half-inch rounds first, then slice each round into quarter-inch strips. This will create a more uniform "fry" look that'll evenly roast in the oven.
Once the fries are sliced, toss them with a bit of avocado oil, garlic powder, chives, and black pepper for seasoning. To prevent them from sticking to each other, spread the fries evenly onto a prepared baking sheet and bake for 30 minutes. Make sure to flip them only once halfway through, since this will allow each side to equally fuse with the herbs.
Helpful Tips To Maximize Flavor:
Toss your turnips with added herbs. If you're looking to experiment with extra seasonings, try adding a bit of dill, green onion, or onion powder to the mix.
Coat with avocado oil or melted ghee. Both can withstand high baking temperatures without burning and have a higher smoking point compared to other oils.
Serve your fries immediately after roasting. These fries can lose their crispness quickly, so it's best to serve them hot with plenty of Paleo ketchup for dipping!
Jennafer Ashley
Low Carb Crispy Garlic Turnip Fries

Cook Time:
30 mins
30 minutes
Prep Time:
5 mins
5 minutes
Nutrition facts:
10 grams of protein
13 grams of carbohydrates
13 grams of fat
Low Carb Crispy Garlic Turnip Fries
Feed your French fry craving with these crunchy turnips roasted to golden-brown perfection.
Tools
10-by-15-inch baking sheet

Parchment paper

Medium mixing bowl
Ingredients
4 cups sliced turnips, cut into quarter-inch fries

1 T avocado oil

1/2 t garlic powder

1 t dried chives

1/8 t ground black pepper

1/4 t flaky sea salt
Instructions
Preheat the oven to 425ºF and line a 10-by-15-inch baking sheet with parchment paper.

Place the sliced turnips in a medium mixing bowl and drizzle the avocado oil on top.

Season with garlic powder, dried chives, and black pepper, then use your hands to thoroughly coat.

Place the coated turnips onto the prepared baking sheet and bake for 30 minutes, flipping halfway.

Serve hot and sprinkle with sea salt.
Looking for Paleo ingredients? Here are a few we'd recommend:
Avocado oil (Bella Vado)
Garlic powder (Frontier)
Black pepper (Frontier)
Sea salt (REDMOND)
Coarse sea salt (AztecSeaSalt)

(You'll Also Love: Crispy Golden Eggplant Fries Recipe)