Take your tastebuds on a Tuscan trip in a matter of minutes with this Mediterranean Baked Halibut with artichoke hearts, capers, and fresh salsa.
By now I'm sure you've noticed I am a huge fan of FAST and simple recipes. So, of course this Mediterranean Baked Halibut is both fast and simple.
If you have some fresh salsa on hand, you'll be able to assemble this simple meal in a matter of minutes! Seriously, two minutes and it's in the oven!
Love slow cooker recipes?
Click here to get your FREE copy of our delicious Slow-Cooker Recipes!
If you don't have any fresh salsa on hand, that takes just a few minutes to whip up, as well. Just throw some tomatoes, red onion, a little bit of cucumber, some jalapeno, and cilantro in your food processor and pulse it a few times to dice everything up into a quick and tasty salsa.
After that, you can just top all of your ingredients on your halibut, cover with some aluminum foil, and within 15 minutes you will have a complete melt-in-your-mouth dinner with minimal effort. The flavor is out of this world, and you barely had to pick up a knife!
The salsa adds tons of flavor (and veggies!) and keeps the halibut nice and moist. The artichoke hearts add some bulk, making this the perfect light but satisfying meal.
It's great for warm nights when you something light and refreshing. You can even try making this on the grill by making aluminum foil packets instead of using the baking dish. There's nothing like simple clean-up after a simple meal!
This is the perfect dish for a quick, effortless weekday dinner and makes great leftovers for an easy lunch the next day. It's also fancy enough to serve up as a dinner party meal. Let your guests think you slaved away in the kitchen for this amazing "gourmet" Paleo meal!
Deanna Dorman
Mediterranean Baked Halibut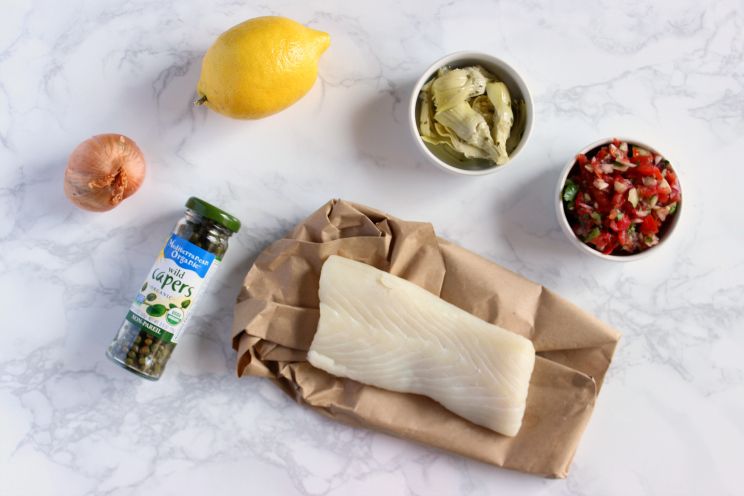 Cook Time:
15 mins
15 minutes
Prep Time:
5 mins
5 minutes
Mediterranean Baked Halibut
Ingredients
12 ounces halibut

2 T olive oil

1/2 cup fresh salsa or pico de galo

1/2 cup artichoke hearts

1 shallot, sliced thin

2 T capers

4 slices lemon

Salt and pepper to taste
How To Make It
1. Preheat oven to 400℉ and lightly grease a baking dish with olive oil or coconut oil.
2. Season both sides of the halibut with salt and pepper to taste and place in the baking dish.
3. Spoon fresh salsa on top of the halibut fillet and place the lemon slices over the salsa.
4. Arrange the artichoke hearts and sliced shallots around the fillet, and sprinkle capers over everything.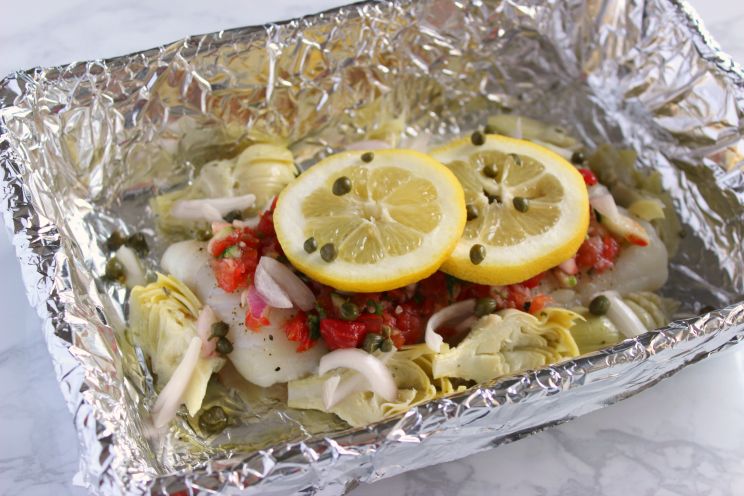 5. Cover the baking dish with aluminum foil and bake for 14-16 minutes or until the fish flakes easily with a fork.


(You'll Also Love: Sweet Honey-Baked Salmon)