Crispy-skin fish and creamy mashed cauliflower topped with oregano buttery goodness. This classic recipe is everything you need for an elegant and easy dinner.
Cooking a proper crispy-skin fish can be a little tricky as it can turn out soggy, but there are a few tips that can guarantee the perfect crisp. Make sure to dry as much of the skin's moisture as possible, as the excess moisture will turn into steam and soften the skin; pat the fish dry with paper towels, then let it set skin-side up on a wire rack for about an hour in the fridge.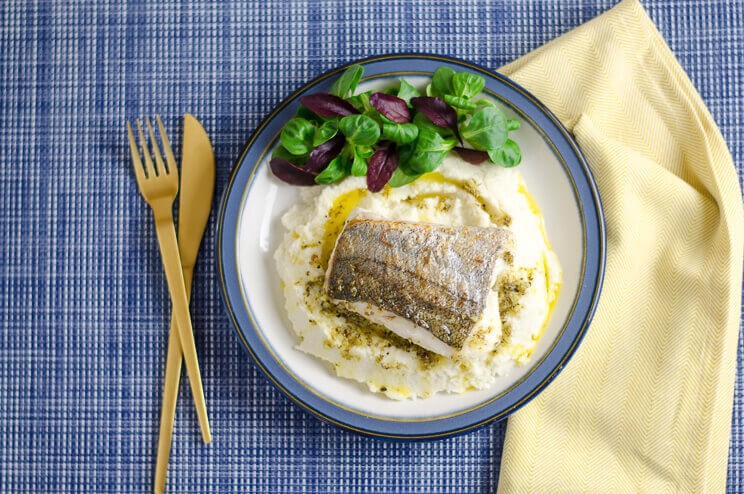 Tips on using the proper pan:
Love slow cooker recipes?
Click here to get your FREE copy of our delicious Slow-Cooker Recipes!
Use a stainless steel or cast iron skillet – a nonstick skillet won't give you that desirable crispy skin.
Use a pan that's big enough to allow steam to flow away from the fish and help dry out the skin as it cooks.
Make sure that the pan and oil are hot enough when cooking the fish to prevent it from sweating and sticking to the pan's surface.
Once you find your pan, heat extra virgin olive oil over medium-high heat until it is shimmering. Carefully lay a fillet skin side-down in the pan – the fish will immediately contract and curve upwards – and use a metal spatula to press the top of the fillet so the bottom side remains touching the pan. Hold for a few seconds until it relaxes and lies flat. Cook for a few minutes; when the skin is crisp, it will release easily from the pan. Then flip the fish and continue cooking for another 3-4 minutes until cooked through.
You can't go wrong with grass-fed butter and fish, and the addition of oregano lends a fresh and distinctive aromatic flavor to the hake fillets. Just melt the butter and oregano in a small pan and wait for a few minutes until it is golden brown, then remove from the heat and drizzle over the fillet and mashed cauliflower.
Dina Hassan
Crispy-Skin Fish & Mashed Cauliflower Drizzled with Oregano Butter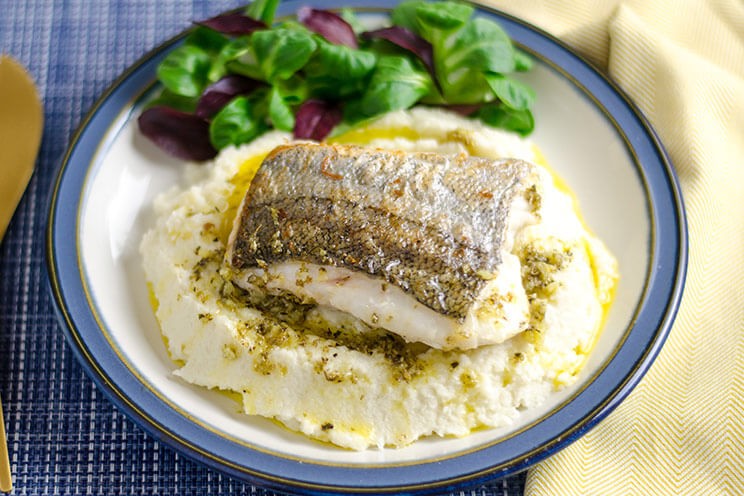 Cook Time:
40 mins
40 minutes
Prep Time:
10 mins
10 minutes
Crispy-Skin Fish & Mashed Cauliflower Drizzled with Oregano Butter
This classic recipe is everything you need for an elegant and easy dinner.
Tools
Large skillet

Small saucepan

Large stock pot

Blender
Ingredients
For the Cauliflower Puree:
1 medium cauliflower head

1 T grass-fed butter

¼ cup coconut milk

¼ cup chicken stock

1 garlic clove, minced

Salt and pepper, to taste
For the Crispy-Skin Fish:
½ T extra virgin olive oil

4 7-oz hake fillets

Salt and pepper, to taste
For the Oregano Butter:
3 oz grass-fed butter

2 t dried oregano (or 1 T fresh oregano)

1 garlic clove, minced
Instructions
For the mashed cauliflower: In a saucepan over medium heat, add the grass-fed butter, coconut milk, chicken stock and minced garlic.

Bring to a boil, then reduce the heat to low. Simmer for 7-8 minutes or until the garlic is completely soft. Set aside.

Next, heat water in a large stock pot until it is boiling.

Cut cauliflower head in half and remove the stem, chop into florets, and add them to the boiling water. Cook for 15-20 minutes or until the cauliflower is soft when pierced with a fork. Remove from heat and strain.

Place cauliflower in blender. Add the butter and stock mixture. Blend on high until smooth. Set aside and keep warm.

For the fish: Season the hake fillet with salt and freshly ground black pepper.

Heat the extra virgin olive oil in a large skillet over medium-high heat and add the seasoned fillets, skin-side down. Cook for 4-5 minutes or until golden and crisp. Flip fillets and cook for another 3-4 minutes. Remove from the pan, keep warm and set aside.

Add the grass-fed butter and oregano to the same skillet and allow the butter to gently melt over medium-low heat. Once melted, remove from heat and stir in the minced garlic.

Spoon the oregano butter over the fillets and serve with mashed cauliflower.

(You'll Also Love: Mahi Mahi with Mango Jalapeño Salsa Recipe)