Start your day with a stack of fluffy applesauce pancakes made with only five ingredients!
These healthy and nutritious pancakes are made with almond flour, and they're guaranteed to keep you full all morning! Almond flour is great for increasing the density of baked goods, while upping the nutritional value with its high protein and healthy fat content. Very important for creating satiety!
Even better, this recipe is lightly sweetened with honey and organic applesauce to keep it low on the glycemic chart.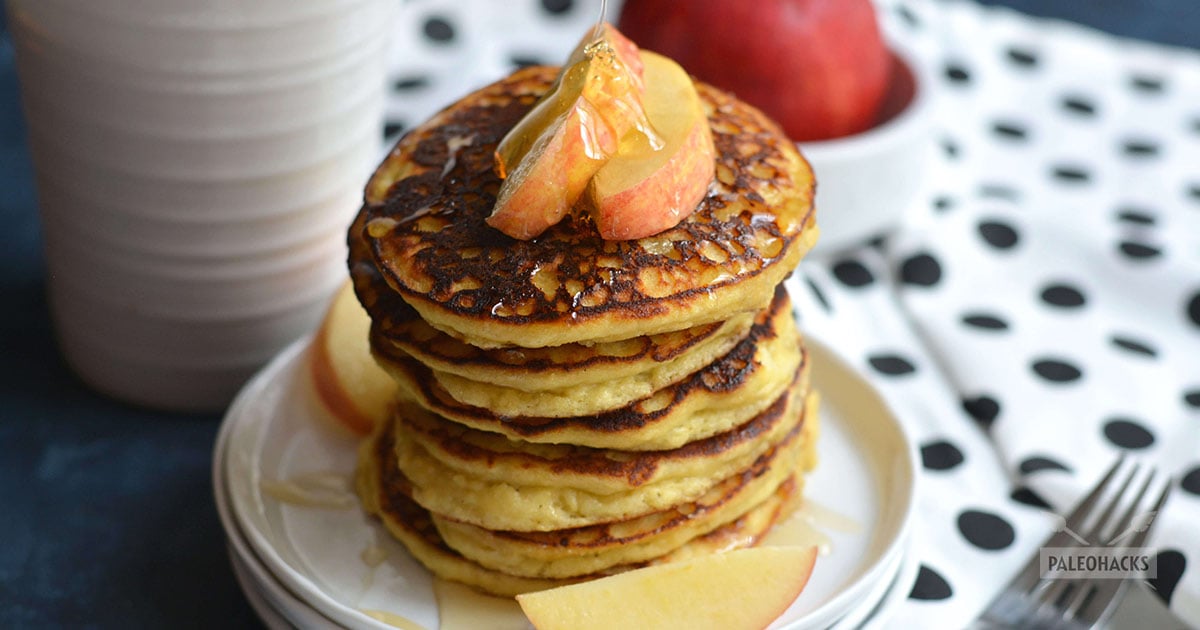 The honey balances nicely with the natural sweetness of applesauce, but you can also substitute maple syrup or liquid stevia, if desired.
Love Paleo Breakfast Recipes? Get our FREE Breakfast Recipe Cookbook here
Unlike traditional pancakes, you may not see the batter bubble as an indication that it's ready to flip. These applesauce pancakes cook quickly, so check after only two or three minutes to see if they're done cooking on one side.
Top your applesauce pancakes with homemade coconut yogurt and fresh fruit, or with nut butter and a sprinkle of cinnamon!
Megan Olson
Easy Peasy Applesauce Pancakes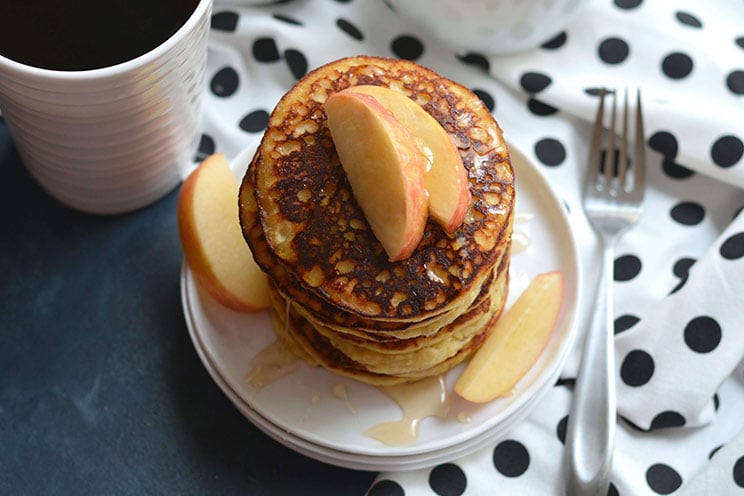 Cook Time:
10 mins
10 minutes
Prep Time:
5 mins
5 minutes
Easy Peasy Applesauce Pancakes
Start your day with a stack of fluffy applesauce pancakes made with only five ingredients!
Tools
Grill pan or skillet

2 large bowls

Spatula

Wire rack
Ingredients
2 large eggs

½ cup unsweetened organic applesauce

1 T raw honey

½ cup almond flour

½ T baking powder
Instructions
Preheat a grill pan or skillet over low-medium heat, and grease lightly with coconut oil.

Whisk eggs in a large bowl. Stir in applesauce and honey to combine.

In a separate bowl, thoroughly combine almond flour and baking powder.

Slowly fold the flour mixture into the wet mixture. Do not overmix.

Scoop ¼ cup of the batter onto the grill pan.

Grill 2-3 minutes, then carefully flip with a spatula and cook another 2-3 minutes.

Cool briefly, then serve!
Tip: You can prep these pancakes ahead of time and keep them in the refrigerator for up to seven days, or up to a month in the freezer.
Looking for Paleo ingredients? Here are a few we'd recommend:
Raw Honey (Bee Farms)
Almond flour (Bob's Red Mill)

(You'll Also Love: 17 Pancake Recipes Worth Waking Up For)