Combine chocolate and avocado together to create a decadent mousse sweetened with natural flavors!
If you've never tried avocado chocolate mousse before, now's your chance to give it a try. Similar to chocolate pudding, it has all the rich flavors you'd expect from store-bought brands without using any refined sugars or dairy. Best part is, you'll forget you're loading up on nutritional superfoods and get lost in all its decadent glory.
Instead of whipping up egg whites or melting chocolate in a double boiler, this recipe only requires a simple food processor, a handful of ingredients, and three simple steps to get started. The hardest part is waiting for the mousse to chill inside the fridge for at least two hours to set. This time allows the mousse to fully thicken and achieve its chocolatey potential.
Love Paleo Desserts? Then you'll love our FREE Paleo Dessert Cookbook.
Click here to get your FREE copy of our delicious Dessert Recipes!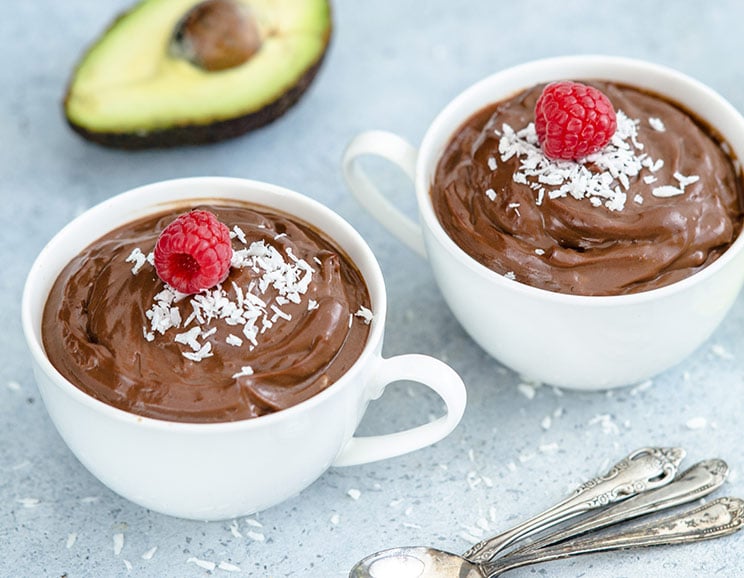 To achieve a creamy whipped texture, we add a healthy dose of avocados to easily blend in with the raw cacao and bananas. Along with being rich in fatty acids, avocados also have the power of boosting extra antioxidants and key vitamins to help keep you feeling satiated.
Adding a bit of honey and vanilla will help counterbalance the bitterness of the cacao, while the coconut cream helps to thicken and flavor the mousse as it chills. When ready to serve, you can top your mousse with fresh raspberries or garnish with additional cacao nibs, toasted coconut, or chopped nuts.
Tip: If you're not a fan of honey, you can also sub in an equal amount of date paste or maple syrup instead.
Dina Hassan
Avocado Chocolate Mousse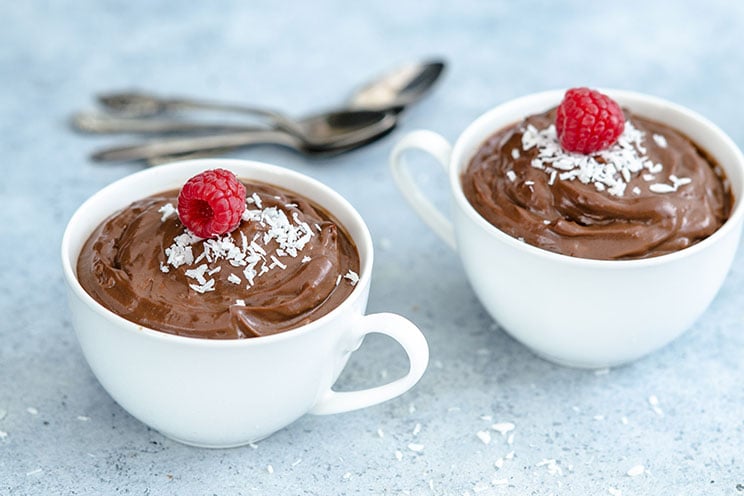 Inactive Time:
2 hrs
2 hours
Prep Time:
5 mins
5 minutes
Avocado Chocolate Mousse
Combine chocolate and avocado together to create a decadent mousse sweetened with natural flavors.
Tools
Food processor

2 small serving mugs
Ingredients
2 ½ cups ripe avocados

¾ cup ripe banana

⅓ cup raw cacao powder

¼ cup honey

¼ cup coconut cream, plus more if needed

1 T vanilla extract
Instructions
Place all the ingredients into a food processor and blend until creamy and smooth. Scrape down the sides as needed.

Pour into two small serving cups and set in the refrigerator for 2-3 hours.

Top with fresh fruit or nuts and serve immediately. You can also refrigerate leftovers in an airtight container for up to 3 days.
Looking for Paleo ingredients? Here are a few we'd recommend:
Raw cacao powder (Healthworks)
Raw honey (Bee Farms)
Coconut cream (Native Forest)
Vanilla extract (Frontier)

(You'll Also Love: 3-Layer Cookies n' Cream Mousse)