Cool off with these clever Watermelon Sorbet Slices for the perfect sweet treat.
For a sweet, fun treat, whip up these tasty watermelon slices at your next outdoor party! They also make for a light, thirst-quenching afternoon dessert. These sorbet slices are all-natural so that kids (and adults, too!) can enjoy them without any refined sugars or preservatives.
Watermelon is the perfect way to keep hydrated and includes a refreshing flavor that's rich in antioxidants. (1) Combine it with coconut cream to thicken the watermelon into a creamy sorbet and top it all off with dark chocolate chip "seeds" for extra sweetness. Tip: If you'd like your slices to have a creamier texture, increase the amount of coconut cream by one additional cup.
Love Paleo Desserts? Then you'll love our FREE Paleo Dessert Cookbook.
Click here to get your FREE copy of our delicious Dessert Recipes!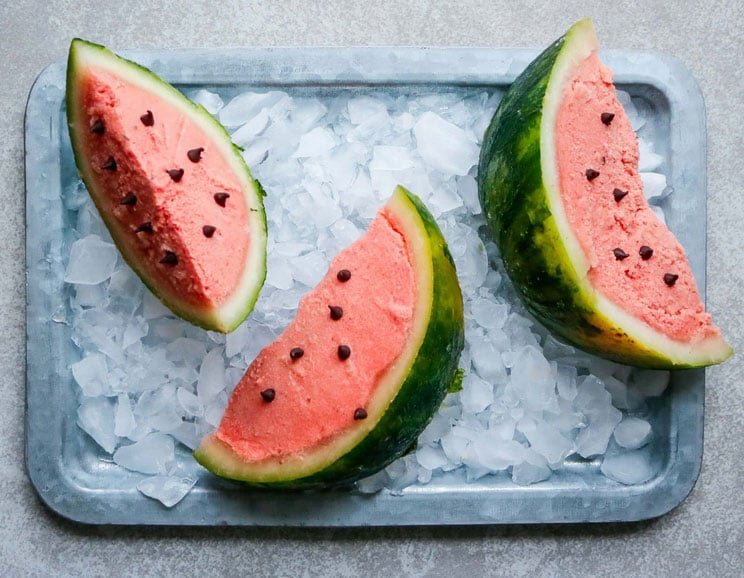 To get started, cut your watermelon in half and scoop out the pink flesh using an ice cream scoop. Place the coconut cream, coconut oil, and watermelon flesh into a food processor and blend until smooth. Note: Since you'll be using an entire watermelon, you may need to divide the ingredients into two batches before blending.
Next, pour the mixture into the watermelon halves and place inside the freezer for six hours. When frozen, transfer the halves onto a cutting board with the open halves facing down. Carefully slice the halves into wedges and decorate with chocolate chips to create the "seeds". If too frozen to cut, thaw for 20 minutes before slicing. Enjoy immediately or freeze leftovers in a sealed container for up to one month.
Jennafer Ashley
Watermelon Sorbet Slices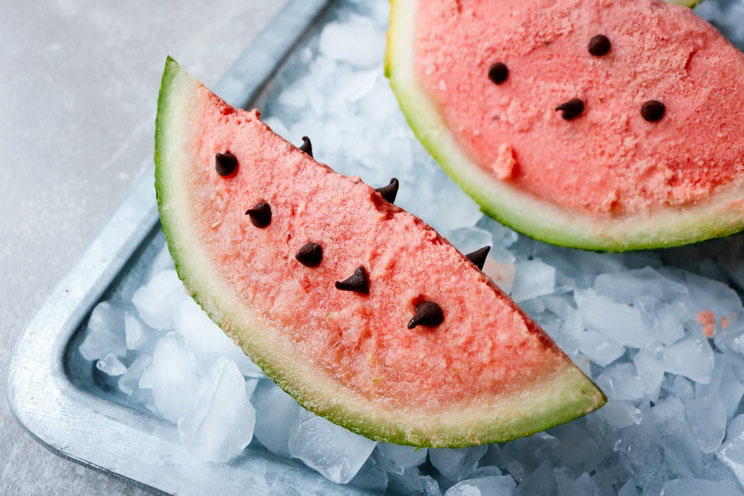 Inactive Time:
6 hrs
6 hours
Prep Time:
10 mins
10 minutes
Watermelon Sorbet Slices
Cool off with these Watermelon Coconut Sorbet Slices with chocolate chip "seeds" and a hint of creamy coconut.
Ingredients
3 lbs seedless watermelon (1 mini watermelon)

1 cup coconut cream

2 T coconut oil

2 T mini dark chocolate chips
Instructions
Cut the watermelon in half and scoop out the pink flesh from each side. Strain the flesh in a colander and drain out the excess liquid.

Place the watermelon, coconut cream, and coconut oil into a food processor. (You may need to divide the ingredients in half and work in two batches). Pulse until smooth and evenly pour into each watermelon half.

Freeze for six hours, or until frozen.

Carefully slice into wedges and decorate with chocolate chips.

Enjoy right away or store in a sealed container in the freezer.
Looking for Paleo ingredients? Here are a few we'd recommend:
Coconut cream (Native Forest)
Cold pressed coconut oil Viva Naturals)
Dairy-free chocolate chips (Enjoy Life)

(You'll Also Love: Coconut Mango Sorbet
)