This spicy watermelon gazpacho is made with fresh veggies and herbs – a refreshing way to start a summer dinner on the back patio.
Sweet, juicy watermelon is a summer staple across the country as the weather heats up. It's usually eaten as a treat after a barbecue or family picnic, and that's a fine way to eat it. Sometimes, however, you end up with more watermelon than you can handle.
If that's the case, you can use it all up in this easy gazpacho recipe. Made with fresh summer veggies and herbs, it's a refreshing way to start a summer dinner on the back patio with a hearty meal (see: Crockpot Pulled Pork). While you can serve this soup immediately after you make it, it's best served chilled after the flavors have had time to meld.
Want to go Paleo? Not sure where to start?
Start with this FREE Paleo For Beginners Guide Today!
Amy Hunter
Spicy Watermelon Gazpacho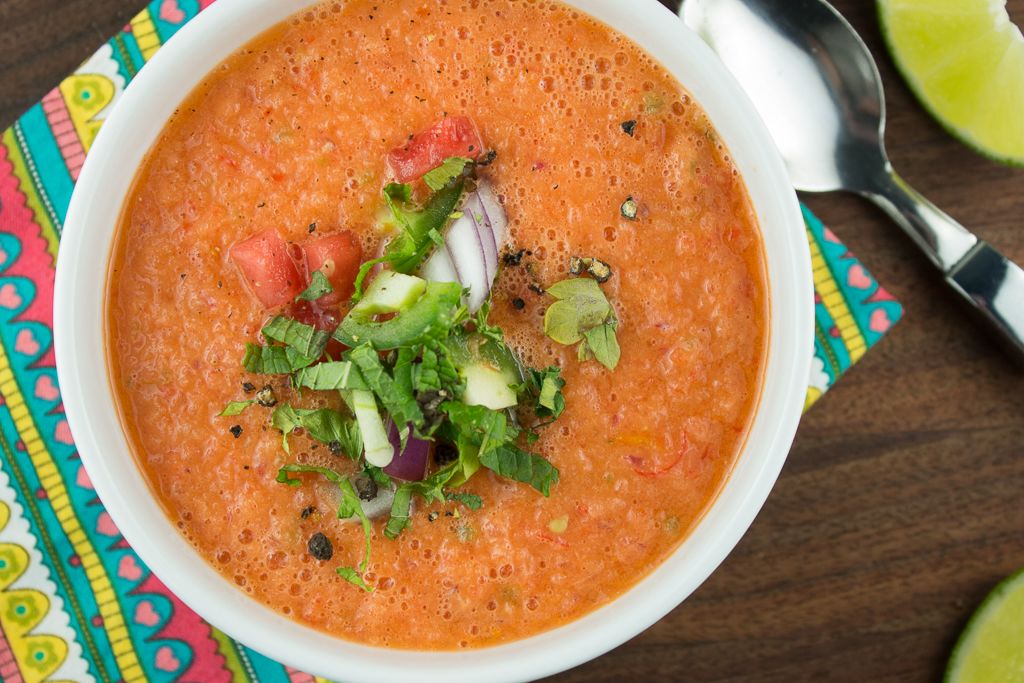 Prep Time:
120 mins
120 minutes
Spicy Watermelon Gazpacho
Ingredients
4 cups cubed watermelon

1 large tomato, chopped

1/2 red onion, chopped

1/2 red bell pepper, chopped

2 jalapeno peppers, seeded and chopped

1 clove garlic

1/4 cup cilantro

Juice of 1 lime

2 T olive oil

1/2 t sea salt

1/2 t fresh black pepper

Garnishes: Chopped watermelon, fresh chopped herbs, diced jalapeno
How To Make It:
1. Put all of the ingredients in a blender or food processor and process until almost smooth. Taste, and adjust the seasoning.
2. Transfer to an airtight container and chill for at least 2 hours, until very cold.
3. Serve chilled topped with garnishes of your choice.
(You'll Also Love: Make The Best Pumpkin Soup Ever)