A crave-worthy tart filled with roasted veggies and a flaky gluten-free crust.
Made with a grain-free crust, sautéed veggies, and a whole lot of protein, this healthy tart is a delicious way to sneak in wholesome nutrition.
When making this crust, we use a four-ingredient recipe made with almond flour and melted ghee to give it a nice buttery texture. The crust bakes in a shallow tart pan to give it a golden, even browning with polished wavy edges (aka flutes) on the outer rim. Tip: Use this easy crust in both sweet and savory recipes like pumpkin pie or pot pie.
Love Paleo Breakfasts? Then you'll love our FREE Paleo Breakfast Recipes.
Click here to get your FREE copy of our delicious Breakfast Recipes!
For the filling, sautéed mushrooms and leeks combine with an egg and herb mixture for a rich aromatic flavor. Added nutritional yeast gives it a hint of cheesy flavor, while the assortment of sliced tomatoes marries everything together. Other great veggies you can add include: bell peppers, broccoli florets, or spinach.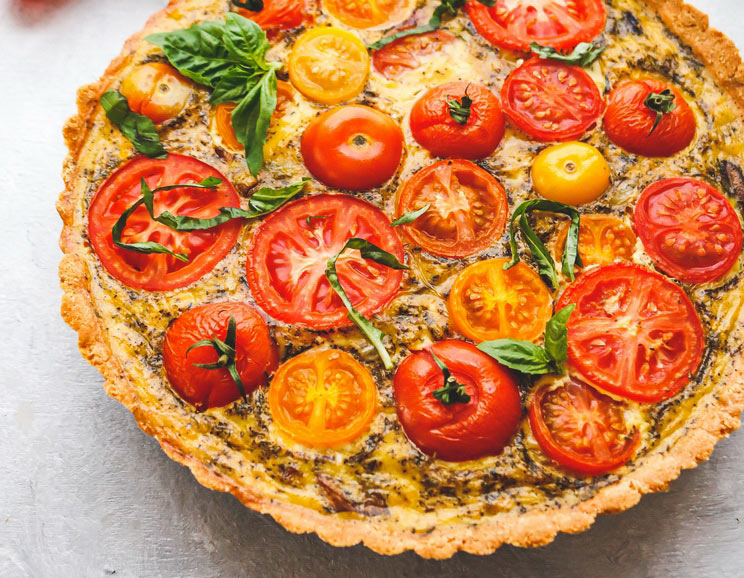 To get started, combine the ingredients for the dough in a medium mixing bowl. Stir until a moist dough forms and press it into a greased, 10-inch tart pan. Evenly press into the bottom and sides of the pan, then set aside.
In a medium skillet, sauté the garlic, mushrooms, and leeks in ghee. Stir for about ten minutes, or until soft and fragrant. Then, scatter the mixture evenly on top of the crust.
In a separate bowl, whisk together the egg, almond milk, nutritional yeast, thyme, sea salt, and pepper. Pour the mixture over the crust and top with sliced tomatoes. Bake for 45-50 minutes and remove when the crust becomes golden brown. Make sure the center is firm by inserting a knife and ensuring it is no longer doughy on the inside.
When ready, let it cool at room temperature for five minutes. Serve warm and enjoy!
Jennafer Ashley
Simple Veggie Tart with Almond Flour Crust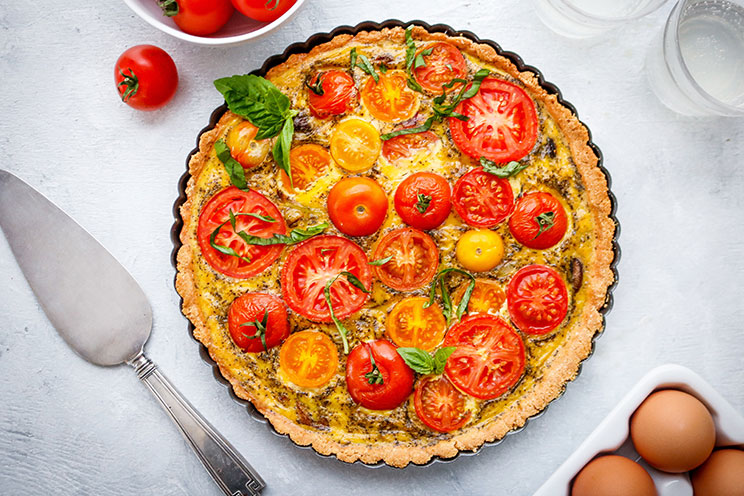 Prep Time:
10 mins
10 minutes
Simple Veggie Tart with Almond Flour Crust
A crave-worthy tart filled with roasted veggies and a flaky gluten-free crust.
Tools
10-inch round tart pan

2 medium mixing bowls

Medium skillet
Ingredients
For the Crust:
1/3 cup melted ghee, plus more for greasing

2 cups almond flour

1 large egg at room temperature

1/4 t salt
For the Filling:
1 T ghee

1 cup thinly sliced leeks

1 cup sliced white button mushrooms

1 t minced garlic

5 large eggs

1/4 cup unsweetened almond milk

1 T nutritional yeast

1/2 t dried thyme

1/2 t salt

1/4 t ground black pepper

2 cups sliced cherry tomatoes
Instructions
To Make the Crust: Preheat the oven to 350ºF and lightly grease a tart pan with ghee.

In a medium mixing bowl, combine all the crust ingredients and stir well to create the dough.

Transfer the dough to the pie pan and press down to fill in the base and sides evenly. Use a fork to poke holes into the dough's surface and set aside.

To Make the Filling: In a medium skillet, melt the ghee over medium heat and add in the sliced leeks, mushrooms, and garlic. Sauté for 10 minutes, stirring regularly, then scatter the mixture onto the prepared crust.

In a medium mixing bowl, whisk together the eggs, almond milk, nutritional yeast, thyme, sea salt, and black pepper. Pour over the crust and arrange the tomato slices on top. Bake for 45-50 minutes, then let cool for 5 minutes at room temperature. Once cooled, slice and enjoy! You can store leftovers inside the refrigerator (covered) for up to one week.
Looking for Paleo ingredients? Here are a few we'd recommend:
Ghee (Pure Indian Foods)
Almond flour (Hodgson Mill)
Coarse sea salt (AztecSeaSalt)
Nutritional yeast (NOW Foods)

(You'll Also Love: Antioxidant-Rich Berry Tart Recipe)
Lose weight, fight inflammation, and soothe your digestion with delicious meals like juicy skirt steak with cucumber & radish salad, succulent pulled pork, and more!
FREE Cookbook:
80 Gourmet Paleo Recipes from
a Professional Chef trained at Le
Cordon Bleu in Paris
FREE Cookbook:
80 Gourmet Paleo Recipes
from a Professional Chef
trained at Le Cordon Bleu
in Paris