Slather these Paleo English muffins with ghee, almond butter, or jelly!
Butter or jam seeping into an English muffin's nooks and crannies – it's one of life's underrated joys. Luckily, eating Paleo doesn't mean forgoing English muffins altogether. In fact, you can have your nooks and crannies and eat them too.
Add Your Own Flavor
We've created this easy English muffin recipe as a blank canvas. Everyone has their favorite way to eat an English muffin, so don't be afraid to add a little flavor to your batch. After stirring in the eggs, try adding a squeeze of honey, a dash of cinnamon, a few raisins, or even some chocolate chips.
Looking for low carb keto recipes to burn fat and lose weight?
Click here to get your FREE Keto Breakfast Recipes Cookbook!
The toppings are limitless, too. Slather on some almond butter for nutty deliciousness, keep it simple with a pat of grass-fed butter, or sweeten things up with your favorite Paleo jam.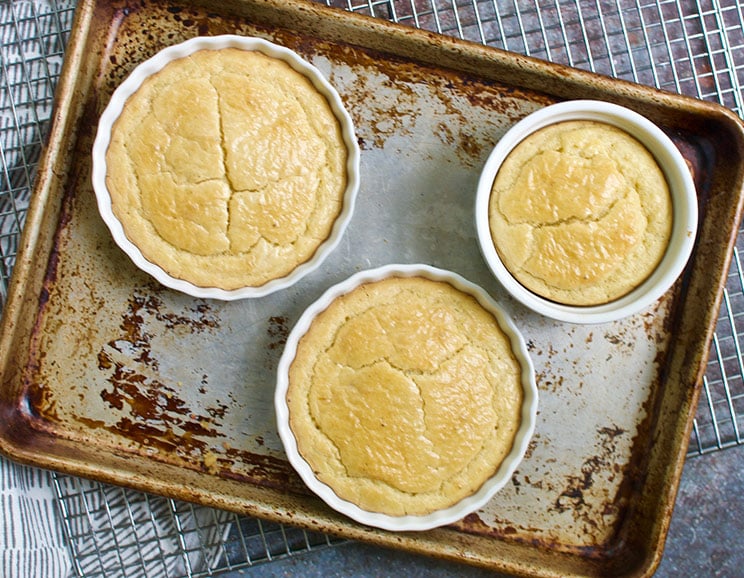 Choosing Your Ramekins
Don't get too stuck on which ramekins to use for these muffins. They work in all types of bakeware.
If you don't have any loose ramekins, you can try baking them in regular muffin tins. You can even cook all the batter in a small baking dish, then cut the loaf into individual muffins after baking. Just keep in mind that the baking times will change depending on what bakeware you use.
Helpful Tips To Get You Started:
Don't forget to grease. A beautifully baked English muffin stuck in a ramekin is not fun. Don't forget to grease your ramekins with some ghee before adding the batter.
Wait to add the eggs. Because the ghee mixture is heated, be sure to first add the dry ingredients, and once that is incorporated, you can add the eggs. This prevents them from cooking in the hot liquid.
Toast it. For an extra special English muffin experience, pop your muffin in the toaster for a couple of minutes after slicing.
Danielle Moore
Almond Flour English Muffins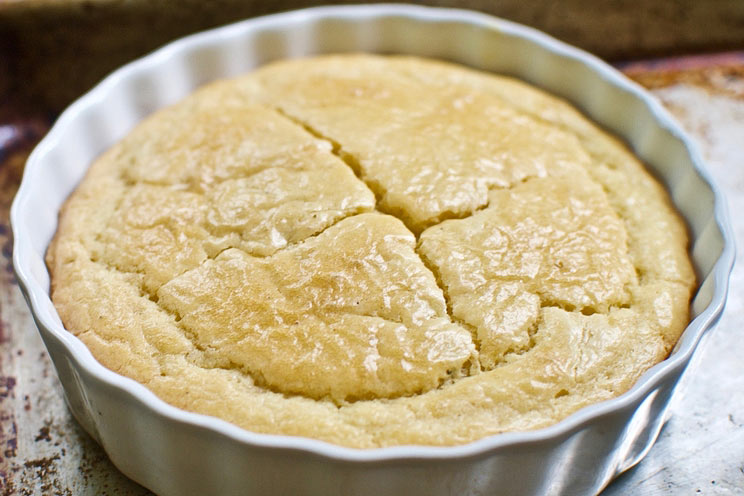 Inactive Time:
10 mins
10 minutes
Cook Time:
25 mins
25 minutes
Prep Time:
8 mins
8 minutes
Nutrition facts:
5 grams of protein
3 grams of carbohydrates
18 grams of fat
Almond Flour English Muffins
Slather these Paleo English muffins with ghee, almond butter, or jelly!
Tools
4 ramekins

Small saucepan

Medium mixing bowl
Ingredients
3 T ghee, plus extra for greasing

¼ cup raw cashew butter

3 T almond milk

¼ cup almond flour

⅛ t sea salt

2 t baking powder

2 eggs
Instructions
Preheat the oven 325°F. Grease the ramekins with ghee and set aside.

In a small saucepan over medium heat, combine the cashew butter and ghee until uniform, about 2 minutes.

Remove from the heat, add the almond milk and stir to combine.

Sift in the almond flour, sea salt, and baking powder.

In a medium mixing bowl, lightly whisk the eggs. Add the batter and stir until just combined.

Divide the batter between the prepared ramekins, filling each with about 1 inch of batter.

Bake for 22 to 25 minutes until a toothpick inserted in the center comes out clean.

Cool for 5 minutes then carefully remove to a wire rack. Cool for another 5 minutes.

Slice the muffins and enjoy with your favorite Paleo-friendly toppings.
Looking for Paleo ingredients? Here are a few we'd recommend:
Ghee (Pure Indian Foods)
Cashew butter (Georgia Grinders)
Almond flour (Hodgson Mill)
Coarse sea salt (AztecSeaSalt)
Baking powder (Hain)

Need more breakfast ideas? Try whipping up your favorite breakfasts in a muffin tin, or indulge in some tasty Paleo waffles.