Coat these sweet potato scones in crunchy cinnamon sugar for a treat that tastes like a churro!
Inspired by one of our favorite Mexican desserts, we're crafting a naturally sweet, gluten-free pastry that's hard to resist. Enjoy these sweet potato scones alongside your favorite coffee (like this silky, spicy mocha) or for a special dessert following these juicy chicken fajitas.
Paleo-Friendly Yet Sinfully Sweet
We'll start with a grain-free dough made with a combination of coconut flour and almond flour. When mixed with a little sweet potato, you get a decadent mixture that fluffs up right in the oven. Ample amounts of buttery ghee give the scone crust its signature golden brown hue.
Love Almond Flour Recipes? Then you'll love our FREE Almond Flour Recipes.
Click here to get your FREE copy of our delicious Almond Flour Recipes!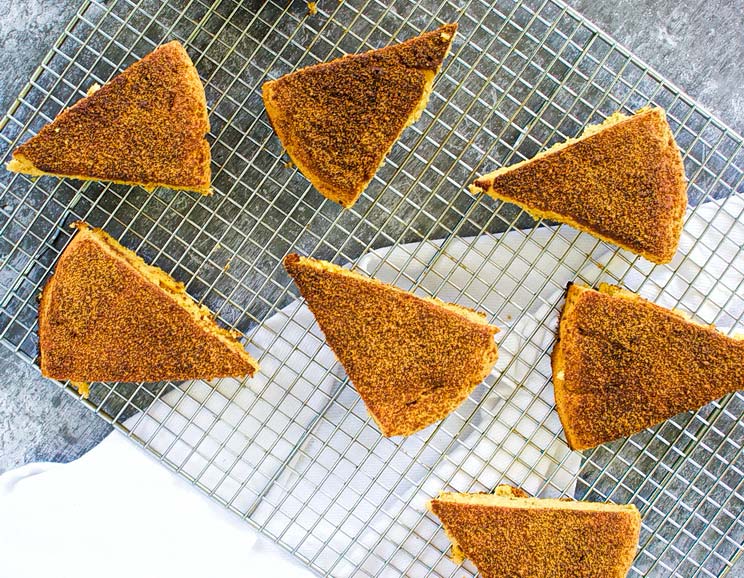 To sweeten the deal, we double-coat the scones with cinnamon and coconut sugar. The first coating caramelizes in the oven, while the second half gets sprinkled after it's baked. The residual heat from the baking helps melt and incorporate the first layer, resulting in an irresistible, crispy-crunchy coating.
Helpful Tips To Get You Started:
Allow the batter to thicken. The dough batter will be thin at first. Let it rest in the fridge for 10 minutes to thicken up.
Don't move the scones. When you cut the dough, resist the urge to separate them and simply leave the scones in place. When touching, they work as a team to help each other rise.
Danielle Moore
Sweet Potato Scones Coated in Cinnamon Sugar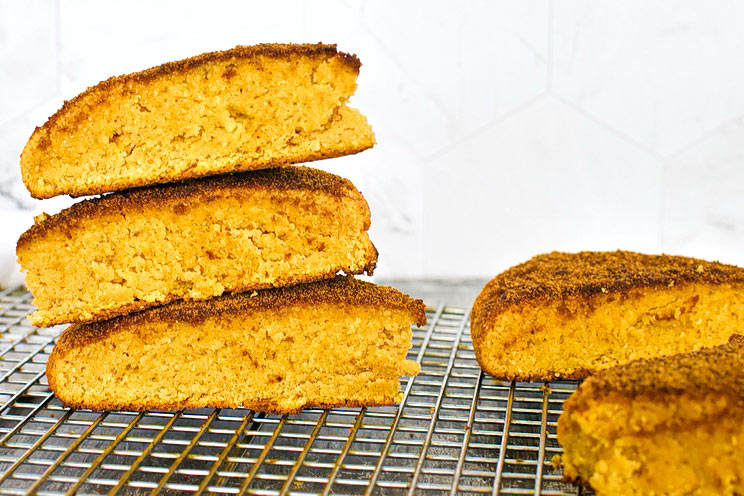 Inactive Time:
20 mins
20 minutes
Cook Time:
30 mins
30 minutes
Prep Time:
20 mins
20 minutes
Nutrition facts:
4 grams of protein
22 grams of carbohydrates
19 grams of fat
Sweet Potato Scones Coated in Cinnamon Sugar
Coat these sweet potato scones in crunchy cinnamon sugar for a treat that tastes like a churro.
Tools
Baking sheet

Parchment paper

2 small mixing bowls

Large mixing bowl

Sifter
Ingredients
½ cup coconut milk

1 T apple cider vinegar

1/2 cup sweet potato puree

¼ cup maple syrup

6 T melted ghee, divided

1 egg

2 cups almond flour

½ cup coconut flour

1 T baking powder

2 t cinnamon, divided

3 T coconut sugar
Instructions
Preheat the oven to 400°F and line a baking sheet with parchment paper.

In a small mixing bowl, combine the coconut milk and apple cider vinegar.

In a large mixing bowl, whisk together the sweet potato, maple syrup, and ¼ cup of melted ghee.

Add the coconut milk mixture and egg into the large mixing bowl. Whisk until combined.

Sift in the almond flour, coconut flour, baking powder, and 1 teaspoon of cinnamon. Stir until combined, then refrigerate for 10 minutes.

Turn the dough out on the prepared baking sheet and form it into an 8-inch round.

In a small mixing bowl, whisk together the remaining cinnamon and coconut sugar.

Brush the top of the round with the remaining melted ghee and sprinkle the top with half of the cinnamon sugar mix.

Cut the dough like a pizza into 8 pieces, keeping the pieces in place. Bake for 30 minutes, or until fluffy and golden.

When finished, remove scones from the oven and immediately sprinkle with remaining cinnamon sugar mix.

Let it rest for 10 minutes, then transfer to a wire rack to cool. Serve and enjoy warm!
Looking for Paleo ingredients? Here are a few we'd recommend:
Coconut milk (Native Forest)
Apple cider vinegar (Bragg)
Ghee (Pure Indian Foods)
Almond flour (Hodgson Mill)
Coconut flour (Nutiva)
Baking powder (Hain)
Ground cinnamon (Simply Organic)
For even more churro-inspired recipes, try these churro waffles or sweet potato churros dipped in chocolate.

Keto is one of the hottest new diets right now - with good reason! It melts fat and trims your tummy fast. With our Keto Sweets cookbook, you can do while still enjoying delicious sweets and desserts!
Enjoy cookies, cakes, and ice
cream and stay in fat-burning
ketosis with this FREE Keto
Sweets Cookbook
Enjoy cookies, cakes,
and ice cream and stay
in fat-burning ketosis
with this FREE Keto
Sweets Cookbook