Like waffles? Then you'll love these crispy churro waffles dusted in cinnamon sugar. It's the perfect Paleo breakfast food you can enjoy any time of the day.
What's better than crispy, sweet churros or fluffy waffles? Try putting them together for one easy and fit breakfast combo. This recipe captures flavors from both delicious treats, but is free from all grains, dairy, and refined sugars.
Traditionally, churros are made out of fluffy fried choux pastries dusted in cinnamon sugar. Unfortunately, they're also made with wheat flour and fried in unhealthy seed oils. Luckily, these Paleo waffles offer a healthier alternative to enjoy all your favorite cinnamon-loaded tastes.
Love Almond Flour Recipes? Then you'll love our FREE Almond Flour Recipes.
Click here to get your FREE copy of our delicious Almond Flour Recipes!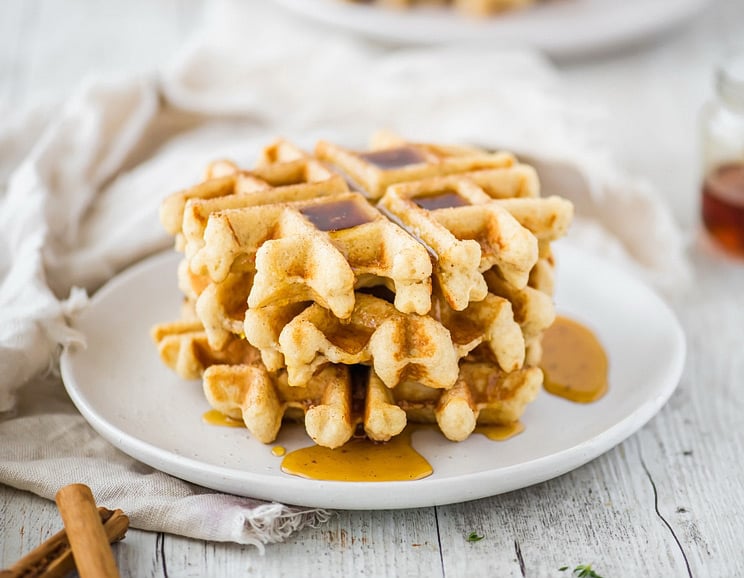 If you want all the flavors of a churro but none of work of making your own homemade version, try this waffle recipe dusted in cinnamon sugar! The cinnamon sugar adds a magical "churro flavor" to the crisp almond flour waffles. It's so delicious, you'll never want plain waffles again!
The almond flour is practically magical when made into waffles; the crisp and airy results it yields simply can't be beat! A little bit of cashew milk and some pure maple syrup complete the simple batter. You don't even have to beat any egg whites when making this recipe!
Additionally, these Paleo churro waffles are nutrient-dense for a hearty breakfast. They're excellent when paired with bacon or sausage. Plus, this one-of-a-kind dish is also fancy enough to make for a special brunch. However, if you want to serve them with coconut whipped cream or scoops of Paleo ice cream, we won't tell!
So calling all waffle-lovers; make this easy recipe as soon as you get the chance! The waffle-churro deliciousness simply can't be beat!
Heather Resler
Paleo Churro Waffles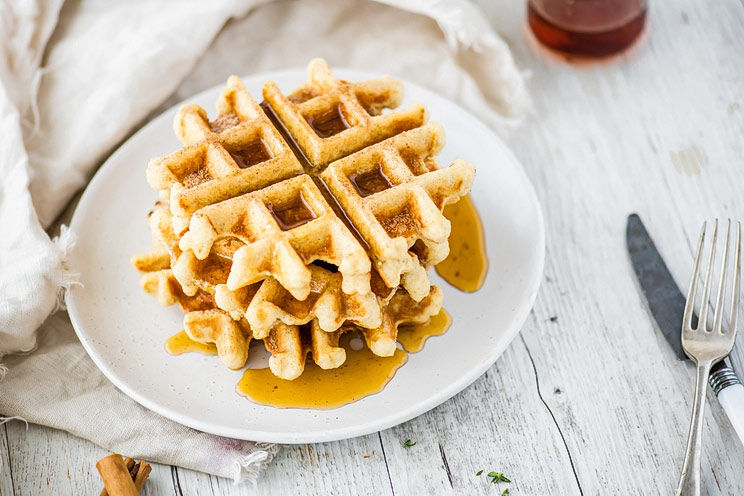 Cook Time:
15 mins
15 minutes
Prep Time:
15 mins
15 minutes
Nutrition facts:
7 grams of protein
19 grams of carbohydrates
21 grams of fat
283 calories
Paleo Churro Waffles
Like waffles? Then you'll love these crispy churro waffles dusted in cinnamon sugar.
Tools
Large mixing bowl

Whisk

Waffle iron

Small mixing bowl
Ingredients
2 eggs

2 egg whites

¼ cup coconut oil, melted

¼ cup cashew milk

2 T maple syrup

1 ¾ cup almond flour, blanched

½ t baking soda

¼ t salt

⅓ cup maple sugar, granulated

1 t cinnamon
Instructions
In a large mixing bowl, whisk the eggs, egg whites, coconut oil, cashew milk, and maple syrup.

Add the almond flour, baking soda, and salt. Mix well.

Ladle by ¼ cupfuls onto a preheated waffle iron and cook per manufacturer's instructions. (Recipe should make about 6 square waffles.)

In a small bowl, mix together the maple sugar and cinnamon. Transfer to a small plate.

Dust / dredge the waffles in the cinnamon sugar and place on serving plate.

Serve with maple syrup if desired.
Looking for Paleo ingredients? Here are a few we'd recommend:
Cold pressed coconut oil (Viva Naturals)
Almond flour (Anthony's)
Baking soda (Bob's Red Mill)
You'll Also Love: The 21 Best Paleo Pancakes, Waffle and French Toast Recipes