This nutty sweet potato casserole is a warm and decadent side dish you'll want to make all year round!
If you've ever had traditional candied yams as a kid, you're probably accustomed to the overly sweet meld of brown sugar, marshmallows, and dairy butter that come along with it. Unfortunately, many of these ingredients can have a negative impact on blood levels, food allergies, and a number of other intolerances that disrupt the gut.
To restore our deep-seated love for this dish, we've swapped out all the artificial ingredients with more wholesome, natural choices and kept the fiber-rich yams (aka sweet potatoes). To compliment the natural sweetness from the sweet potatoes, we use a combination of cinnamon, maple syrup, pecans, and hazelnuts to add a defined richness that's both gluten-free and dairy-free.
Add power-packed superfood veggies to every meal with these easy cauliflower recipes.
Click here to get your FREE copy of our Cauliflower Recipe Guide!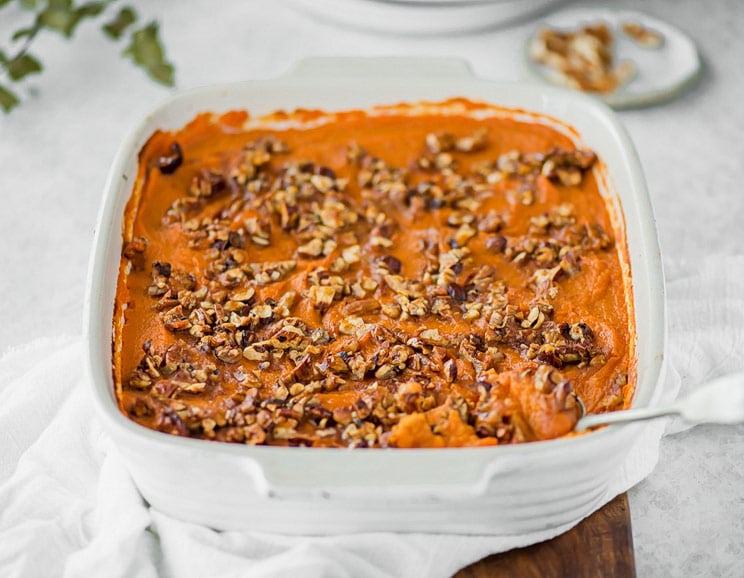 To get started, boil the sweet potatoes in a large pot until fork tender (about 20 minutes). In a separate bowl, combine one teaspoon of cinnamon with one and a half tablespoons of maple syrup, then stir in the nuts until fully combined. Reserve the rest of the cinnamon and maple syrup for later and set aside the combined mixture (aka the maple nut topping).
When the sweet potatoes are ready, drain out the water and transfer them to a blender. Add in the coconut oil, salt, and pepper, then toss in the remaining cinnamon and maple syrup. Pulse the ingredients together until fully combined, then evenly distribute the mixture into a casserole dish. Evenly spread the reserved maple nut topping over the sweet potato layer and bake in the oven for 20 minutes.
Once the casserole is complete, remove it from the oven and serve alongside other vegan-friendly entrees!
Courtney Hamilton
Maple Nut-Topped Sweet Potato Casserole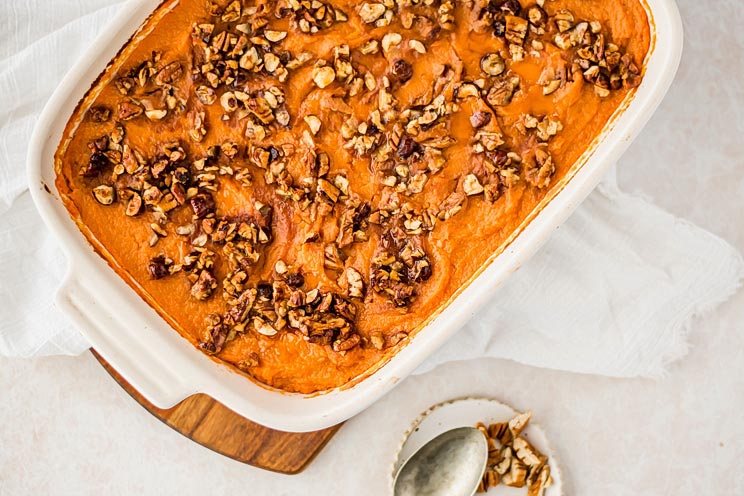 Cook Time:
40 mins
40 minutes
Prep Time:
10 mins
10 minutes
Maple Nut-Topped Sweet Potato Casserole
This nutty sweet potato casserole is a warm and decadent side dish you'll want to make all year round.
Tools
Large Pot

Blender

7x10" casserole dish
Ingredients
4 large sweet potatoes, cubed

¼ cup pecans, chopped

¼ cup hazelnuts, chopped

3 T maple syrup, divided

1 T cinnamon, divided

2 T coconut oil

Salt and pepper to taste
Instructions
Preheat the oven to 350°F and bring a large pot of water to a boil.

Carefully add the cubed sweet potatoes to the boiling water and cook for 15-20 minutes so that they're fork tender.

While the sweet potatoes are boiling, mix the chopped nuts with 1 ½ tablespoons of maple syrup and 1 teaspoon of cinnamon. Set aside.

Drain the sweet potatoes and transfer them to a blender along with coconut oil, salt, pepper, remaining maple syrup, and remaining cinnamon. Blend until fully combined.

Distribute the sweet potato mixture evenly into a casserole dish and spread the maple nut topping on top.

Bake for 20 minutes, or until the maple nut topping is roasted. Serve warm and enjoy!
Looking for Paleo ingredients? Here are a few we'd recommend:
Raw pecans (NOW Foods)
Ground cinnamon (Simply Organic)
Cold pressed coconut oil (Viva Naturals)
You'll Also Love: 21 Vegetarian Casseroles That Are Pure Comfort