Get a double dose of sweet potato in this fluffy pound cake with a creamy, dairy-free glaze.
This moist and fluffy take on a classic pound cake gets its naturally sweet flavor from creamy puréed sweet potatoes and rich maple syrup. Armed with a whisk and a sifter, you're ready to transform these whole food ingredients into a healthier dessert.
How To Make Light-as-air Pound Cake
In this recipe, a few key ingredients work together to keep this cake light and airy. First, the sweet potato purée not only sneaks in some hidden veggies, but also adds moisture. This veggie purée acts as a fat substitute when baked, so we scale back the ghee a bit to hit that coveted moisture balance.
Love Almond Flour Recipes? Then you'll love our FREE Almond Flour Recipes.
Click here to get your FREE copy of our delicious Almond Flour Recipes!
Next, sifting the flours together before mixing the batter is an easy way to ensure a fluffier outcome. Sifting works to aerate the flours, giving them a lighter role in our cake. It also helps to ensure everything is evenly mixed and clump-free.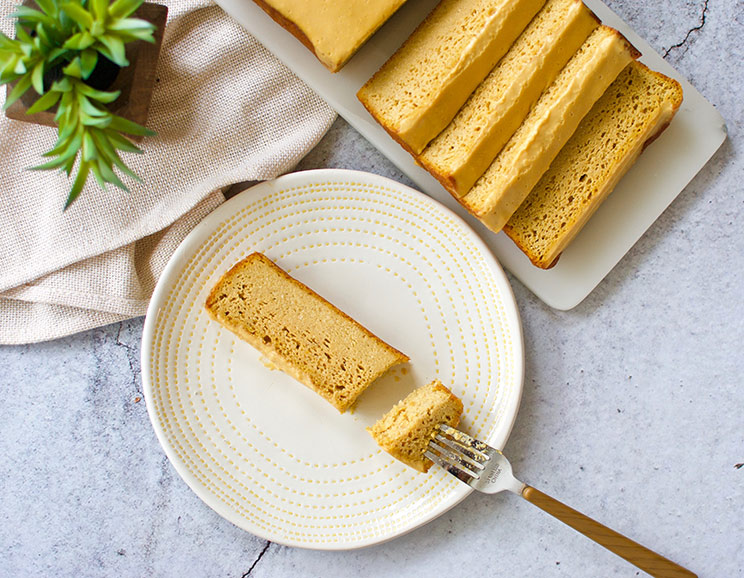 Making The Glaze, Without Refined Sugar
Traditional glazes call for heaps of powdered cane sugar. For this creamy glaze, we're building on the natural sweetness of sweet potato and maple syrup. The trick to getting the right consistency is dissolving a bit of tapioca flour into the almond milk before adding the sweet potato and maple syrup. This helps to thicken the glaze as it simmers, so you get those perfect drips.
Helpful Tips To Get You Started:
Let your cake cool. It's always tempting to dive right into baked goods fresh out the oven, but allowing both the cake and the glaze time to set is worth the wait.
The fridge can help, if you're in a pinch. After 30 minutes of cooling on a wire rack, the cake can go in the refrigerator to solidify the glaze if you're in a hurry.
Be gentle with the glaze. This glaze is delicious and dumping it all over your cake might appeal, but all the cake really needs is a light layer. Gently drizzle the glaze over the cake until it's just coated, and let it set fully before slicing.
Danielle Moore
Fluffy Sweet Potato Pound Cake with Maple Glaze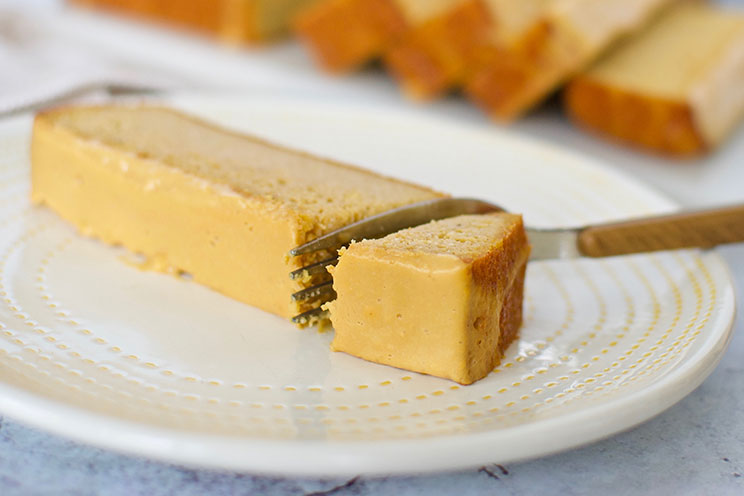 Inactive Time:
60 mins
60 minutes
Cook Time:
60 mins
60 minutes
Prep Time:
10 mins
10 minutes
Nutrition facts:
5 grams of protein
27 grams of carbohydrates
15 grams of fat
Fluffy Sweet Potato Pound Cake with Maple Glaze
Get a double dose of sweet potato in this fluffy pound cake with a creamy, dairy-free glaze.
Tools
Loaf pan

Medium mixing bowl

Large mixing bowl

Sifter

Wire rack

Small saucepan
Ingredients
For the Pound Cake:
1 cup almond milk

⅓ cup melted ghee, plus extra for greasing

⅓ cup maple syrup

¾ cup sweet potato purée

4 eggs

2 t vanilla extract

1 ½ cups almond flour

½ cup tapioca flour

1 t baking powder

1 t salt

1 t cinnamon
For the Glaze:
½ cup almond milk

1 t tapioca flour

¼ cup sweet potato purée

1 T maple syrup
Instructions
To Make the Pound Cake: Preheat the oven to 325°F.

Grease a loaf pan with ghee and set aside.

In a medium mixing bowl, whisk together almond milk, melted ghee, maple syrup, sweet potato purée, eggs, and vanilla until smooth.

In a separate large mixing bowl, sift together the almond flour, tapioca flour, baking powder, salt, and cinnamon.

Add the wet ingredients to the dry ingredients and stir until just combined.

Bake for 50 to 60 minutes, until a toothpick inserted in the center comes out clean.

Cool the cake for 10 minutes in the pan, then transfer to the wire rack to cool for another 30 minutes.

To Make the Glaze: In a small saucepan, heat the almond milk and tapioca flour, whisking until dissolved.

Add the sweet potato purée and maple syrup. Bring to a boil then reduce the heat to low. Simmer over low for 8 to 10 minutes, whisking occasionally until a thick glaze forms.

Pour the glaze over the top of the cake then allow to cool completely.
Looking for Paleo ingredients? Here are a few we'd recommend:
Ghee (Pure Indian Foods)
Vanilla extract (Frontier)
Almond flour (Hodgson Mill)
Tapioca flour (Authentic Foods)
Baking powder (Hain)
Ground cinnamon (Simply Organic)
You'll Also Love: Highly Addicting Cinnamon Coffee Cake