All the decadence of a donut without the processed ingredients and zero baking! These turmeric-packed sweet potato donuts get dipped in antioxidant dark chocolate for a superfood treat.
Craving donuts but want a healthy fix? By making a few tasty real food swaps, you can enjoy this healthy, Paleo-friendly version.
The base for the donuts is cooked and mashed sweet potato. Sweet potato is full of beta carotene and fiber, which helps keep the donuts filling and your energy levels up. Because sweet potatoes naturally have a sweet flavor, very little additional sweetener is needed. Coconut oil stabilizes the donuts as they set and provides MCT's, which are beneficial to brain health and excellent for gut health. Be sure to use high quality, organic virgin coconut oil to reap all the benefits this healthy fat has to offer. Unsweetened dark chocolate is used to glaze the sweet potato donuts for rich flavor throughout and a dose of free-radical fighting antioxidants.
Love Paleo Desserts? Then you'll love our FREE Paleo Dessert Cookbook.
Click here to get your FREE copy of our delicious Dessert Recipes!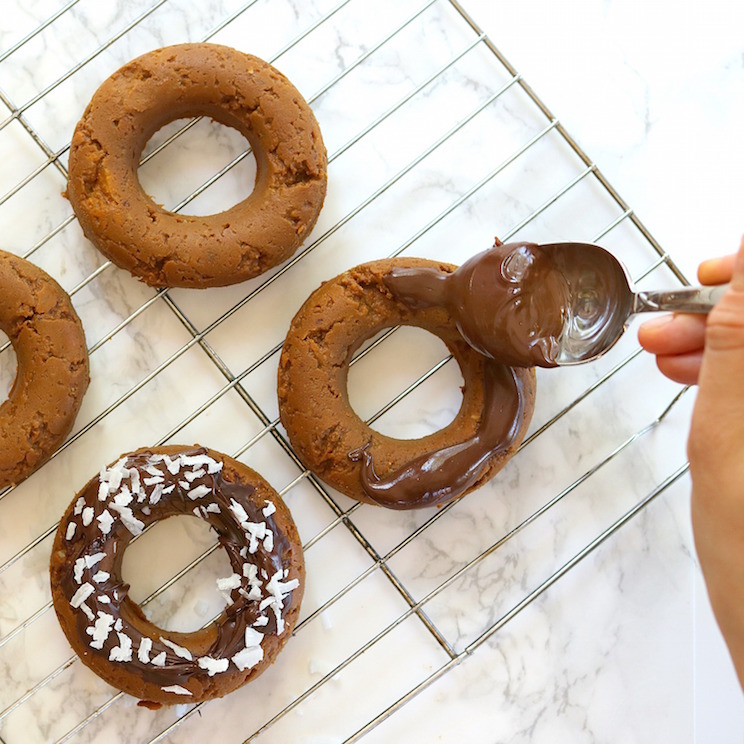 Start by boiling sweet potato chunks until fork tender. Mash sweet potato and combine with melted dark chocolate and coconut oil. Stir in almond meal, turmeric, maple syrup and a pinch of black pepper. Black pepper increases the absorption of turmeric so you get the full benefits of the superfood spice. The mixture should be moist but not runny. Spoon mixture into silicon molds and gently press to help the batter form to the molds. Place in the refrigerator and chill for 2 hours until set. Pop donuts out of molds and dip them in melted dark chocolate and a sprinkle of shredded coconut over each donut. Store in a cool spot. These sweet potato donuts are best served slightly chilled as a cool treat.
Jennafer Ashley
No-Bake Superfood Sweet Potato Donut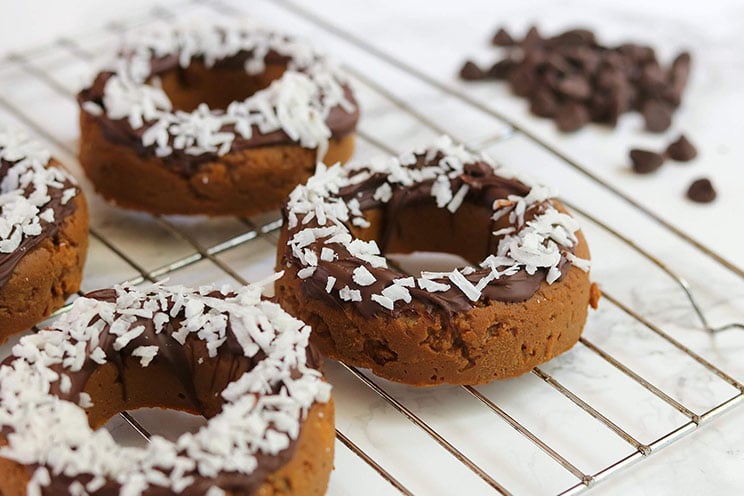 Cook Time:
2 hrs 20 mins
2 hours 20 minutes
Prep Time:
10 mins
10 minutes
No-Bake Superfood Sweet Potato Donut
Who knew donuts could be a superfood? Packed with turmeric, sweet potatoes, coconut oil and antioxidant dark chocolate, these no-bake donuts are the ultimate Paleo treat!
Tools
Small pot

Double boiler

Large bowl

Silicone donut molds

Baking sheet

Parchment paper
Ingredients
For the Donuts
1 medium sweet potato, peeled

1 cup almond meal

1/2 cup unsweetened dark chocolate chips

1/4 cup coconut oil

1 T pure maple syrup

1 t ground turmeric

1 pinch of black pepper
For the Icing
1/2 cup unsweetened dark chocolate chips

1/3 cup shredded unsweetened coconut
Instructions
Cut sweet potato into large chunks and place in a small pot with enough water to cover. Bring to a low boil and cook until fork tender, about 15 minutes. In the meantime, melt coconut oil and dark chocolate over a double boiler. Drain and mash potato in a large bowl.

Pour in melted chocolate-coconut oil mixture and stir well. Stir in maple syrup, almond meal, turmeric and black pepper.

Spoon mixture into silicone donut molds. Use the back of a spoon to smooth evenly. Place in refrigerator for 2 hours.

Melt dark chocolate over a double boiler. Line a baking sheet with parchment paper. Gently pop donuts out of molds and top with dark chocolate. Sprinkle with coconut and set on wax paper 30 minutes to allow chocolate to set. Store in a dry spot.
Looking for Paleo ingredients? Here are a few we'd recommend:
Almond Meal Flour (Bob's Red Mill)
Organic Dark Chocolate Chips (Thrive Market)
Organic Virgin Coconut Oil (Thrive Market)
Organic Maple Syrup, Grade A (Thrive Market)

(You'll Also Love: Chocolate Paleo Donuts)