I'm always looking for new, Paleo-friendly breakfast recipes that could be eaten quickly and taken along in the car if needed. This baked avocado recipe does the trick!
Getting my 7 and 5-year-old ready for school while still making time for a healthy breakfast is pretty challenging. Recipes like this egg baked in an avocado are godsends on those busy mornings.
Who knew you could bake avocado? It makes a fun little boat for half of a scrambled egg. Best of all, you're free to comb hair, tie shoe laces, find shirts and pack lunches while breakfast bakes! This quick meal goes great with a healthy green smoothie. Mmm.
Love Paleo Breakfasts? Then you'll love our FREE Paleo Breakfast Recipes.
Click here to get your FREE copy of our delicious Breakfast Recipes!
Now that is how you make a tasty baked avocado and egg breakfast. And everybody loves this easy recipe. Your friends, kids, boyfriend, girlfriend. Try this out and let me know what you think!
Diana Keuilian
Easy Baked Avocado and Egg Recipe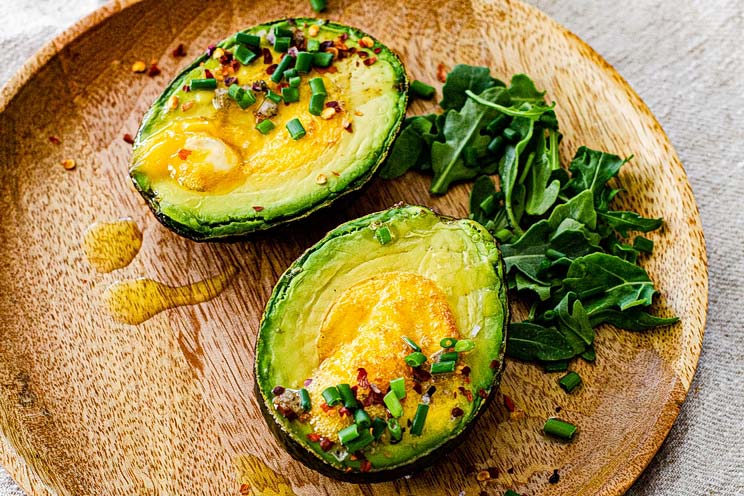 Cook Time:
18 mins
18 minutes
Prep Time:
5 mins
5 minutes
Nutrition facts:
15 grams of fat
176 calories
Easy Baked Avocado and Egg Recipe
This recipe is perfect for those rushed mornings.
Ingredients
1 organic avocado, halved with pit removed

1 egg

Salt

Pepper

Favorite seasoning, I use Fajita seasoning
Instructions
Preheat the oven to 425ºF.

Flip each avocado side over and slice off enough of the rounded skin so that it can sit flat when the fleshy side is up.

Place the avocados, fleshy side up, in a baking pan. Crack some salt into each hole.

Whisk the egg in a bowl, divide it between the avocado holes. Sprinkle with salt, pepper and the seasoning of your choice.

Bake for 16-18 minutes, until the egg has fully set. Eat with a spoon and enjoy!
You'll Also Love: 9 Healthy Ways to Stuff an Avocado