Boasting fresh fruits and basil, this Sweet Apple Basil Slaw reinvents the classic side dish to a lighter, healthier version.
Many slaw recipes use mayonnaise dressing. While there's a plethora of Paleo mayo options available, we changed things up with a vinegar-based dressing for this sweet slaw.
This recipe is a favorite party dish of mine. It's a breeze to make (no cooking required!) and perfect for taking to an outdoor barbecue. To give it an extra touch of sweetness, I added apples. While apples aren't a usual slaw ingredient, their texture really helps to lighten the dish when they're spiralized.
Want to go Paleo? Not sure where to start?
Start with this FREE Paleo For Beginners Guide Today!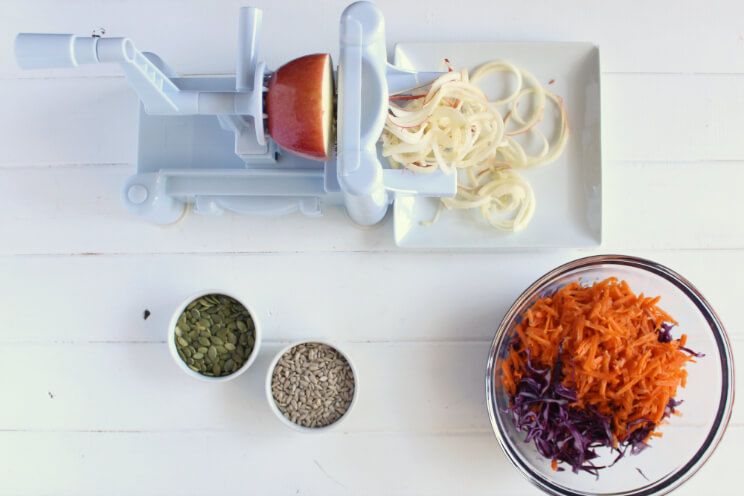 The dressing is made from apple cider vinegar—with a touch of honey. To cut through the sweetness and brighten up the recipe, fresh basil and crunchy raw sunflower seeds are sprinkled on top. For a more intense flavor, feel free to swap the basil for mint.
If you plan on making this slaw for a big group, feel free to prepare it ahead of time. Just leave out the apples until it's ready to serve, so they won't turn brown. Many slaws are better with a little bit of age. So ideally, add the dressing to your cabbage and carrots about 4-6 hours before you serve it, so they'll soak in the flavors. For the best results, add the apple, basil, and sunflowers seeds just before serving!
Deanna Dorman
Sweet Apple Basil Slaw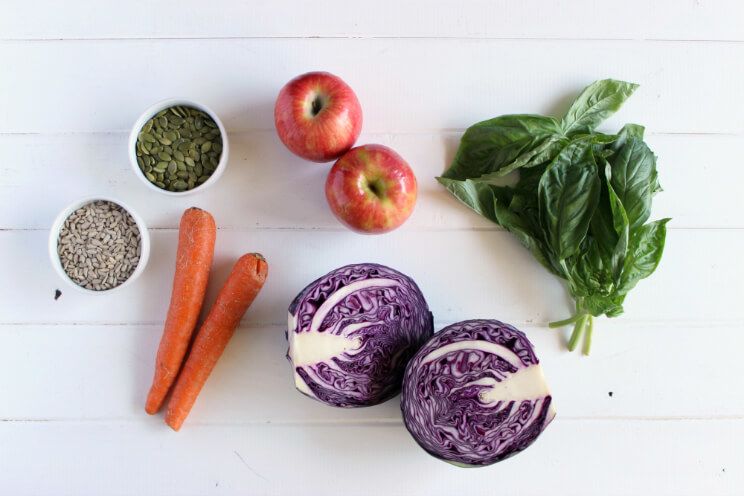 Prep Time:
10 mins
10 minutes
Sweet Apple Basil Slaw
Boasting fresh fruits and basil, this Sweet Apple Basil Slaw has a lighter take on a classic that's sure to please.
Ingredients
1/2 head red cabbage (shredded)

2-3 large carrots (grated)

1 large red apple (shredded or spiralized)

1 cup basil leaves (lightly packed)

¼ cup raw sunflower seeds

For the Dressing:

¼ cup extra-virgin olive oil

3 T apple cider vinegar

1-2 T raw honey

1 T lemon juice

Salt and pepper to taste
Instructions
Combine the ingredients for the dressing in a small bowl, and whisk them together.

Combine all the ingredients in a large bowl, drizzle with the sweet dressing, and toss to combine.
Pro tip: If you're preparing the slaw ahead of time, add the apples, basil, and sunflower seeds just before serving.

(You'll Also Love: Rainbow Veggie Pesto Salad)