This refreshing Waldorf salad is a summertime must.
Crunchy apples, hearty celery and sweet grapes are tossed in a creamy and cool dressing for a side dish that pairs perfectly with grilled meats!
A crunchy salad bursting with seasonal freshness is just what the doctor ordered on a warm day. This recipe stays true to its classic name while amping up the health benefits with a few Paleo ingredients. Combining chopped fresh and dried fruit, crunchy nuts and celery ensures each bite is different and oh-so-satisfying.
Love apple cider vinegar? Boost your digestion and lose weight with our Apple Cider Vinegar handbook!
Click here to get your FREE copy of our ACV Guide!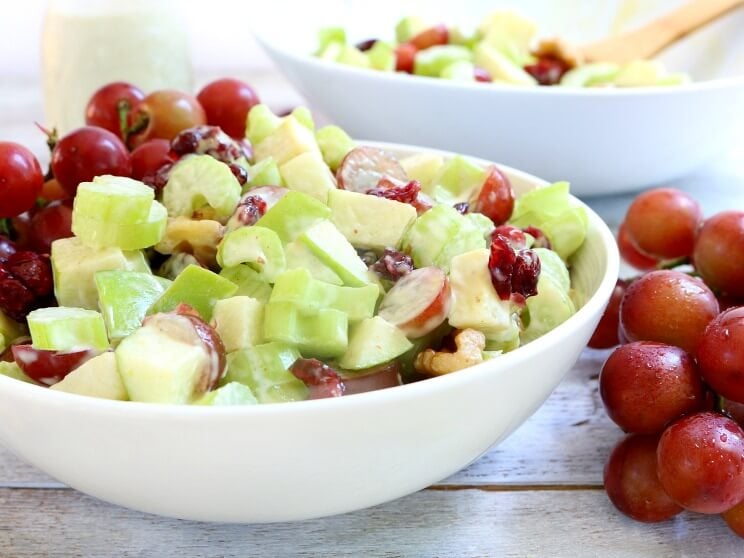 This recipe also uses red grapes instead of green. Red grapes contain two important flavonoids that deliver serious anti-inflammatory actions: fighting heart disease and inhibiting carcinogenic activity in the body.
The lightly sweet, 4-ingredient dressing comes together quickly. Start by whisking together Paleo mayonnaise, Dijon mustard, apple cider vinegar and coconut sugar. To reap all the probiotic benefits that ACV has to offer, be sure to opt for the kind with "The Mother", which are those strand-like pieces floating in raw ACV. Those strands are full of enzymes, protein and good bacteria!
The pairing of this savory dressing with fruit hits the satisfying, salty-sweet combo to a T. Pour the dressing over chopped fruit and veggies and refrigerate until serving. Don't worry – the hearty veggies can handle the dressing and won't get soggy! To turn this salad into a complete meal, try adding some chopped grilled chicken or another protein of your choice.
Jennafer Ashley
The Best Waldorf Salad with Healthy Apple Cider Vinegar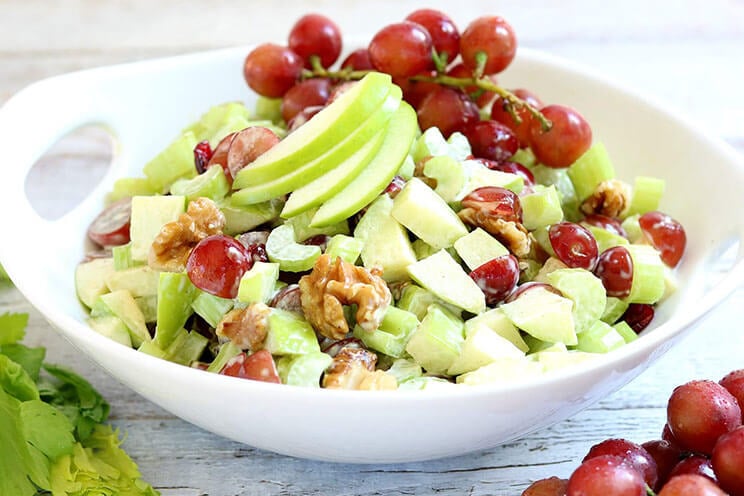 Prep Time:
10 mins
10 minutes
The Best Waldorf Salad with Healthy Apple Cider Vinegar
Packed with crunchy apples, hearty celery and sweet grapes, this summer salad is tossed in a creamy and cool dressing for a refreshing side dish.
Ingredients
1 large Granny Smith apple, chopped

2 cups celery, chopped

1 cup seedless red grapes, halved

1/2 cup unsweetened cranberries

1/3 cup walnut halves

1/2 cup Paleo mayonnaise

2 T apple cider vinegar

1 T Dijon mustard

1 t coconut sugar
Instructions
In a small bowl, whisk together mayonnaise, apple cider vinegar, Dijon mustard and coconut sugar until well combined.

Pour dressing over chopped fruit, veggies and nuts in a large mixing bowl. Refrigerate until serving.

(You'll Also Love: Rainbow Turkey Salad)