Serve up a bowl of warm chile verde soup with fresh veggies and shredded chicken!
If you're craving something light and fit, this delicious soup is a recipe you're gonna wanna bookmark asap. It's packed with plenty of protein, keeps you satiated for hours, and comes with a zesty kick of heat.
For the base, we combine a homemade salsa verde (aka "green sauce") with a savory gut-friendly bone broth. We then simmer the chicken in the soup for at least one hour, so that it's easily shreddable at the end.
How does bone broth fight inflammation AND promote weight loss? Download our Free Bone Broth Guide And Recipes To Find Out Now!
Click here to get your FREE Bone Broth Guide And Recipes Today!
Two Ways To Cook It
Cooking it on a stovetop is the fastest way to tenderize the meat, but you can also let it cook in a slow cooker instead.
If you prefer to use a slow cooker, the instructions are fairly similar. When you're finished making the homemade salsa verde, simply toss it with the remaining ingredients in a slow cooker and set it on high for four hours (or eight on low).
Helpful Tips for Getting Started:
Feel free to tone down the heat. If you're not a fan of the chili flakes, you can simply leave them out.
Swap out the cilantro for parsley. If you find the taste of cilantro too strong, try substituting with fresh parsley instead.
Make a big batch ahead of time. This soup lasts up to four days in the fridge, which makes it convenient to heat and enjoy throughout the week!
Felicia Lim
Zesty Chicken Chile Verde Soup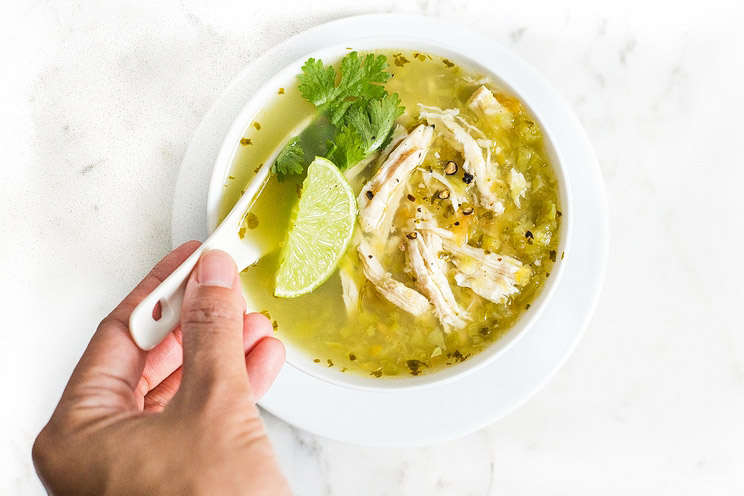 Cook Time:
1 hr 5 mins
1 hour 5 minutes
Prep Time:
10 mins
10 minutes
Nutrition facts:
57 grams of protein
17 grams of carbohydrates
15 grams of fat
Zesty Chicken Chile Verde Soup
Serve up a bowl of warm chile verde soup with fresh veggies and shredded chicken.
Tools
Baking sheet

Blender

Large pot
Ingredients
2 cups halved tomatillos

¼ cup chopped fresh cilantro, plus more for garnish

½ cup diced cubanelle green peppers

1 T minced garlic

¼ cup fresh lime juice

1 cup water

4 cups bone broth

1 T cumin powder

1 T red chili flakes

¾ lb skinless chicken breast

Salt and pepper to taste

Lime wedges, for garnish
Instructions
Place the halved tomatillos onto a baking sheet and broil them in the oven for five minutes, or until the tops are blistered.

Combine the broiled tomatillos, cilantro, cubanelle peppers, minced garlic, fresh lime juice, and water in a blender on high speed. Blend until you get a homogenous bright green salsa verde.

Transfer the salsa verde to a medium pot and add in the bone broth, cumin powder, and chili flakes. Mix well to combine.

Submerge the chicken breast into the liquid and switch the heat to medium-low. Continue cooking for 1 hour or until the chicken juices run clear when prodding.

Remove the chicken breast from the pot and set onto a cutting board. Use two forks to shred the meat into thin strips.

Return the shredded chicken back to the pot and add in the salt and pepper to taste.

Let it simmer for about 3 minutes and divide the soup evenly into 2 bowls. Garnish with fresh cilantro and lime wedges before serving.
For more delicious, simple, and gourmet ways to use everyone's favorite liquid gold, check out our Bone Broth Cookbook! These healthy creations will heal your digestion, boost your immune system, and improve your hair, skin, and nails. Slurp on tasty recipes like Fire Chili, Ocean Stew, and more when you get your copy HERE.