Juicy portobellos marinated in tangy lime, roasted bell peppers, onions, and simple seasonings keep these mushroom fajitas deliciously meatless.
While we love a good, meaty burger as much as anyone, sometimes an all-veggie dish is in order. In this recipe, we put a twist on classic fajitas by swapping the meat with portobello mushrooms. Portobellos make for the perfect meat substitute; when baked or grilled, they take on a hearty, chewy texture that absorbs the flavors around it.
The marinade used in this recipe uses just the right amount of spice and tanginess from the fresh lime juice. You can use your favorite taco seasonings for this recipe, but we included our favorite one below (feel free to use it!). To get the best flavors, let the mushrooms marinate at room temperature for at least 10 minutes before baking. This lets the portobellos soak up all the yummy spices and lime.
Love slow cooker recipes?
Click here to get your FREE copy of our delicious Slow-Cooker Recipes!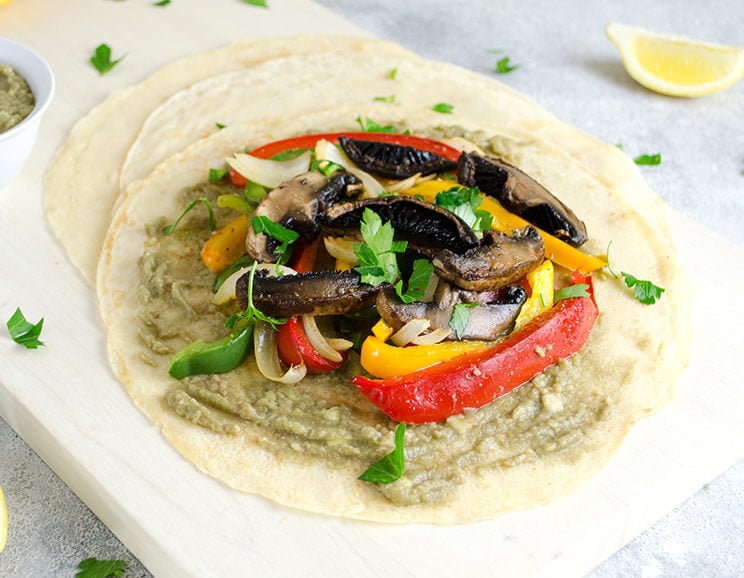 The best part about this recipe is that you can have dinner on the table in less than 30 minutes. Just slice the veggies, marinate them in the lime juice and taco spices, arrange everything on a baking tray, then bake for 20 minutes. After that, they're ready to devour!
PS: For these mushroom fajitas, we made these warm, crispy Paleo tortillas and drizzled everything in this creamy avocado garlic sauce. We highly recommend doing the same.
Dina Hassan
Sheet Pan Portobello Mushroom Fajitas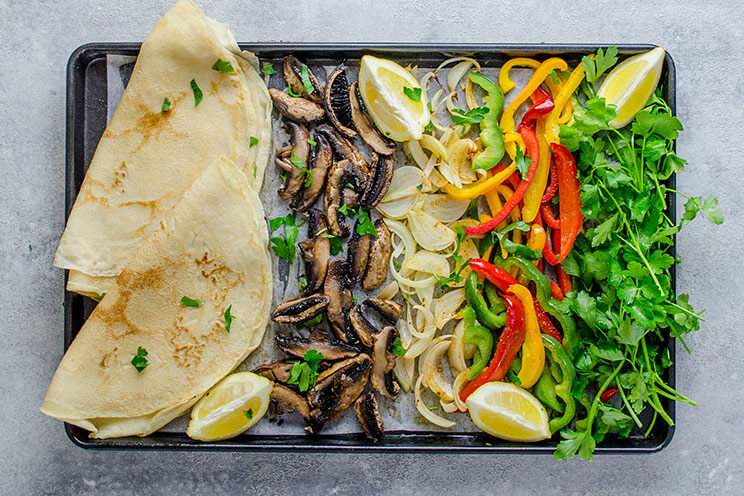 Cook Time:
20 mins
20 minutes
Prep Time:
10 mins
10 minutes
Sheet Pan Portobello Mushroom Fajitas
Juicy marinated mushrooms and simple seasonings make these fajitas deliciously meatless.
Tools
Baking tray

Parchment paper
Ingredients
For the Fajitas:
8 oz small portobello mushrooms, sliced

1 ½ cups mixed bell pepper, sliced

1 medium onion, sliced

1 T taco seasoning (recipe below)

1 T lime juice

1 T extra virgin olive oil

Salt and pepper, to taste

A handful of cilantro, chopped
For the Taco Seasoning:
1 t chili

1/4 t garlic powder

1/4 t onion powder

1/4 t crushed red pepper flakes

1/4 t oregano

1/2 t paprika

1 t cumin
Instructions
Preheat the oven to 350°F. Line a baking tray with parchment paper.

In a large bowl, mix together the mushroom, mixed bell pepper, chopped onion, lime juice and taco seasoning. Sprinkle with salt and pepper. Stir until the veggies are evenly coated in the seasoning. Allow to marinate at room temperature for 10 minutes.

Spread the veggies evenly on the baking tray and lightly drizzle with extra virgin olive oil. Bake for 15-20 minutes.

Remove from the oven and allow to cool slightly before eating. Top with cilantro.
Tip: To save time, you can prepare the veggies the night before, store them in an airtight container, and place them in the fridge until you're ready to cook.

(You'll Also Love: Cozy Taco Soup with Ground Beef)