Duck breasts get an addicting caramelized crust in this elegant and easy-to-make recipe.
Duck always makes a meal feel like a special occasion. The meat offers a savory, deep flavor unlike any other dish. You can find quality duck breasts in the freezer section of most specialty markets (or fresh, if you're lucky), but if you can't find them, you can always try to special order them from your butcher. Duck breasts are less fatty than duck thighs, and don't shrink too much after cooking. You can keep the leftover rendered fat for days in the fridge or months in the freezer – it makes a delicious addition to any meal. You can use it to cook sweet potatoes (hello, duck fat sweet potato fries) or roast any other veggie for a decadent touch.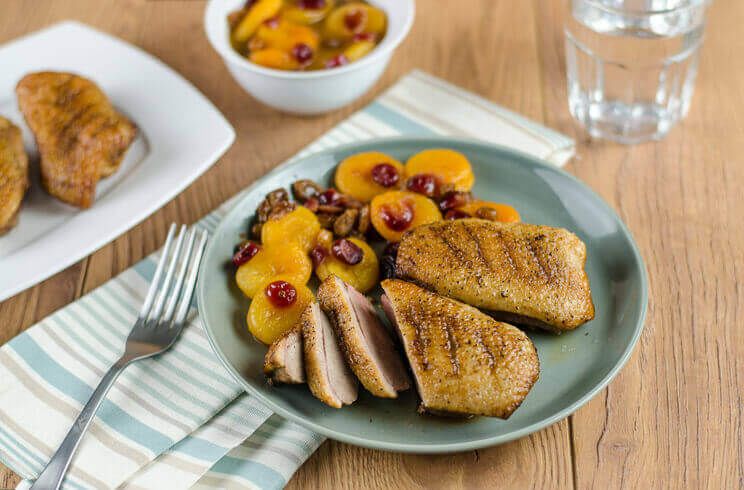 The seared duck breasts come served with a fruity, sweet and savory sauce, with a base of orange juice, honey, dried apricots, sultanas and cranberries. It has the perfect balance between sweet and tangy, and the addition of cumin and coriander seasoning brings an earthy depth to the dish.
Love slow cooker recipes?
Click here to get your FREE copy of our delicious Slow-Cooker Recipes!
Dina Hassan
Seared Duck Breasts with Honey and Apricot Sauce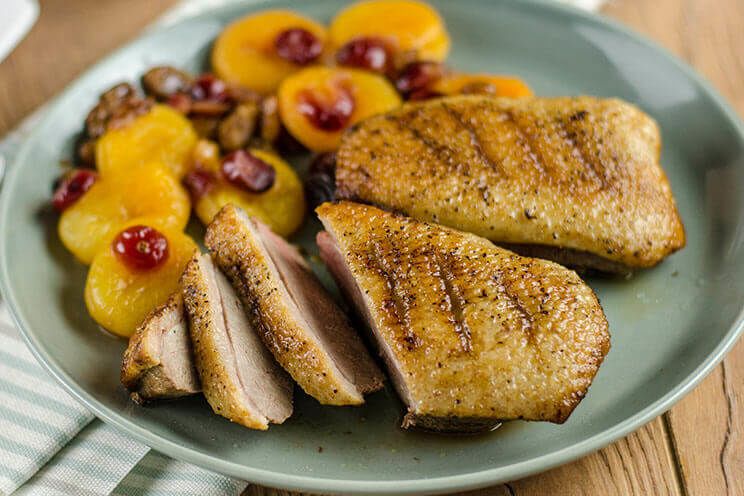 Prep Time:
15 mins
15 minutes
Seared Duck Breasts with Honey and Apricot Sauce
Duck breasts get an addicting caramelized crust in this elegant yet easy to make recipe.
Ingredients
For the Apricot Sauce:
1 cup organic orange juice

½ cup chicken stock

2 T honey

1 cup dried apricots, chopped

¼ cup cranberries

¼ cup sultanas

½ t fresh ginger, grated

1 t orange zest

¼ t ground coriander

¼ t ground cumin

1 t lemon juice

Salt and pepper, to taste
For the Seared Duck Breasts:
4 duck breast fillets

1 T olive oil

Salt and pepper, to taste
Instructions
Preheat oven to 350°F.

For the apricot sauce: In a saucepan, combine orange juice, chicken stock and honey. Stir over medium heat for 3 minutes until the honey is dissolved.

Add the apricots, cranberries, sultanas, ginger, orange zest, coriander, cumin, salt and pepper. Bring to a boil, then reduce the heat to low and cook for another 10 minutes or until dried fruits are tender and sauce is thickened.

Transfer to a bowl and stir in the lemon juice. Let cool to room temperature for at least 1 hour.

For the duck breasts: Using a sharp knife, score the fat of the duck in a shallow diagonal pattern, spacing the cuts ½-inch apart.

Season both sides of each duck fillet with salt and pepper. Place the fillets fat-side down on a large, cold dry skillet. Cook over medium heat until fat on the fillets is golden in color. As the pan heats up, the fat will start to render from the fillets.

Turn fillets over and continue to cook for an additional 2-3 minutes, until slightly browned.

Transfer fillets to an extra virgin olive oil-brushed roasting pan and bake in the center of the oven for 30-35 minutes or until the meat reaches the desired doneness.

Transfer the duck breasts to a cutting board and rest for 10 minutes before serving.

Thickly slice the duck breasts and arrange on plates, spooning the apricot sauce on top before serving.


(You'll Also Love: Rosemary Pork Chops with Cranberry Sauce)