Stuffed with raw, fresh veggies, these light zucchini rolls get a herby kick from the rich basil pesto.
You've probably never thought of using zucchini as a wrapper, but long strips of mild zucchini ribbons are perfect for stuffing and rolling up with any kind of flavor. Make sure you use a large zucchini to get the most surface area, and use a mandoline, or a standard vegetable peeler, to create long ribbons.
Tip: If using a vegetable peeler, firmly press as you glide the peeler along the zucchini to get a thicker ribbon. You'll use about 8-10 ribbons for this recipe, so be sure to save the rest of the zucchini to grate and add to meatballs, burgers or Paleo bread.
Do you struggle with bloating, gas, constipation, or other digestive issues? We've created a FREE guide to healing your gut naturally.
Click here to get your FREE copy of our Eat Wild Guide!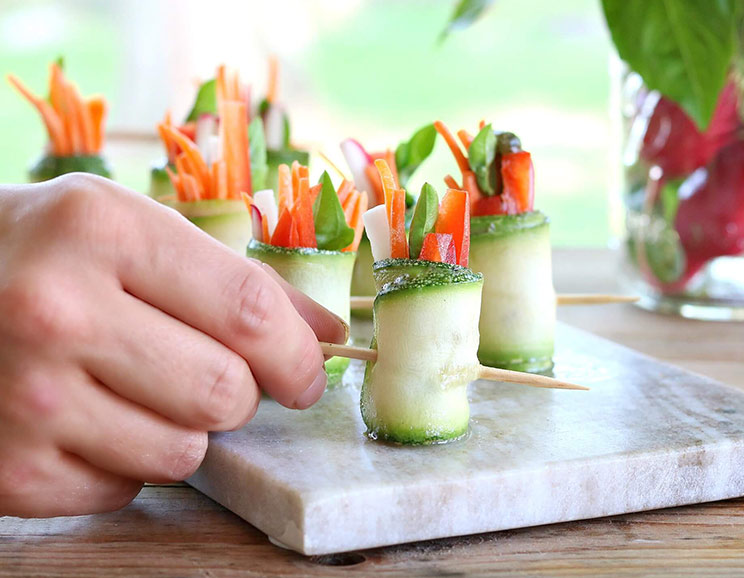 The roll-ups are smeared with Paleo pesto for a rich garlic-herb flavor. If pesto isn't your thing, use almond butter or a cauliflower hummus to spread on each ribbon. Leave a little extra to drizzle on top!
Start by laying each zucchini ribbon flat on a work surface, and lightly brush on the pesto. Place finely sliced vegetables about 2 inches from the end of the ribbon so there is enough room to tuck the zucchini over them as you roll. This recipe uses julienned bell peppers, and matchstick carrots and radishes, but shredded broccoli or jicama would work well too. Gently roll the zucchini ribbons into a pinwheel and secure with a toothpick. Serve right away for the freshest flavor.
Jennafer Ashley
Raw Zucchini Rolls with Paleo Pesto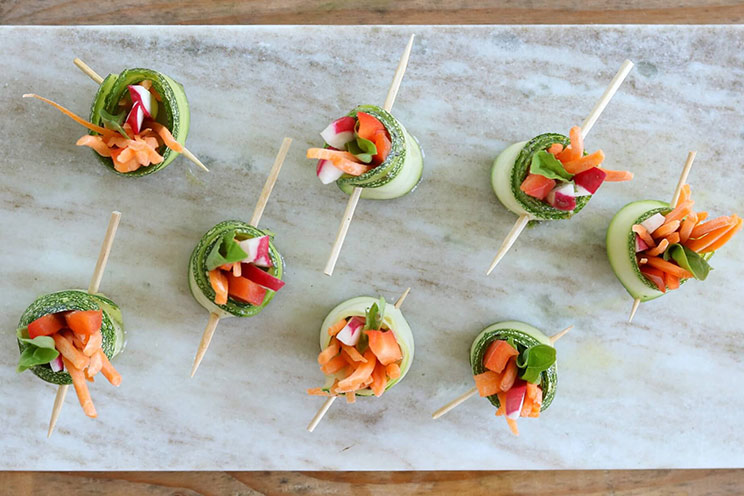 Prep Time:
20 mins
20 minutes
Raw Zucchini Rolls with Paleo Pesto
Stuffed with the raw, fresh veggies, these light zucchini roll-ups get a herby kick from the rich basil pesto.
Tools
Vegetable peeler or mandoline

Basting brush

Toothpicks
Ingredients
1 large zucchini

1/3 cup bell pepper julienned

1/2 cup carrots, sliced into matchsticks

2 radishes, sliced into matchsticks

8-10 basil leaves

1/4 cup paleo pesto
Instructions
Using a vegetable peeler, thinly peel zucchini into 8-10 long, wide ribbons.

Lay the zucchini ribbons flat on the work surface and lightly brush with pesto using a basting brush. Add the bell pepper, carrots, radish slices and a basil leaf, leaving 1-2 inches of zucchini at the end.

Gently but firmly roll the zucchini into pinwheels and secure with a toothpick. Serve immediately or refrigerate. Drizzle extra pesto over the roll-ups before serving.

(You'll Also Love: Zucchini Noodles with Sun-Dried Tomato Sauce)