Your favorite takeout appetizer gets a Paleo makeover!
Nothing beats a one-pan meal on busy nights. Taken one step further, this deconstructed pork eggroll bowl has all the flavor of a takeout dinner, but with Paleo-friendly ingredients for a filling meal without any guilt.
Start by cooking ground pork in a large skillet over medium heat, using a spatula to break up the pork into small bits. You can also use finely sliced pork chops or chicken as the protein source, if you prefer. Just be sure to use pasture-raised meat for the highest quality protein and the most health benefits.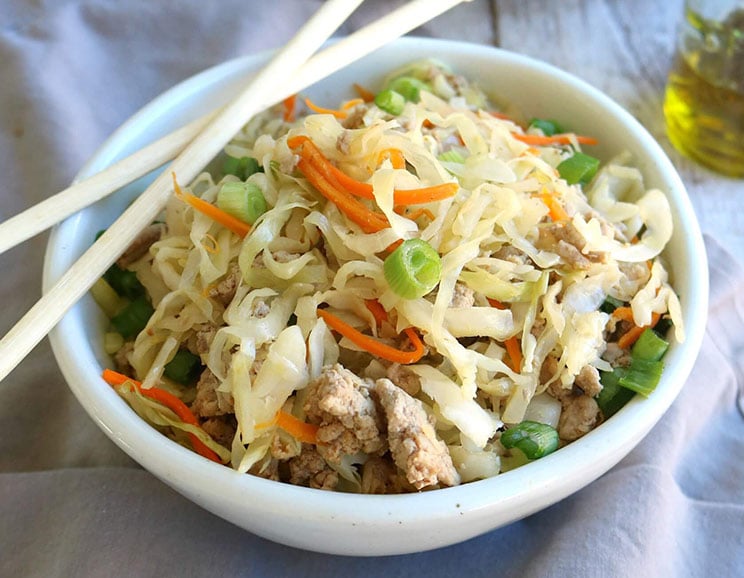 The bulk of eggroll filling is shredded veggies like green cabbage and carrots. Both are full of fiber, helping to keep you full. Mixed in with garlic and ginger, they really deliver in the flavor department! Add the veggies to the skillet and cook until the cabbage is soft and tender.
Trying to figure out exactly what to eat on Paleo?
Look no further than our FREE 21 Day Paleo Meal Plan
Once the meat and veggies are cooked, toss them in a garlic-ginger sauce made with a dash of toasted sesame oil. A little bit goes a long way! Apple cider vinegar is also added for extra probiotic benefits.
Garnish your pork eggroll bowl with thinly sliced scallions, and serve hot!
Jennafer Ashley
Paleo Pork Eggroll in a Bowl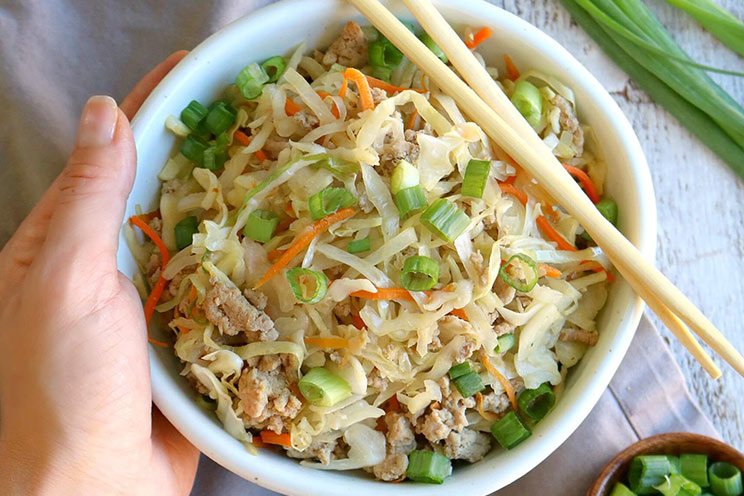 Cook Time:
15 mins
15 minutes
Prep Time:
5 mins
5 minutes
Paleo Pork Eggroll in a Bowl
Your favorite takeout appetizer gets a Paleo makeover!
Ingredients
1 lb pasture-raised ground pork

8 cups shredded green cabbage

1 cup shredded carrot

1/2 t ginger, minced

1/2 t garlic, minced

3 T coconut aminos

2 T apple cider vinegar

1 T toasted sesame oil

1/3 cup scallions, thinly sliced
Instructions
In a large skillet, over medium heat, cook the pork for 5 minutes, breaking into small pieces using a spatula.

Stir in the cabbage, carrots, garlic and ginger. Continue to cook for 10 minutes longer, stirring occasionally.

Pour in the coconut aminos, apple cider vinegar and sesame oil. Stir well to coat the veggies and pork. Serve hot garnished with scallions.
Looking for Paleo ingredients? Here are a few we'd recommend:
Apple Cider Vinegar (Bragg)

For more Asian-inspired dishes with a Paleo twist, check out these recipes…