Ditch wheat noodles in favor of zucchini noodles for a veggie-rich ramen noodle bowl full of antioxidants!
Japanese-style ramen offers endless opportunities when it comes to ingredients. You'll find this brothy soup in restaurants featuring chicken, seafood, steak, and all kinds of veggies.
How To Make It Paleo
To make this ramen noodle bowl completely Paleo-friendly, we combine zucchini noodles with a zingy broth that's rich in fresh flavors like lime juice and ginger. It's a great Asian twist on traditional chicken soup with an array of immune-boosting veggies.
Love pasta? Grab your spiralizer and crank out these amazing veggie noodle recipes!
Click Here to Get Your FREE recipe book of 20 Easy Ways to Use Your Spiralizer.
Since the noodles don't need to be cooked, this ramen cooks up in a flash. All you need to do is bring the broth to a rolling boil and ladle it into a bowl with your favorite veggies. The piping hot broth will tenderize the veggies for a slight crunch while infusing their flavor into the broth.
Let's Talk Toppings
Soft-boiled eggs add creamy flavor (since the yolk isn't fully cooked yet), while also adding a dose of protein. To amp up the broth, we add green onions and radishes for flavor and texture. We also add a bit of baby bok choy to give the soup extra staying power.
Since fresh herbs are essential to any great ramen noodle bowl, this soup includes a handful of fresh basil for brightness. We then top it off with an extra squeeze of lime to add a bit of zip. If basil's not your thing, you can also switch it up with cilantro instead.
Helpful Tips To Get You Started:
Use the right zucchini noodles. If you're using a spiral slicer, use the 3mm blade for thin, curly noodles.
Try all the veggies. Kohlrabi, white sweet potato, or daikon radish can also be turned into veggie noodles in place of traditional noodles.
Any broth works. Vegetable, beef, or bone broth can be used in place of chicken broth.
Go crazy with toppings. Other great toppings include shredded carrots, bamboo shoots, napa cabbage, mushrooms, and jalapeño.
Jennafer Ashley
Paleo Ramen Noodle Bowl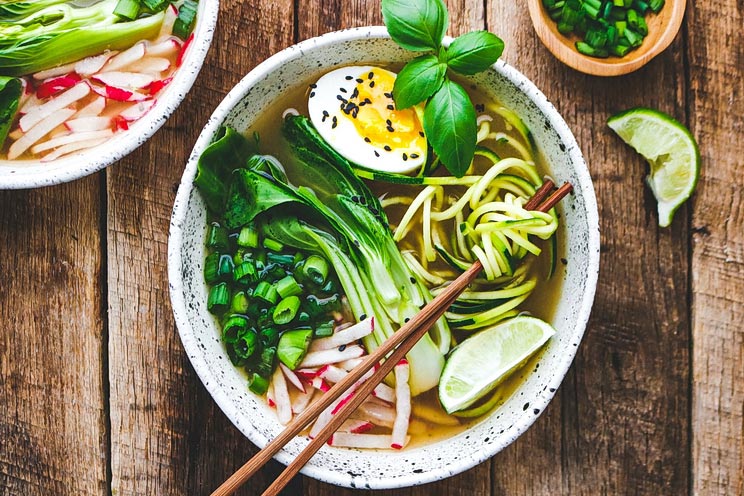 Cook Time:
8 mins
8 minutes
Prep Time:
5 mins
5 minutes
Nutrition facts:
14 grams of protein
16 grams of carbohydrates
3 grams of fat
Paleo Ramen Noodle Bowl
Ditch wheat noodles in favor of zucchini noodles for a veggie-rich soup full of antioxidants.
Ingredients
For the Soup:
6 cups chicken broth

¼ cup coconut aminos

1 t grated ginger

2 T lime juice
For the Toppings:
4 cups zucchini noodles

⅔ cup chopped green onion

2 baby bok choy, halved lengthwise

⅔ cup matchstick-sliced radishes

2 soft-boiled eggs, halved

1 t black sesame seeds

⅓ cup fresh basil leaves

1 lime, cut into wedges
Instructions
Combine the chicken broth, coconut aminos, ginger and lime juice in a medium saucepan and heat to a rolling boil, about 8 minutes.

Ladle the hot broth into 4 serving bowls and equally divide the zucchini noodles, green onions, bok choy, and radishes into each bowl. Allow the vegetables to cook in the hot broth for 3 minutes.

Top each bowl with the soft-boiled egg halves, then garnish with sesame seeds, basil, and a squeeze of lime. Serve hot and enjoy!
Looking for Paleo ingredients? Here's what we recommend:
Sesame seeds (McCormick)
On a soup kick? Take it up a notch with our Bone Broth Cookbook filled with nourishing recipes that improve digestion, boost your immune system, and improve your hair, skin, and nails. Dip your soup spoon into recipes like Fire Chili, Ocean Stew, and over 75 ridiculously tasty broth recipes!  Get your copy HERE.