Delicious, tender pork banh mi meatballs you can whip up in under 30 minutes!
A traditional banh mi sandwich is a layered combination of sliced grilled pork, pickled veggies like carrots, jalapeño or radish, and fresh cilantro. We are foregoing the bun and combining all of these mouthwatering flavors into two-bite meatballs for a serious game day or party pleaser!
Quality pasture-raised pork is essential to creating these tender meatballs. Ground cage-free chicken or turkey are also great protein substitutes. Next, choose your veggies. I opted for carrots and jalapeños, but scallions or even grated zucchini would work nicely in this recipe. Coconut aminos stand in for fish sauce or soy sauce, which is traditionally used to cook the pork. Coconut aminos add the same salty, umami flavor while being much gentler on the digestive system. To achieve the same tanginess of pickled veggies, I used fresh lime juice.
Trying to figure out exactly what to eat on Paleo? Look no further than our FREE 21 Day Paleo Meal Plan.
Grab Our FREE Paleo Meal Plan By Clicking Here!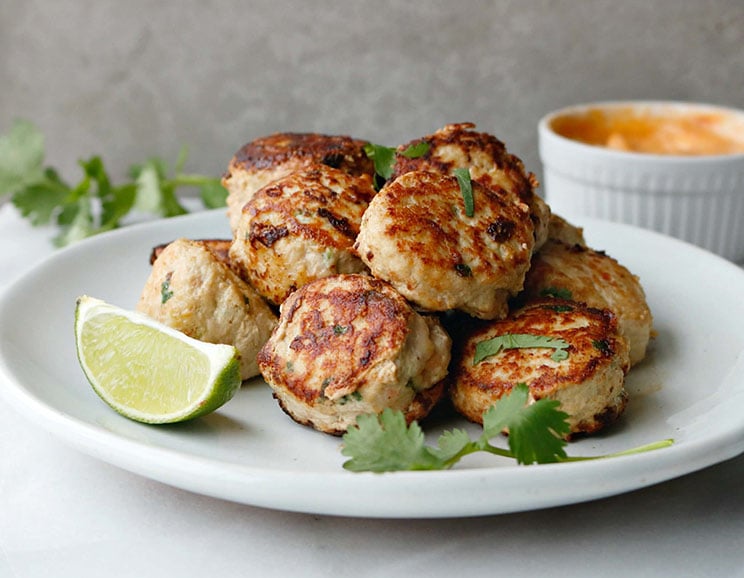 To start, combine all ingredients in a mixing bowl and use your hands to incorporate. Form mixture into balls a bit larger than golf ball size (you should get about 14 meatballs).
Heat coconut oil over medium heat in a large pan until shimmering hot. Add 5 meatballs to pan and cook 5 minutes. Turn meatballs using tongs and cook an additional 5-7 minutes. Tip: You can also bake these meatballs in the oven. Bake at 350°F for 25-30 minutes on a parchment paper-lined baking sheet. Serve hot with a combo of homemade sriracha and mayonnaise for dipping!
Tip: For denser meatballs, add ⅓ – ½ cup of almond flour to the ground pork mix.
Jennafer Ashley
Pork Banh Mi Meatballs

Cook Time:
15 mins
15 minutes
Prep Time:
10 mins
10 minutes
Pork Banh Mi Meatballs
Delicious, tender pork banh mi meatballs you can whip up in under 30 minutes.
Tools
Large skillet

Tongs

Mixing bowl
Ingredients
1 lb ground, pasture-raised pork

1 egg

1/3 cup grated carrot

1 t garlic, minced

1 t jalapeño, minced

2 T cilantro, finely chopped

1 T lime juice

1 T coconut aminos

1 t coconut oil
Instructions
In a large mixing bowl, combine all ingredients except the coconut oil and mix well to incorporate.

Form into balls slightly larger than golf balls.

Heat a large skillet over medium heat and melt coconut oil until shimmering hot. Add meatballs five at a time. Cook 5 minutes.

Use tongs to gently turn meatballs and cook an additional 5-7 minutes until cooked through. Repeat with remaining meatballs.
Looking for Paleo ingredients? Here's what we recommend:
Cold pressed coconut oil (Viva Naturals)

Try these other delicious Paleo meatball recipes!