Tortillas — warm, satisfying pockets of dough that blanket your favorite meats, cheeses and veggies.
Unfortunately, the traditional recipe calls for non-Paleo corn or white flour. This Paleo-friendly recipe upgrades the tortilla, replacing gluten-ridden flours with tapioca starch and almond meal. 
The result is warm, crispy-edged rounds that blanket Paleo burritos and tacos beautifully. These rounds of love need only 5 ingredients and take minutes to prepare.
Love almond flour recipes? Get our free almond flour recipe cookbook here!
Pro tip: these make fantastic Paleo tortilla chips if you cut them into triangles and bake them at 400°F for 20 minutes.
Courtney Hamilton
Warm, Crispy Paleo Tortillas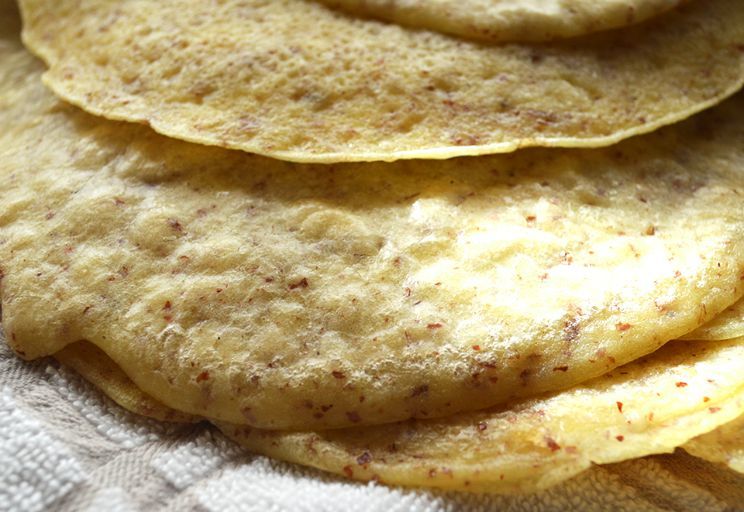 Cook Time:20 mins 20 minutes
Prep Time: 5 mins 5 minutes
Warm, Crispy Paleo Tortillas
Ingredients
2 eggs
1 cup unsweetened almond milk
Juice from ¼ lemon
1 ½ cups tapioca starch
½ cup almond meal
Coconut oil for frying
Salt to taste
How to Make It:
1. Whisk together eggs, almond milk and lemon juice in a bowl. In a separate bowl, combine tapioca starch and almond meal. Whisk in wet ingredients to dry. Mixture will be liquid, like pancake batter.
2. Coat a cast iron skillet with coconut oil. Pour tortilla batter into taco-sized rounds. Fry about 2 minutes a side over medium heat.
3. Remove tortillas from pan and sprinkle with salt, if desired. Enjoy!
(You'll Also Love: Paleo Enchiladas)