Think "creamy" soups are off the Paleo menu? Think again! With a few simple substitutions, you can have all the meals you enjoyed before you went "primal."
One of our favorite substitutions for a cream-based dish is cauliflower. (Don't believe it? Try our New England Clam Chowder!) You can also use full-fat coconut milk. It's the perfect replacement for heavy dairy creams, and it still provides that velvety feel you want in a warm soup.
In this recipe, we opted for coconut milk. To prevent curdling, we added it toward the end of our prep.
Want to go Paleo? Not sure where to start?
Start with this FREE Paleo For Beginners Guide Today!
This cozy soup recipe could not be more simple or satisfying, and it only takes five minutes to prepare. The bulk of time involves just letting it simmer. Once the broccoli is fork-tender, just transfer it to a food processor or high-speed blender to really make it creamy.
But a word of caution: Always be careful when blending anything hot. Avoid the steam when you lift the lid off your processor or blender.
Serve this soup up with one of your favorite salads or a slice of Paleo bread, and you'll have comfort food at it's finest!
Deanna Dorman
Cream of Broccoli Soup with Coconut Milk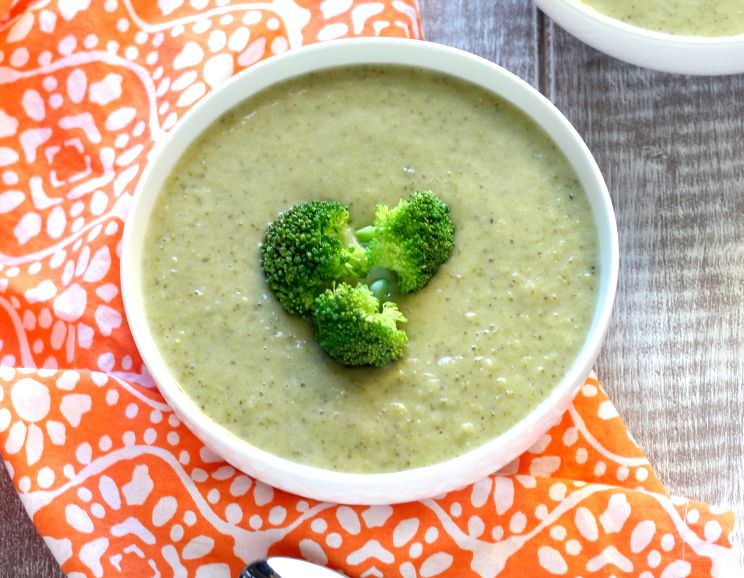 Cook Time:
20 mins
20 minutes
Prep Time:
5 mins
5 minutes
Cream of Broccoli Soup with Coconut Milk
Create a simple, satisfying and cozy soup in just 20 minutes.
Ingredients
1 T ghee or grass-fed butter

½ white onion (diced)

2 cloves garlic (minced)

3 cups chicken or bone broth

1 pound broccoli florets

1 leek (slice the whites only)

1 cup full-fat coconut milk (shaken)

Salt & pepper to taste
Instructions
Heat the ghee over a medium-high heat. Add the onion, and saute for 1-2 minutes until it starts to turn translucent. Add the garlic, and cook for one minute (until fragrant).

Pour in the broth, and add in the broccoli florets and leek. Salt and pepper to taste. Bring to a boil, then lower heat to a simmer for 20 minutes (or until the broccoli is fork-tender).

Add the coconut milk, and allow it to fully warm (about 2 minutes).

Transfer the ingredients to a food processor, and puree until smooth.

(You'll Also Love: Roasted Asparagus Soup with Tahini Drizzle)