Bake up this gluten-free plantain bread using five simple ingredients and zero refined sugars!
This loaf makes a yummy addition to your daily eats with its wholesome and nutrient-dense ingredients. Simple to make, there's no need to add any yeast or to wait for the dough to rise. Simply blend everything together, pour into a loaf pan, and wait for it to bake – that's it!
For this recipe, we combine fiber-rich plantains with eggs, salt, and coconut oil to create the base of the dough. As a grain-free alternative, we also sub in coconut flour to give the bread a nice fluffy texture and subtle sweet flavor.
Love Coconut Flour Recipes? Then you'll love our FREE Coconut Flour Recipes.
Click here to get your FREE copy of our delicious Coconut Flour Recipes!
Similar to a banana, the plantain is about three times the size and has its own unique taste. When the plantains are entirely green, the flesh actually tastes like a potato and adds definition only to the texture (not the taste). You can find plantains at most supermarkets or health food stores, but make sure to skip the ones that are yellow or black since these will be slightly sweeter and affect the final result.
Tip: To ensure that your bread doesn't stale up quickly, I recommend letting it cool and then storing in an airtight container inside the fridge. This will help keep your bread moist and is a great way to preserve it when you only want a slice or two.
Make it ahead of time and keep it handy throughout the week! You can use it to make Paleo sandwiches or toast with ghee for a morning treat.
Heather Resler
5-Ingredient Plantain Bread Recipe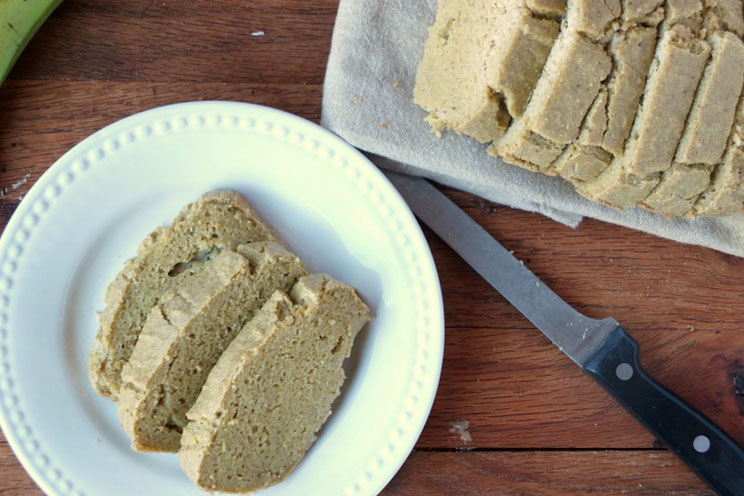 Cook Time:
40 mins
40 minutes
Prep Time:
10 mins
10 minutes
5-Ingredient Plantain Bread Recipe
Bake up this gluten-free plantain bread using five simple ingredients and zero refined sugars.
Ingredients
1/3 cup melted coconut oil, plus more for greasing

3 green plantains, peeled and sliced

5 eggs

1/3 t salt

2 T coconut flour
Instructions
Preheat oven to 350°F.

Grease a loaf pan with coconut oil.

Place all remaining ingredients (except for the coconut flour) into a food processor and pulse until smooth.

Next, add the coconut flour and process until mixed thoroughly.

Pour the batter into the loaf pan and bake for 40 minutes.

Poke a toothpick into the center of the bread. If it comes out clean, the bread is done. Slice and enjoy!
Looking for Paleo ingredients? Here are a few we'd recommend:
Cold pressed coconut oil (Viva Naturals)
Coconut flour (Nutiva)
You'll Also Love: 17 Low Carb + Keto Bread Recipes