Bake up these Aussie-inspired Paleo Lamingtons made with dark chocolate sauce and dreamy coconut flakes.
These Paleo Lamingtons will fool even the pickiest of eaters. Traditional lamingtons are a dessert popular in Australia and for good reason. Made with a sponge-cake center and a sweet chocolate-coconut coating, these desserts are every cake lover's dream!
To create the ideal batter, this recipe uses a combination of two Paleo flours: blanched almond flour and cassava flour. Blanched almond flour creates a moist, fluffy texture, while cassava flour adds extra airy lightness. The topping includes a chocolate-coconut coating that uses a blend of dark chocolate chips, coconut oil, and chewy coconut flakes.
Love Paleo Desserts? Then you'll love our FREE Paleo Dessert Cookbook.
Click here to get your FREE copy of our delicious Dessert Recipes!
The biggest hack of this recipe is using silicone ice cube trays with two-inch molds as the baking vessel. This eliminates the need for slicing and ensures all eight lamingtons are perfectly sized. You can also use these molds for brownie recipes and cake pops since their silicone base can withstand heat up to 450º F and are BPA-free. Tip: If you are not using the silicone molds, grease an 8"x8" baking pan instead and then slice the lamingtons into equal squares after cooling.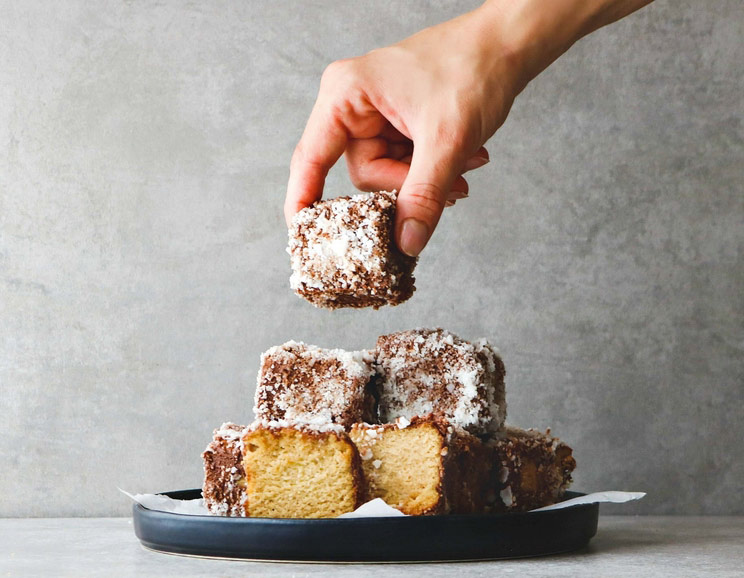 To make the batter, whisk together the coconut sugar and butter. Stir in the eggs one at a time as you continue to beat. Mix until well combined. Next, fold in the dry ingredients and then scoop a 1/4 cup of batter into each of the eight ice cube molds. Tap the tray on a countertop to evenly distribute the batter into the molds. Bake for 40 minutes and then remove from the oven. Let them cool for 15 minutes before handling. Note: The molds will be very hot, so be careful not to burn yourself. When the cakes are cooled, remove them from their molds and place onto a wire rack to set for another 30 minutes.
In the meantime, create the chocolate sauce by combining dark chocolate chips and coconut oil in a double boiler. Melt until smooth for about seven minutes. The chocolate sauce will be on the runny side at this point, which is ideal for the thin smooth coating. When finished, dip the cake squares into the chocolate sauce to coat on each side. Then, dredge in coconut flakes and set onto a cooling rack for 15 minutes.
Serve warm and enjoy! These lamingtons can be stored in an airtight container in the fridge for up to one week.
Jennafer Ashley
Fluffy Lamingtons Recipe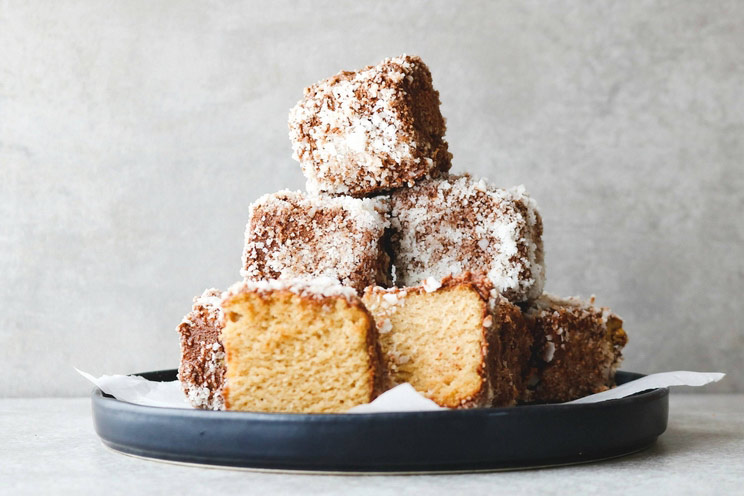 Cook Time:
50 mins
50 minutes
Prep Time:
15 mins
15 minutes
Fluffy Lamingtons Recipe
Bake up these Aussie-inspired Paleo Lamingtons made with dark chocolate sauce and dreamy coconut flakes.
Tools
BPA-free silicone 8 ice cube tray mold (or 8x8" baking pan)

Hand mixer

Mixing bowls
Ingredients
For Cake Batter:
1 cup blanched almond flour

1/2 cup cassava flour

1/4 t vanilla bean powder

1 t baking powder

1/8 t sea salt

4 T unsalted grass-fed butter, softened

1/4 cup coconut sugar

2 large pasture-raised eggs, room temperature

2/3 cup unsweetened almond milk
For Chocolate Sauce:
1/2 cup dark chocolate chips

1/4 cup coconut oil

1 ½ cups unsweetened coconut flakes, finely shredded
Instructions
Preheat the oven to 325ºF. Grease eight silicone ice cube molds with coconut oil.

For The Cake Batter: In a small mixing bowl, combine the almond flour, cassava flour, vanilla bean powder, baking powder, and sea salt.

In a separate medium mixing bowl, beat together butter and coconut sugar using a hand mixer for about 15 seconds. Beat in the eggs one at a time.

Gradually fold the dry ingredients into the wet ingredients. Pour in the almond milk as you continue to fold until fully incorporated. The mixture should be slightly thicker than pancake batter.

Pour a 1/4 cup of mixture into each mold and bake for 40 minutes or until an inserted toothpick comes out clean. Remove from the oven and cool for 15 minutes. Gently remove the cake squares from the molds and set onto a wire rack to cool completely for 30 minutes.

For The Chocolate Sauce: Melt the chocolate and coconut oil in a double boiler until smooth, 5-7 minutes. Stir well to combine.

Spread the coconut flakes on a plate. Dip each cake square in chocolate to coat each side, then transfer to a plate of coconut flakes and cover on all sides. Set the squares onto a wire rack for 15 minutes.

Serve warm and enjoy!
Looking for Paleo ingredients? Here are a few we'd recommend:
Almond flour (Bob's Red Mill)
Cassava flour (Otto's Naturals)
Vanilla bean powder (Kiva Health)
Grass fed butter (Vital Farms)
Coconut sugar (Wholesome)
Dairy-free chocolate chips (Enjoy Life)
Cold pressed coconut oil (Viva Naturals)

(You'll Also Love: Creamy Almond Butter Cake Recipe
)