Jojoba oil is the ultimate natural moisturizer for silky hair and soft skin. Here are easy ways to add this essential oil to your beauty routine.
All-natural face washes, shampoos, and other cosmetics often tout jojoba oil as their prized ingredient. That's because this impressive oil has potent anti-aging, ultra-moisturizing effects on hair and skin – all without blocking pores or causing breakouts. You might want to keep some jojoba oil in your first aid kit, too. This hypoallergenic oil even helps heal cuts and scrapes faster!
Read on to discover how you can use jojoba oil to give your hair and skin a natural boost.
Want naturally radiant skin? We've created a FREE guide to give you the best tips & tricks for natural skincare.
Click here to get your FREE copy of our Skincare Guide!
What is Jojoba Oil?
Jojoba (pronounced ho-ho-ba) oil is actually not an oil at all, but a liquid plant wax that comes from the seed of the Simmondsia chinensis plant, native to the southwestern United States and northern Mexico.
Jojoba is typically used in cosmetics but is also used in other products such as lubricants, waxes, and candles. (1)
---
The Natural Benefits of Jojoba Oil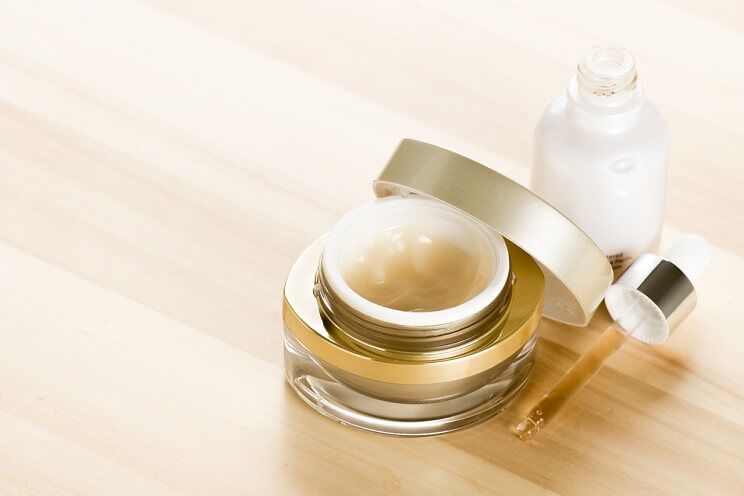 It's a Humectant
Jojoba is a humectant, meaning that it draws in and retains water. This is why it's such an effective moisturizer for dry skin. (2)
However, jojoba is also different from many other popular moisturizers because it closely resembles sebum, the natural oil our skin produces. This is important because it means the oil will absorb better due to being similar to our natural oil. (3)
Fights Aging
Jojoba oil is rich in a class of antioxidants called phenolic compounds. (4) These compounds help remove free radicals from our bodies, which are molecules created from a bad diet or environmental toxins that damage our DNA and cause signs of aging, like wrinkles.
Jojoba also keeps us looking younger by increasing collagen synthesis. (5) This is extremely important when it comes to anti-aging since our skin is made up of collagen and tends to get "worn down" as we age.
Gentle on Sensitive Skin
Studies show that jojoba is hypoallergenic and non-comedogenic. In other words, there is little risk of it blocking pores or causing breakouts, making it excellent for skin that reacts to other natural products. (6)
Helps Heal Wounds
Jojoba can help heal wounds by stimulating certain skin cells, called fibroblasts, to heal faster. Plus, jojoba oil's ability to increase collagen synthesis aids in topical healing by helping to link skin cells back together. (7)
Try using jojoba along with other topical healing creams or emollients as studies show that it enhances the absorption of topical drugs. (8)
Anti-Inflammatory
The anti-inflammatory properties of jojoba come from its antioxidant content. That means jojoba oil can help keep the skin barrier strong (which is great for keeping out inflammatory environmental toxins) while also reducing inflammation in conditions like dermatitis and acne. (9)
---
Jojoba Oil for Skin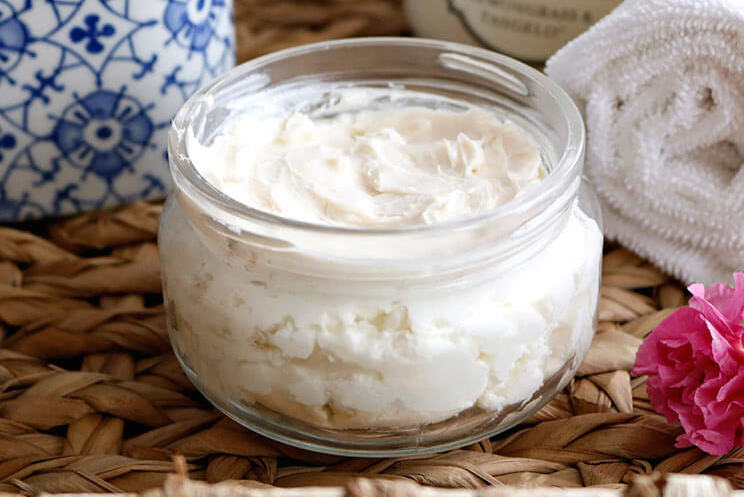 1. As a Moisturizer
One of jojoba oil's best qualities is its moisturizing ability. Use it as a standalone lotion at night after washing your face, or create your own face moisturizer by mixing it with almond or olive oils. You can also add a couple drops to your regular nightly face cream for an extra burst of antioxidants.
2. For Fungal Infections
Jojoba oil has antifungal properties, which makes it a great carrier oil when treating fungus infections. (10) To whip up an anti-fungal salve, say in the case of dealing with Athlete's foot or dandruff, mix a quarter-sized drop of jojoba with the same amount of coconut oil, plus eight drops of tea tree oil, and apply to the infected area daily.
3. For Anti-Aging
Since jojoba has such a high antioxidant profile, it works great as an anti-aging serum all by itself. Apply nightly to a clean face and/or combine it with your regular moisturizing cream or oil for a collagen and antioxidant boost.
You can also add a few drops to your favorite lotion or oil to give your body some anti-aging love as well.
4. For Healing Wounds and Scars
Jojoba can also help heal wounds and scars while reducing inflammation. To use, apply equal parts jojoba and raw honey (which also has wound healing properties) to the affected area twice daily. (11) However, be sure not to use on open wounds.
5. For Acne
Jojoba's antifungal, antibacterial, and anti-inflammatory properties make it a great acne fighter. You can use it as a standalone moisturizer after washing your face, and/or add 1-2 drops of tea tree essential oil to a palm-sized amount of jojoba to help fight the bacteria that cause acne.
---
Jojoba Oil for Hair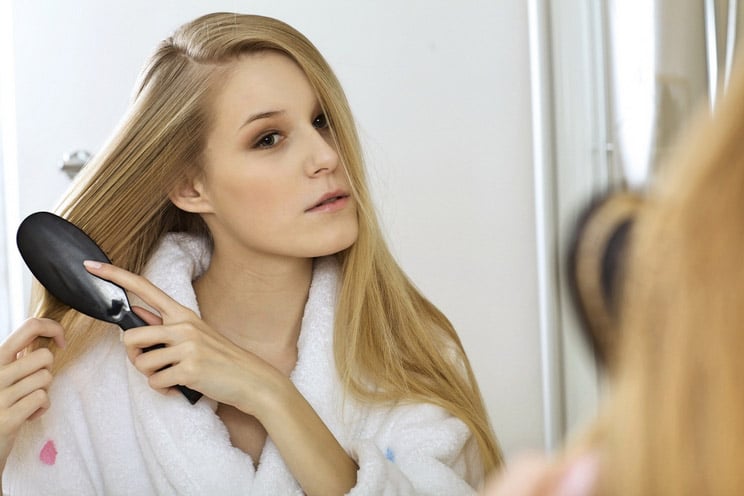 1. Helps Prevent Hair Loss
The antioxidant, antifungal, and anti-inflammatory properties of jojoba may help prevent hair loss by improving the health of your scalp. (12) Rub as much as is required to cover your scalp into your scalp daily and let sit for 15 minutes to help provide nutrients and antioxidants to thinning areas.
2. Treats Itchy Scalp and Dandruff
Since jojoba is anti-fungal, it can help treat fungal-based conditions like dandruff. To use, combine an equal amount of jojoba and coconut oil with 5 drops of tea tree oil and rub the mixture into your scalp. Let sit for 10 minutes, then rinse. Repeat daily until the dandruff is gone.
3. Boosts Shine
Jojoba's moisturizing ability makes it an excellent moisturizer for dry hair. Apply a dime-sized amount to the ends of your hair for a quick shine boost, and/or cover dry hair with it and let sit as a hair mask for 15 minutes before hopping in the shower and shampooing as normal.
You can also add a few drops to your regular shampoo or conditioner for extra moisturizing effects.
---
Jojoba Oil for Health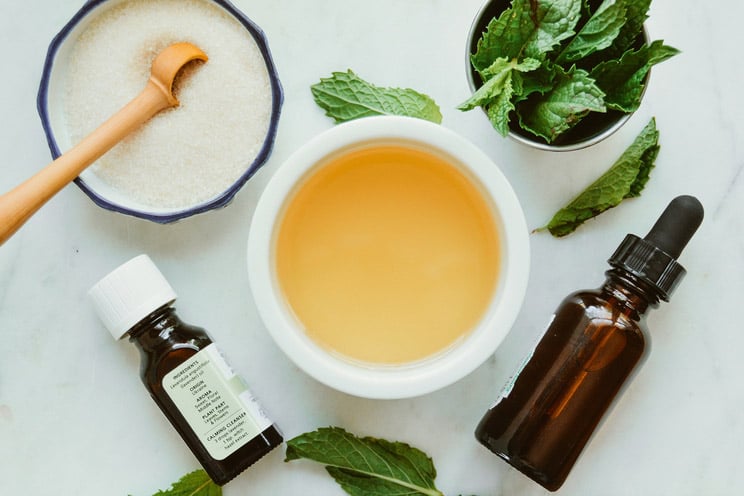 1. Eases Headaches
You can apply jojoba oil directly to your temples, neck, and shoulders to reduce headache pain. That's because jojoba oil's anti-inflammatory properties work when applied topically. (13) Use it as a carrier oil for another relaxing essential oil, like lavender, to treat tension headaches. Simply combine 1 tablespoon of jojoba with 1-2 drops of lavender essential oil and massage into your neck, shoulders and behind your ears. (Tip: For more ways to use essential oils to ease headaches, click here)
2. Calms Asthma
Jojoba can also help to treat asthma, likely due to its anti-inflammatory effects. (14) Make your own homemade vapor rub by combining 1 tablespoon of jojoba with 1-2 drops of peppermint oil. Rub it on your chest and breathe deeply.
3. Soothe Bug Bites and Scratches
Clear up minor bug bites and scratches with antibacterial, wound-healing jojoba. (15, 16) Dab a pea-sized amount on the affected area to help speed up the healing process.
---
How to Find the Best Jojoba Oil
When it comes to finding the best jojoba oil, you want to look for a few things on the label:
Unrefined. This means that the oil was not processed using harmful chemicals that may end up lingering in the finished product.
Cold-pressed. Cold-pressing oils keep their delicate enzymes and nutrients intact so they don't become oxidized and create free radicals – those pesky molecules that damage DNA that we spoke of earlier.
100% Jojoba. Make sure the brand you choose is 100% jojoba oil and not cut with any other vegetable oils.
---
The Bottom Line
Jojoba is a very versatile oil (or, technically, wax) that can improve your skin and hair with its anti-aging, healing, and moisturizing properties. Integrate it into your daily and weekly skin and hair routine for best results.
(Read This Next: Homemade Body Butter with Jojoba Oil)