Revitalize your hair naturally with this 3-ingredient Hair Growth Oil you can use for healthy tresses.
With environmental stressors, chemical treatments, and daily styling playing a role in hair damage, it's no wonder many of us are left with lackluster hair. Thankfully, this three-ingredient spray can help moisturize, calm inflammation and promote healthy hair growth with just a weekly spritz of jojoba, castor, and rosemary oils.
If your hair is resisting growth, chemical treatments may seem like a clear choice. However, many of these treatments have undesirable side effects including: increased heart rate, difficulty breathing, and rapid weight gain. (1) Instead, treat the underlying causes by using natural hair care to rejuvenate your hair and scalp.
Want naturally radiant skin? We've created a FREE guide to give you the best tips & tricks for natural skincare.
Click here to get your FREE copy of our Skincare Guide!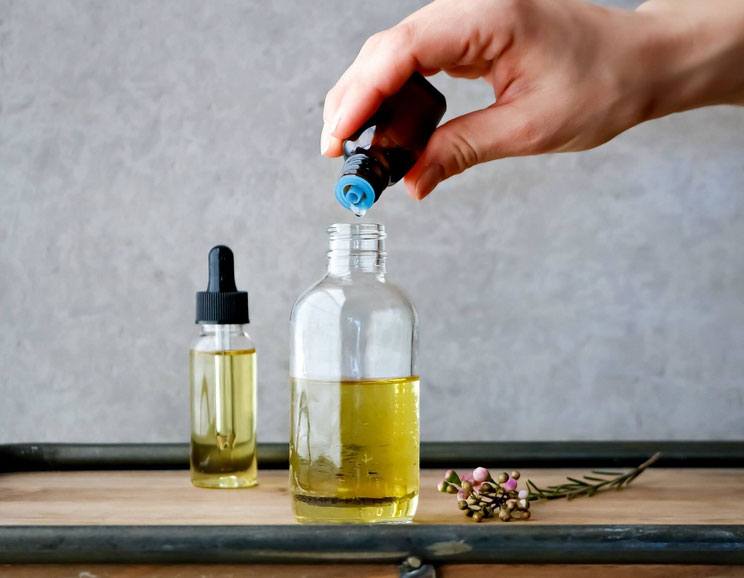 Rosemary oil can be a natural treatment for alopecia and help stimulate your hair follicles. If you have a sensitive scalp, it's a great option to treat allergies – often caused by commercial treatments. (2) Castor oil is another natural ingredient to help treat dry scalp. It's rich in ricinoleic acid and includes anti-inflammatory properties to help soothe away inflamed skin. (3) Jojoba oil nourishes and conditions by adding essential vitamins to help repair chemically treated, damaged, or dry hair. (4,5)
To make this oil spray, combine the ingredients in a 4 oz. spray bottle. Shake before using and apply to damp clean hair – paying special attention to the scalp. Use a wide tooth comb to evenly distribute the oil down to the ends. To protect from staining, place a shower cap over your hair or use a towel to cover your pillow. Leave the treatment on for two hours or leave in overnight. Wash your hair as you normally would and continue using twice a week for optimal results.
Jennafer Ashley
3-Ingredient Natural Hair Growth Oil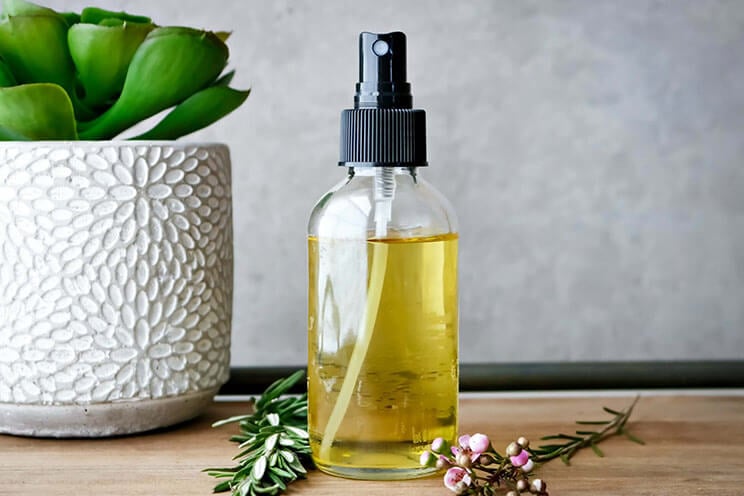 Prep Time:
2 mins
2 minutes
3-Ingredient Natural Hair Growth Oil
Revitalize your hair naturally with this 3-ingredient Hair Growth Oil you can use for healthy tresses.
Ingredients
2 oz. jojoba oil

1 oz. castor oil

10 drops rosemary oil
Instructions
Combine the ingredients in a 4-6 ounce spray bottle. Shake well before spraying on the hair.

Apply from the scalp to the ends and comb through. Massage onto the scalp and let the oil sit for at least two hours or overnight for optimum absorption.

Wash your hair as normal.

(You'll Also Love: 5 Coconut Oil Hair Masks for Every Hair Problem)