With rich shea and cacao butters, this 4-ingredient body butter keeps the skin soft and smooth through even the driest of winters.
Winter can be cruel on the skin, leaving it cracked and dry. Many commercial products marketed for healing skin, actually contain a plethora of harmful additives.The problem is, these chemicals are absorbed through the largest organ in our bodies – our skin. This can cause hormone disruption, respiratory irritation and allergic reaction.
Creating your own homemade body butter without these harmful ingredients is easy and doesn't come with the hefty price tag that many natural creams do. Best of all, it's ready to use in under an hour!
Want naturally radiant skin? We've created a FREE guide to give you the best tips & tricks for natural skincare.
Click here to get your FREE copy of our Skincare Guide!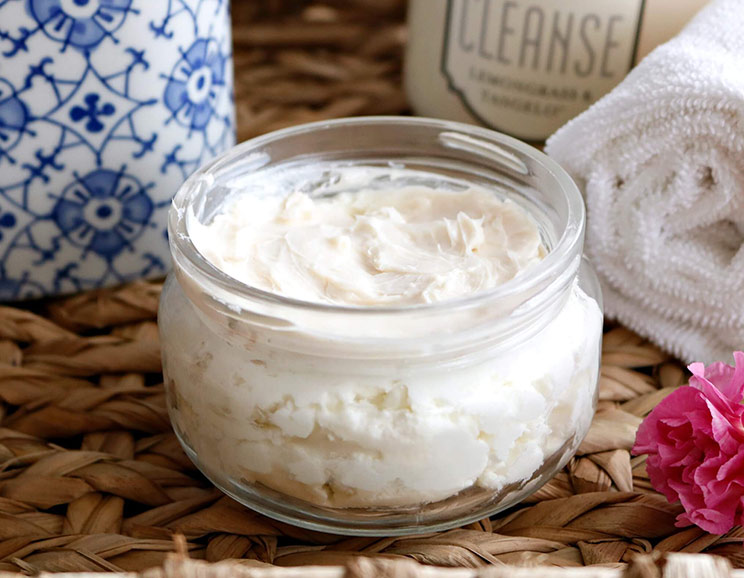 You're Only Going to Use Naturally Healing Ingredients…
Cacao butter has a naturally sweet chocolate scent. It is widely used in the body product world for its effectiveness on dry skin. This rich butter is great at helping skin maintain its elasticity. .
Shea Butter is another popular fat in body products and cosmetics. Known for its healing effect on chapped and dry skin, shea butter creates a barrier between the skin and the elements of winter. Since it contains linoleic and stearic acid, shea can be beneficial at reversing signs of aging such as wrinkles.
Jojoba Oil increases sebum production, which decreases as we age, resulting in dry skin. Even though it is an oil, jojoba oil is non-comedogenic, meaning it won't clog pores. This powerful oil also contains vitamins E and B, helping to speed up wound healing and reduce skin inflammation, which can reduce symptoms associated with psoriasis and rosacea.
Ready to make this luxurious natural butter? Let's get started!
Kelsey Ale
Homemade Body Butter with Jojoba Oil

Cook Time:
1 hr 5 mins
1 hour 5 minutes
Prep Time:
10 mins
10 minutes
Homemade Body Butter with Jojoba Oil
Tools
Glass mixing bowl

Small saucepan

Measuring cups

Spatula

Hand-mixer or electric mixer

Airtight glass container (for storing)
Ingredients
⅓ cup cacao butter*

⅓ cup shea butter

⅓ cup jojoba oil

15-20 drops essential oils**
Instructions
Create a double boiler on the stove by filling a small saucepan halfway with water and placing a glass bowl in the opening of the pan (the bottom of the bowl should not touch the water).

Add the cacao butter and the shea butter to the bowl and heat the double boiler over medium heat until the butter is melted.

Remove the bowl from the saucepan and add the jojoba oil. At this point, you can mix in any essential oils you want (**see note below).

Set the bowl in the fridge to chill for about 60 minutes.

When the butter becomes opaque and is set, remove the bowl from the fridge and use the hand mixer or electric mixer to whip the body butter until it's fluffy, about 2-3 minutes.

Scoop the body butter into an airtight container and store it at room temperature, away from light, for up to 6 months.
Notes:
*If you want a more neutral scented body butter, you can use additional shea butter in place of the cacao butter.
**If your body butter contains cacao butter, it will smell like chocolate. Yummy oils to add to this are:
Cinnamon essential oil
Vanilla extract (Yes, the kind you cook with! Add ½ tsp to start and adjust the smell from there)
Peppermint essential oil
Or, you could substitute melted coconut oil for the jojoba oil and make a chocolate-coconut scent.
If you opted to skip the cacao butter and use shea butter instead, then the sky's the limit! Just a note, you'll want 15 drops of essential oils total, not each. Great combinations include:
Lavender and chamomile
Peppermint, eucalyptus, and wintergreen
Orange and ginger
Grapefruit and Ylang-Ylang

(Make This Next: 7 DIY Natural Lotion Bars to Soothe Dry Skin)