Rose petals produce an uplifting aroma that's packed with rejuvenating effects for the skin. Using rose products could be the answer to beautiful radiant skin! Check out how rosehip oil can help improve your beauty routine. 
Rosehip oil is a natural product that works wonders for the skin thanks to the nourishing properties tightly packaged inside the oil. It's a rich source of omega-3 and omega-6, and provides a great dose of vitamin A. All of these natural nutrients support healthy skin and can be a great addition to to your skin care routine.
If you're tired of paying an absurd amount of money on skin care products that yield little to no effect on the health of your skin, try rosehip oil as an option to start the healing process. This paired with good nutrition will yield positive results for healthy skin!
Want naturally radiant skin? We've created a FREE guide to give you the best tips & tricks for natural skincare.
Click here to grab your copy!
Here are seven amazing benefits of rosehip oil for beautiful skin.
1. Repairs and Protects Skin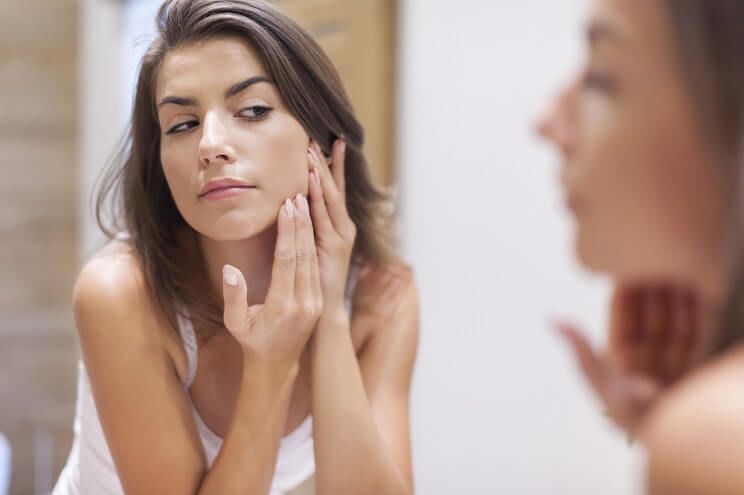 Rosehip seed oil is great for treating sun damage, skin redness, scars, stretch marks, acne scars and other skin irritation issues. The oil can gently aid the healing process and reduce any inflammation from damage to the skin. Vitamin A is required for normal cell growth and development which will help to protect skin from further damage. (1)
2. Fights Acne
Rosehip oil is a source of trans-retinoic acid, which the body turns into vitamin A. This nutrient is known to fight acne by helping to prevent dead skin cells from clogging pores. [tweet_quote] Focusing on good nutrition and proper eating habits will help attack acne from the inside out.[/tweet_quote]
Add foods to your daily diet rich in vitamin A, such as sweet potato, carrots, spinach, kale, lettuce, melon and other dark leafy greens.
3. Reduces Signs of Aging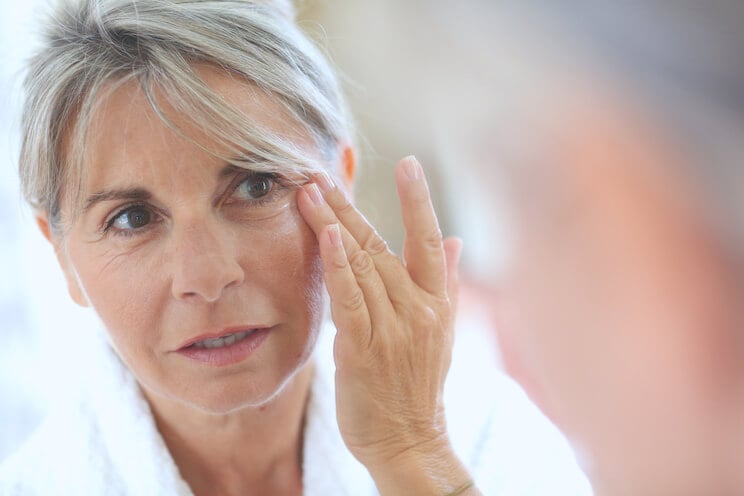 It's natural to see aging skin as we get older. However, you can help to slow down the process. Due to the compounds found in rosehip seed oil it can support cell and tissue regeneration, maintain elasticity of the skin, reduce appearance of fine lines and wrinkles, and lighten age spots. (2) The restorative rosehip can revive mature skin! (3) Just put a few drops of the oil on some cotton wool and dab the affected areas several times a day.
4. Tones Skin
A facial toner can play an important role in ensuring you have a healthy and radiant appearance. [tweet_quote]Rosehip seed oil is a nourishing skin toner that helps minimize the appearance of pores due to the essential fatty acids and vitamin A.[/tweet_quote]
For glowing, brighter and beautiful skin, dab a little of the oil on a cotton pad and apply to the face every morning and night after washing the face and before moisturizing. (Tip: use coconut oil to moisturize the skin).
5. Hydrates Dry Skin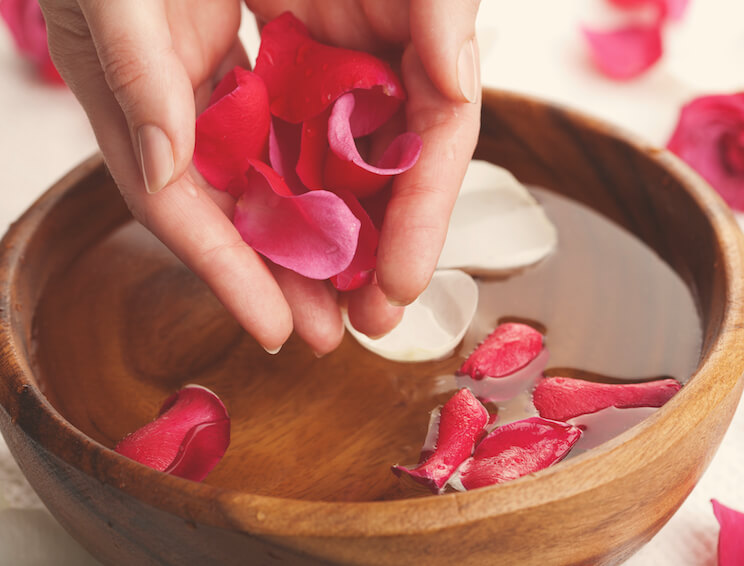 Water is essential for the body to be hydrated. You can give it a helping hand by applying soothing and moisturizing natural products to the skin to boost complexion and aid the process of healing from previous damage. (4) Rosehip seed oil is rich in essential fatty acids which help regenerate cellular membrane and tissues to rehydrate skin. The oil absorbs quickly and leaves little or no residue, making it ideal for healing dry itchy skin caused by poor diet, skin allergies, chemical exposure or other damaging environmental factors. It can leave the skin feeling smooth and hydrated!
6. Provides Healthy Fats
As mentioned above, it is rich in essential fatty acids. Rosehip seed oil provides an excellent dose of omega-3 (5) and omega-6, both of which support cell and tissue health. [tweet_quote]The naturally-occurring linoleic acid in rosehip seed oil has anti-inflammatory properties to help revive and nourish dull skin.[/tweet_quote]
Boost your beauty regime with a daily application of this healthy oil.
---
How to Use Rosehip OIl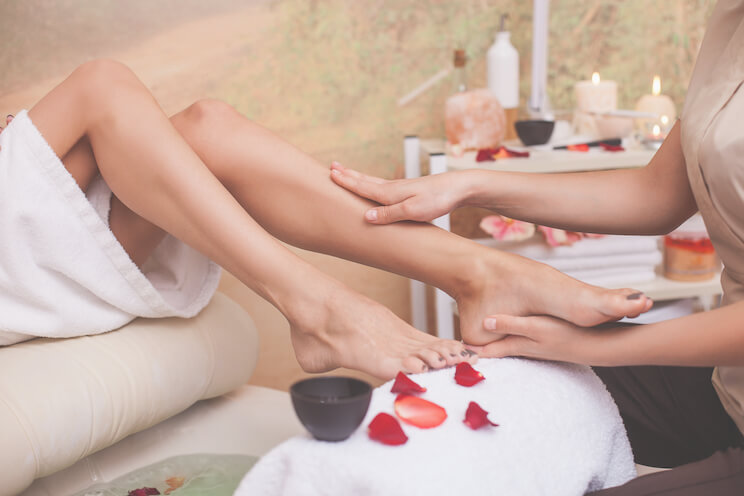 We all need a little pampering once in a while to help relax the mind and body from the go-go life. Taking time to treat your skin to a little indulgence improves the look and feel of your complexion. The plus side is you will feel uplifted, too! (6) (7)
When choosing an oil, go for the best quality you can find and afford. Keep in mind that if you apply it all over the body it will go quickly. The best idea is to use it more for the face. If there are other areas of the body that need close attention, apply a little there too. However, you can use coconut oil for the rest of the body.
You can also use rosehip seed oil as a massage oil. However, due to the cost of the oil, it is best to blend it with other quality oils. For example, you can add rosehip seed oil to melted coconut oil with a few drops of lavender oil. Apply the mixture to the skin while gently rubbing the areas in circular movements across the body to help the muscles relax and unwind.
Remember, beautiful skin all starts from within. Move the body daily, reduce stress, sleep well, eat nutritious food, and do more of what makes you happy! Apply topical natural products to give the body an extra glow.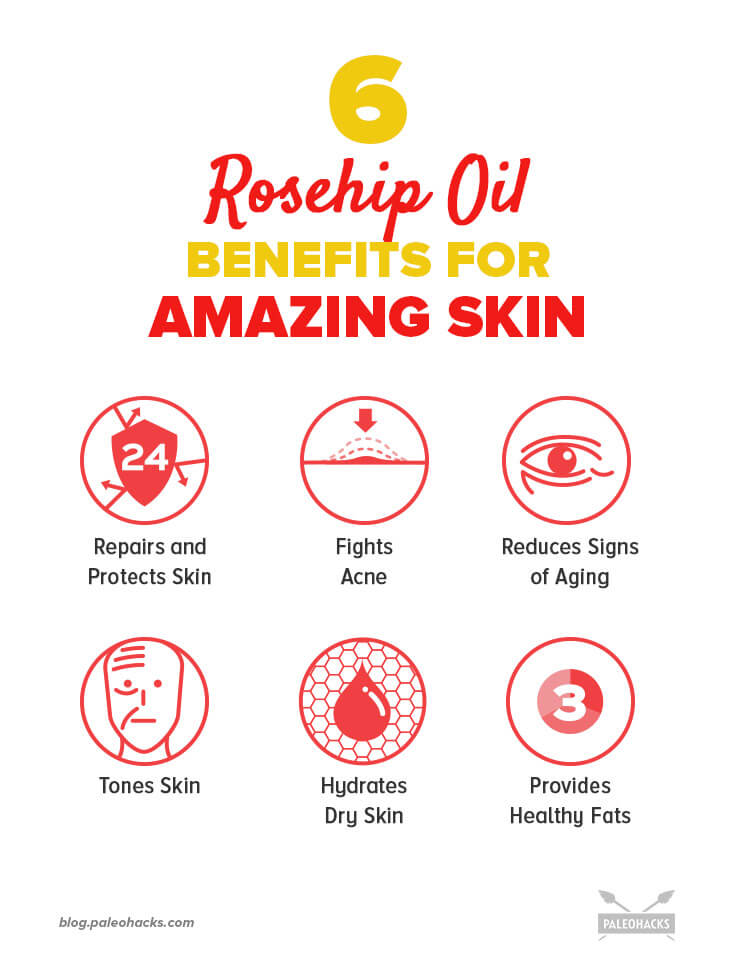 (Read This Next: Oil Cleansing for Perfect Skin)