We all know the benefits of including coconut oil in your diet, but do you know what happens when you use coconut oil for skin care?
This versatile beauty aid supports healthy skin and can replace all those expensive (and possibly toxic) store bought products. Read on to discover how to use coconut oil for skin. Your beauty routine is about to get that much better!
What is Coconut Oil?
Before diving into the skincare of coconut oil, let's take a look at where it comes from and how it works. Coconut oil is derived from the coconut palm tree, and is so highly valued by traditional cultures as both a source of food and medicine that it is called "The Tree of Life."
Want naturally radiant skin? We've created a FREE guide to give you the best tips & tricks for natural skincare.
Click here to get your FREE copy of our Skincare Guide!
Coconut oil by nature is a refined product, because oil does not grow on a tree. The oil is extracted from the kernel or meat of harvested coconuts. Technically speaking, the only truly "unrefined" coconut oil you can consume is the oil still inside the meat from a fresh coconut just picked off the tree. The least refined type is virgin coconut oil.
The fruit's oil is predominantly made up of saturated fats with a high amount of medium chain fatty acids, with a good percentage of the fatty acid being lauric acid. (1) It contains vitamin E, which is known to protect the skin from free radical damage. (2)
---
Coconut Oil vs. Mineral Oil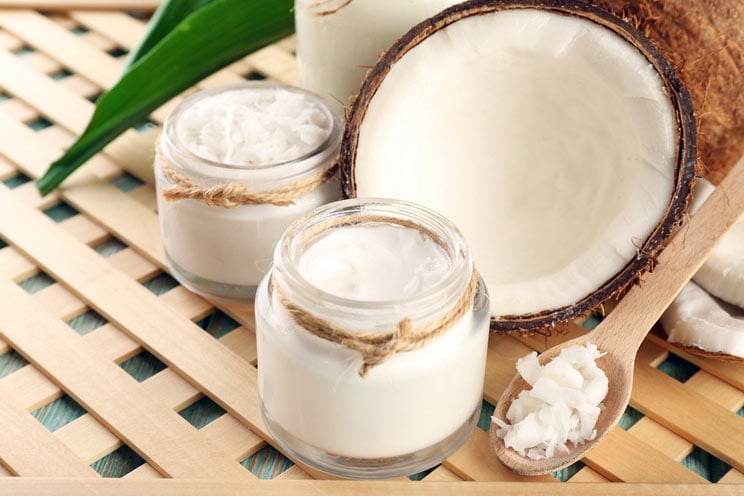 Mineral oil is an odorless and colorless substance made from a non-vegetable (mineral) source, generally from petroleum. (3) It is found in products like from things like baby lotion, ointments, facial creams and cosmetics to more industrial uses, such as hydraulic fluid, wood preservatives, pesticides and electrical components. Before synthetic oils were invented, mineral oil was used primarily as a mechanical lubricant. [tweet_quote]Don't put mineral oil on your body. It attracts moisture from cells deep in your skin, causing premature aging.[/tweet_quote]
Putting mineral oil on your body is probably doing more harm than good, as it can attract moisture from cells deep in the skin. This leads to slowed cell renewal, a breakdown of collagen, damaged  connective tissue and premature aging. (4)
---
How Coconut Oil Improves Skin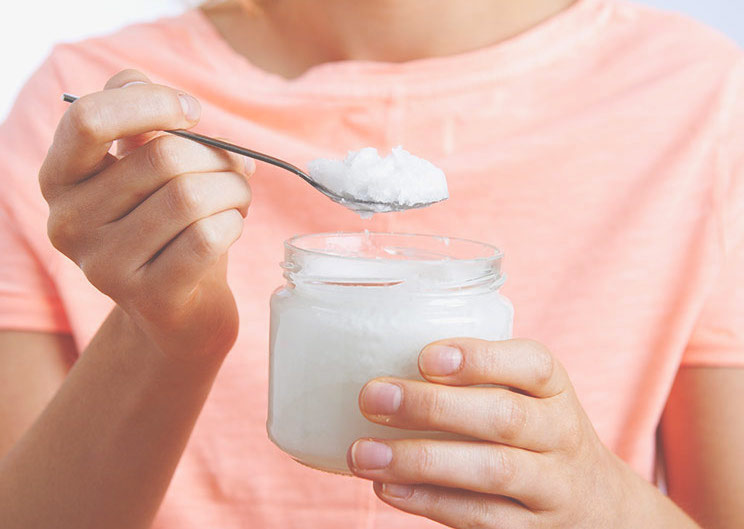 The high fat content of coconut oil has been shown to help improve certain skin conditions by healing wounds, reducing rashes and preventing acne. Its anti-inflammatory effect works wonders for soothing skin ailments. (5,6,7)
Unlike mineral oil, coconut oil will not clog pores or cause the complexion to become oily. That's because coconut oil isn't pumped full of water or petroleum by-products which can block the pores. Instead, coconut oil hydrates and softens skin as it sinks deep into the cells. Coconut oil also helps to naturally clear away dirt and dead skin cells which allows for a healthier complexion. [tweet_quote]Coconut oil won't clog your pores. Use it as a moisturizer, toner, and makeup remover.[/tweet_quote]
Depending on your current diet, lifestyle and beauty regime, you may experience an increase in acne when you first use coconut oil on your face. This is because the coconut oil is drawing impurities out of the skin. However, within a short period of time with consistent use of applying coconut oil, the acne will diminish and will often completely clear up. Make sure you are eating lots of nutritious food to help clear that acne!
---
How To Transform Your Skin with Coconut Oil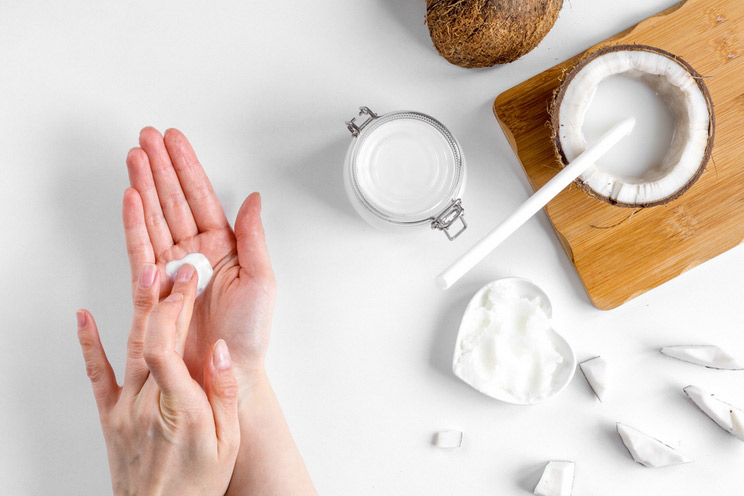 As a Moisturizer
After washing your face with water and dabbing dry with a towel, apply a small amount to your face every morning and night as a moisturizer. Remember, a little bit goes a long way, so don't slather too much on your face. It also works wonders for the whole body as a moisturizer, and even as a massage oil.
As a Cleanser and Toner
Coconut oil cleanses and moisturizes all in one, so there's no need for a cabinet full of cosmetics. It is a fantastic makeup remover – and even works on waterproof mascara! Put a little on a cotton ball and gently wipe over your eyes and the rest of your face to remove makeup. The bonus is that it will leave your skin hydrated and soft.
As an Acne Fighter
The fatty acids in coconut oil help it to work as an anti-inflammatory and anti-bacterial agent all in one. This works in favor of reducing acne breakouts and keeping the pores dirt-free, while also alleviating the red, dry skin that acne can cause.
(Read This Next: 5 Coconut Oil Hair Masks for Every Hair Problem)