This anti-aging serum will leave your face feeling fresh, clean, and smelling sweet.
No idea what a serum is? Don't worry, you're not alone. One of the most popular items to hit the beauty market, serums seem to fall somewhere between moisturizers and face oils. (Hint: it's neither!)
In short, serums deliver powerful nutrients into your skin before you apply moisturizer. Unfortunately, many store-bought serums contain questionable ingredients and on top of that, they often come with a hefty price tag.
Want naturally radiant skin? We've created a FREE guide to give you the best tips & tricks for natural skincare. Click here to grab your copy!
Below, we'll get more into what serum is, what it's made of, and if you need it. We'll also show you how to make your own with natural ingredients and for much, much cheaper.
What is Serum?
A facial serum is a light, fast-absorbing liquid with a high concentration of key performing ingredients used to treat bare skin. Usually, serums are either water-based or oil-based and are meant to be applied before using moisturizer. This is because most moisturizers tend to be heavy lotions that can block the serum's ingredients from reaching the skin.
And since serums are able to penetrate your skin more deeply than your average moisturizer, this makes them a great vehicle for targeting wrinkles, blemishes and acne.
What are Serums Made of?
Unfortunately, while many store-bought facial serums contain high doses of nutrients (vitamin C, zinc, aloe vera, etc.), many also contain toxic chemicals with dyes and perfumes.
Do You Need it?
Serums offer a wide range of benefits, including preventing acne, fading acne scars, rehydrating skin, reducing wrinkles and fine lines. On top of your typical skincare routine, using serums can quickly achieve desired results. However, whether you need it or not depends on what's in the serum and what you're trying to achieve. For example, serums for acne usually have vitamin C to reduce inflammation, while anti-aging serums have higher concentrations of antioxidants.
Also, it's important to note that since serums have potent amounts of active ingredients, they're more likely to irritate skin. Make sure to patch-test a serum first before applying it to your entire face.
---
How to Make an Anti-Aging Serum with Natural Ingredients
If you're new to serums, here's an easy anti-aging recipe to get you started using hibiscus, rose water and almond oil.
The Benefits of Using Natural Ingredients
Hibiscus is full of antioxidants and can help reverse damage caused by UV ray exposure, dust, and other pollutants in the air.
Rose water is not only moisturizing, it's anti-inflammatory, and benefits the skin by strengthening skill cells and promoting skin tissue regeneration. Note: Rose water can smell a little harsh or overly potent. But don't worry, we'll be mixing it with a few other ingredients to dilute it.
Almond oil helps remove dark circles, treats eczema, and prevents wrinkles by blocking UV radiation. It's a staple in my beauty routine that I can't live without. If you're sensitive or allergic to almonds, feel free to use avocado oil instead. (1)
When I first made this mix, I assumed it would smell super sweet, but don't be surprised if this doesn't have the fruity floral scent you're expecting. If you want your serum to smell more floral, add a few more drops of rose oil into your mixture.
Destiny Lalane
DIY Anti-Aging Hibiscus Rose Facial Serum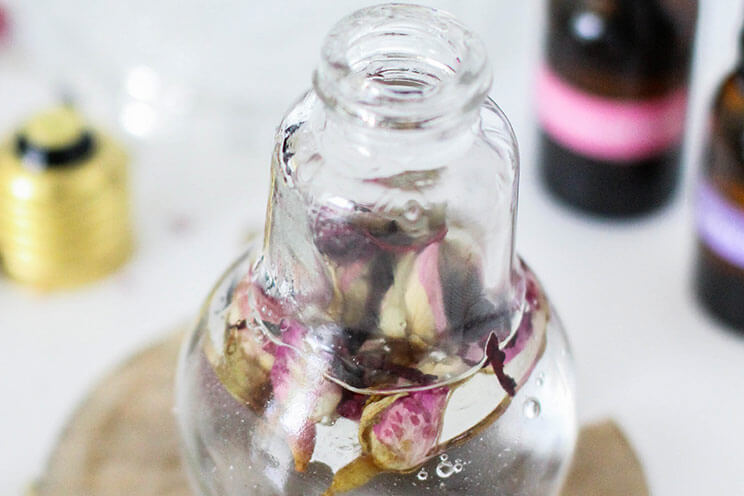 Cook Time:
5 mins
5 minutes
Prep Time:
5 mins
5 minutes
DIY Anti-Aging Hibiscus Rose Facial Serum
A simple anti-aging hibiscus-infused rose serum.
Tools
Mini funnel

Bowl

1 glass jar, spray bottle, or roll on applicator

Cheesecloth or nut milk bag
Ingredients
5 drops geranium oil

2 drops lavender oil

2 T almond oil

1 T rose water

1 t fractionated coconut oil

1 T hibiscus shavings

1 T rose buds
Instructions
Gather your ingredients together and place a small bowl in front of you.

Add the geranium oil, lavender oil, almond oil, rose water, coconut oil into the bowl. Once mixed, funnel the serum into a mason jar.

Add the hibiscus shavings and rose buds into the mason jar and mix well. Allow the hibiscus shavings to infuse the serum overnight in the fridge. Strain your mixture through a cheesecloth or a nut milk bag.

Funnel your serum into your applicator of choice.

Mix well before each use and store in a fridge for up to one month.


(You'll Also Love: Homemade Citrus Burst Facial Toner)