Searching for premium meat shouldn't have to be difficult when you're strapped for time!
As a recipe writer who works regularly with keto recipes, I know it can be tough to find quality meats without extra sugars or additives – especially when it comes to cuts like bacon or ground beef. I've spent countless hours traveling between grocery stores to find the quality meats I need, all while cutting into precious cooking time and taking a hit to my expenses.
So, when I heard there was a subscription box that delivers keto-approved meats to my doorstep, I had to give it a go. Enter: ButcherBox and its wide selection of sustainably-sourced meats.
Looking for low carb keto recipes to burn fat and lose weight?
Click here to get your FREE Keto Breakfast Recipes Cookbook!
Not only do they make things more accessible and affordable, but they also hook you up with 5 pounds of free meat on your first order – to which I say, count me in!
What Is ButcherBox?
ButcherBox is a meat delivery service that prides itself on sourcing out 100 percent grass-fed and grass-finished meat. However, if you're anything like me, you might be curious as to what that even means.
For anyone following the keto or Paleo lifestyle, choosing grass-fed meat over conventional brands makes a big difference in your overall health and nutrition. Here are the key differences when it comes to grass-fed vs. grain-fed meat: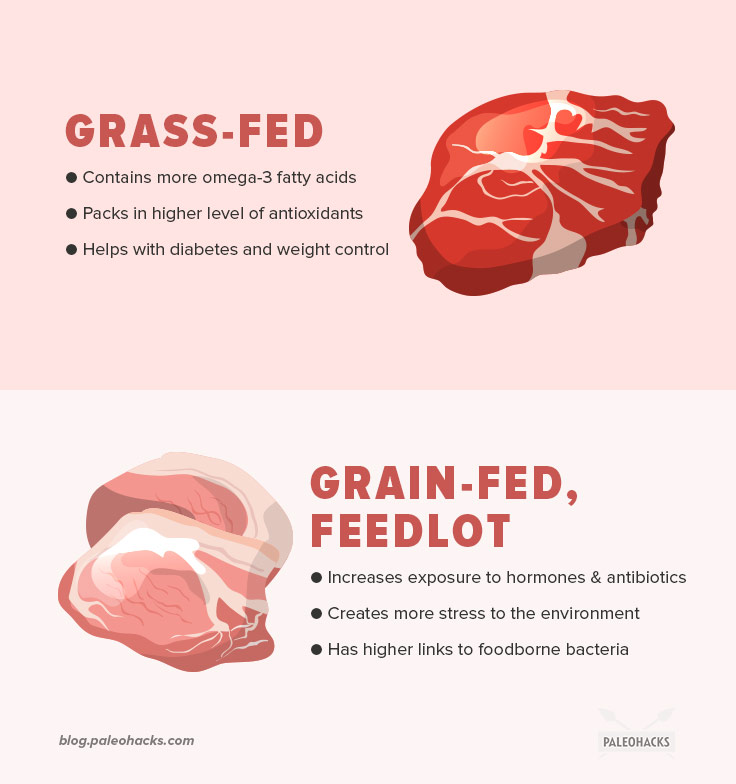 Grass-fed
Contains more omega-3 fatty acids. Animals raised on grass-fed diets are richer in leaner fats and include plenty of heart-healthy nutrients. (1, 2)
Packs in higher levels of antioxidants. When farms allow their livestock to graze on grass-fed diets, they increase many cancer-fighting antioxidants and vitamins. (3, 4)
Helps with diabetes and weight control. Grass-fed meats contain bonus nutrients (like conjugated linoleic acid) to help treat and prevent many chronic metabolic disorders. (5)
Grain-fed
Increases exposure to hormones and antibiotics. Conventional farming practices often use these drugs to promote rapid growth in livestock, which has potential risk factors tied to the meat sold in stores. (6, 7)
Creates more stress to the environment. The amount of animal waste on feedlots is often greater than most farmlands can sustain, resulting in heavy pollution to our air and water. (8, 9)
---
How ButcherBox Works
You'll first need to choose the monthly plan that's right for you. I chose to go for the mixed box (which is around $129 per month), but there are also other customizable options that allow you to choose the meats you want and the amount you need.
Once your plan is solidified, it takes about five business days for your meats to arrive at your doorstep. From there, you'll receive a box full of frozen meats that are individually sealed and vacuum-packed with an ample amount of dry ice.
As a precaution, make sure to transfer them straight to the freezer and fridge as soon as they arrive. You'll know they're on their way since ButcherBox emails you a tracking number and estimated time of arrival the night they ship.
---
What's in the Keto Box?
Along with the 11 pounds of meat I chose for my monthly mix subscription, I received 5 pounds worth of free bacon, ground beef, and pork sausage in my first box. Read on to see how these meats measured up in taste, quality, and convenience:
Applewood Smoked Uncured Bacon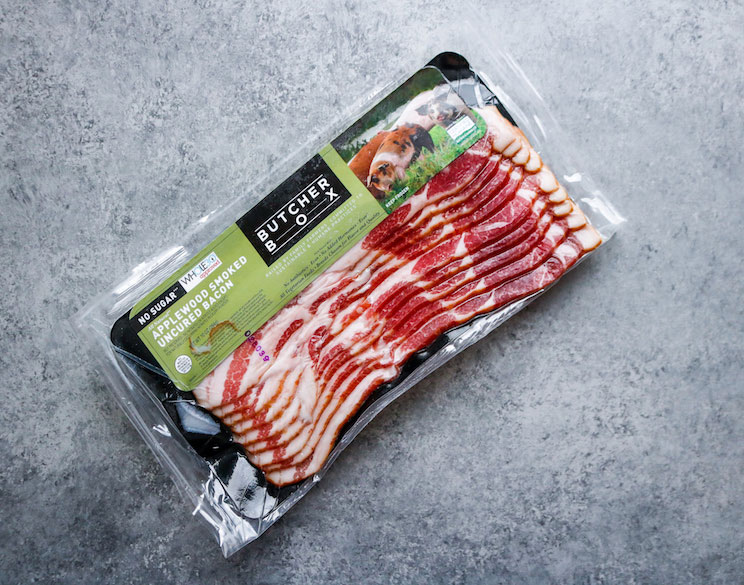 The first item I gravitated to was their applewood smoked uncured bacon. It comes with about 10 ounces of hearty slices that are sugar-free and Whole30 approved. Plus, it cooks up thick and crispy with plenty of smoky sweet flavoring.
Although I don't typically cook bacon on its own, I often use it as a flavor enhancer in recipes like sautéed greens or soups. Throughout the week, I chopped this bacon for breakfast recipes like quiches and omelets and used other pieces to wrap around dates and pineapples slices.
Macros: 1 serving (1 oz), 0g carbs, 2g protein, 7g fat
Use it to make: Bacon-Wrapped Meatloaf Cupcakes with Sweet Potato "Frosting"
Grass-fed Ground Beef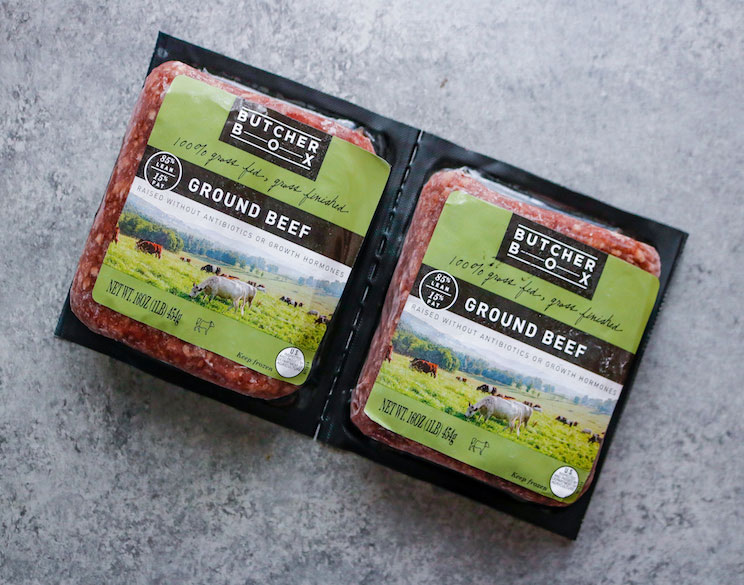 It's tricky to find grass-fed beef at the grocery store, but this box came with 2 pounds of 85 percent lean meat. For the packages I chose to freeze, I let them thaw out overnight in my refrigerator so that they were ready to go the following day.
With this amount, I was able to create a few keto recipes that ranged from Greek seasoned burgers to Italian meatballs. However, this meat is pretty versatile and can also create easy quick-fix dinners like Korean beef bowls, sloppy joe's, and shepherd's pie.
Macros: 1 serving (4 oz), 0g carbs, 21g protein, 17g fat
Use it to make: Keto Tex-Mex Casserole
Pastured Pork Sausage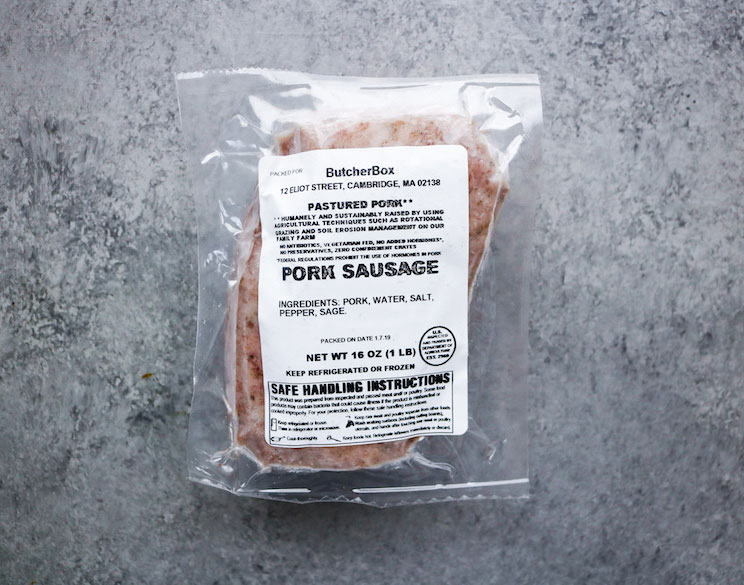 Pork sausage is often loaded up with fillers and preservatives, and when it's not, you still have to watch out for non-keto sugars and sweeteners. With this box, I received pastured pork sausage that includes a simple ingredient list of pork, water, pepper, and sage.
For recipes, I used this nitrate-free sausage to create breakfast patties in the morning and protein-packed casseroles for dinner. One of the things I like most about this meat is its ample amount of fat content and ability to absorb extra juices.
Macros: 1 serving (4 oz), 0 carbs, 12 g protein, 18g fat
Use it to make: Kale & Mushroom Sausage Patties
---
Final Thoughts
Overall, I was stoked with the amount of meat I received for the price I paid – especially since I was given 5 pounds of free extra meat just for signing up. I also like the ease and convenience of having the meat I need on-hand, while keeping extras in my freezer for later use.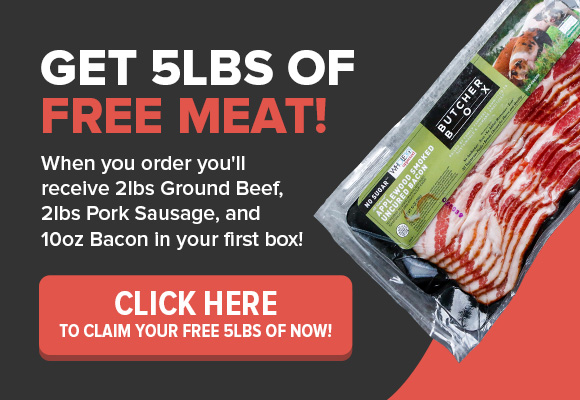 As far as quality goes, everything they stand for is clearly mentioned on their front labels (no guesswork needed). One of the things I appreciated the most was that they source their meats from sustainable and humane farmers. This helped give me a peace of mind knowing that none of these animals were confined to crates or fed processed diets during their lifespan.
In short, if you're low on time and like the idea of having fresh meat delivered to your door, then this is a service for you. Not only are their selections delicious and easy to use in your favorite recipes, but they're also the kind of quality you can feel good feeding to your entire family.
As a plus, ButcherBox has a special limited time offer that gives you 5lbs of FREE meat when you sign up for the Keto Bundle. So, if you're interested in getting healthy, 100% grass-fed meat to help you stay on the keto diet, now is the time to try it!

(Looking for Keto Recipes? Try: 51 Keto Breakfast Recipes To Help You Burn Fat)
This post is sponsored by our friends at ButcherBox. Our goal is to bring you the best Paleo-friendly brands that we know you'll love and that are approved by the PaleoHacks team.