This decadent loaf tucks in dark chocolate chips with bright citrus flavor all drizzled in a rich coconut icing. 
The contrast between chocolate and orange is one that never fails. Fresh citrus flavor complements the dark chocolate in a way that's both bright and rich. As a plus: They both are known to boost your mood with high levels of antioxidants.
Almond meal and tapioca starch make the base of the dough to keep things gluten-free and Paleo. While the almond meal adds a bit of moisture to the dough, the tapioca starch offers elasticity and density.
Love Paleo Desserts? Then you'll love our FREE Paleo Dessert Cookbook.
Click here to get your FREE copy of our delicious Dessert Recipes!
Once baked, the loaf is topped with a delicious coconut cream frosting sweetened with honey and fresh orange juice. Along with sneaking in extra healthy fats, this dairy-free frosting also tastes great on other baked goods, like Paleo cupcakes or cookies.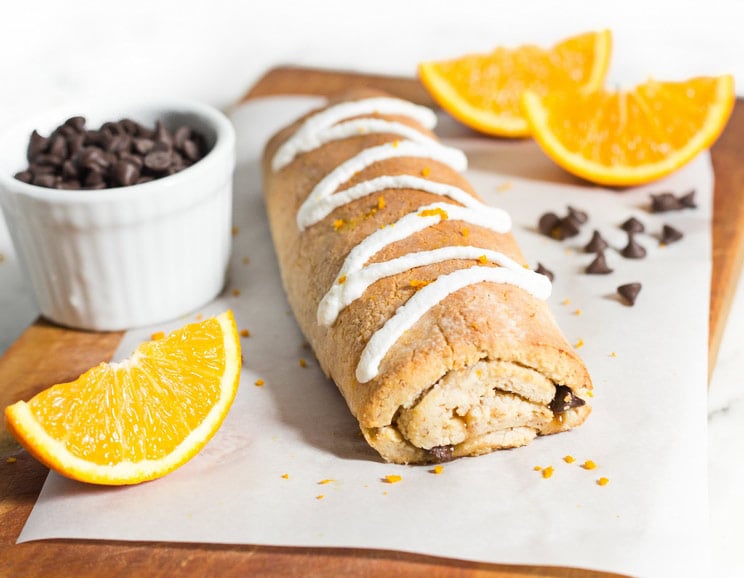 Helpful Tips To Get Started:
Let the egg acclimate to room temperature. Whisking a chilled egg into the mixture could cause the melted coconut oil to solidify and change the consistency of the batter. It's important to let the egg set at room temperature (before starting) to ensure you get a smooth and pliable dough consistency.
Gradually combine wet and dry ingredients together. Slowly sifting the dry ingredients in with the wet ingredients will help prevent the batter from clumping, making the dough easier to work with later on.
Add a bit of tapioca starch if the dough is too sticky. When kneading, add one tablespoon of tapioca starch at a time to help loosen the dough. You'll want the texture to be soft and pliable, so try not to add more than 6 tablespoons total.
Sub in a different sweetener. If you prefer to use maple syrup instead of honey, simply replace the honey with equal amounts of maple syrup.
Felicia Lim
Dark Chocolate Orange Log with Coconut Icing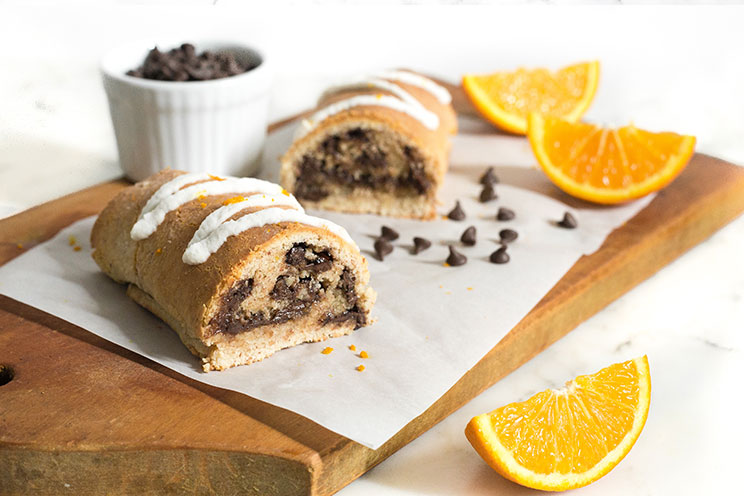 Cook Time:
30 mins
30 minutes
Prep Time:
20 mins
20 minutes
Dark Chocolate Orange Log with Coconut Icing
This decadent loaf tucks in dark chocolate chips with bright citrus flavor topped with a rich coconut icing.
Tools
Large baking sheet

2 medium mixing bowls
Ingredients
For the Loaf:
1 cup almond meal

1½ cups tapioca starch, plus more for dusting

1 t baking powder

¼ t salt

1/3 cup warm water

3 T melted coconut oil

2 T honey, divided

1 large egg, room temperature

1 cup dark chocolate chips

1 T orange zest
For the Coconut Cream Icing:
1/3 cup coconut cream

1 T honey

1 T fresh orange juice

2 T tapioca starch

1 t orange zest
Instructions
Preheat the oven to 350°F and line a large baking sheet with parchment paper.

To Make the Loaf: In a medium bowl, whisk together the almond meal, tapioca starch, baking powder, and salt.

In a separate bowl, whisk together the warm water, melted coconut oil, 1 tablespoon of honey, and egg.

Sift the dry ingredients into the bowl with the wet ingredients and mix well to get a homogeneous dough.

Place the dough inside the refrigerator to chill for 10 minutes, then remove and line a clean working surface with parchment paper and a generous dusting of tapioca starch.

Roll the dough on top of the parchment paper to create a 10-inch x 7-inch rectangle.

Brush 1 tablespoon of honey over the top surface of the dough and spread the chocolate chips evenly on top.

Sprinkle the orange zest over the chocolate chips, then slowly roll the dough off the parchment paper (lengthwise) into a log.

Cut off 1 inch from each end of the log to get flat, even sides.

Place the log onto the prepared baking sheet and bake for 30 minutes or until the crust is golden brown. When finished, allow the loaf to cool at room temperature for about 30 minutes.

To Make the Coconut Cream Icing: While the loaf is baking, combine the coconut cream, honey, orange juice, and tapioca starch into a medium bowl. Whisk until you get a thick frosting, then transfer to a piping bag.

When the loaf is completely cooled, pipe the frosting on top in zig-zag lines. Finish with a sprinkle of orange zest to garnish and enjoy!
Looking for Paleo ingredients? Here are a few we'd recommend:
Almond meal (Barney)
Tapioca flour (Authentic Foods)
Baking powder (Hain)
Cold pressed coconut oil (Viva Naturals)
Raw honey (Bee Farms)
Semi-sweet chocolate chips (Enjoy Life)
Coconut cream (Native Forest)

(You'll Also Love: Paleo Chocolate Loaf)