Get dewy, supple skin with these ultra-moisturizing, 2-ingredient bath melts. Made of completely organic ingredients, a luxurious bath is only 30 minutes away.
Nothing relaxes like a hot bath after a stressful day. Baths soothe aching muscles and create an overall sense of calmness. But hot baths can be drying to the skin, drawing much needed moisture out of the body. Instead of adding mineral oil-based bath products that often contain artificial fragrances and colors, stick to your pantry and make these quick bath melts with organic ingredients. These melts are antibacterial and anti-fungal, making them ideal for use on the entire body and safe enough for the face without clogging pores.
Want naturally radiant skin? We've created a FREE guide to give you the best tips & tricks for natural skincare. Click here to grab your copy!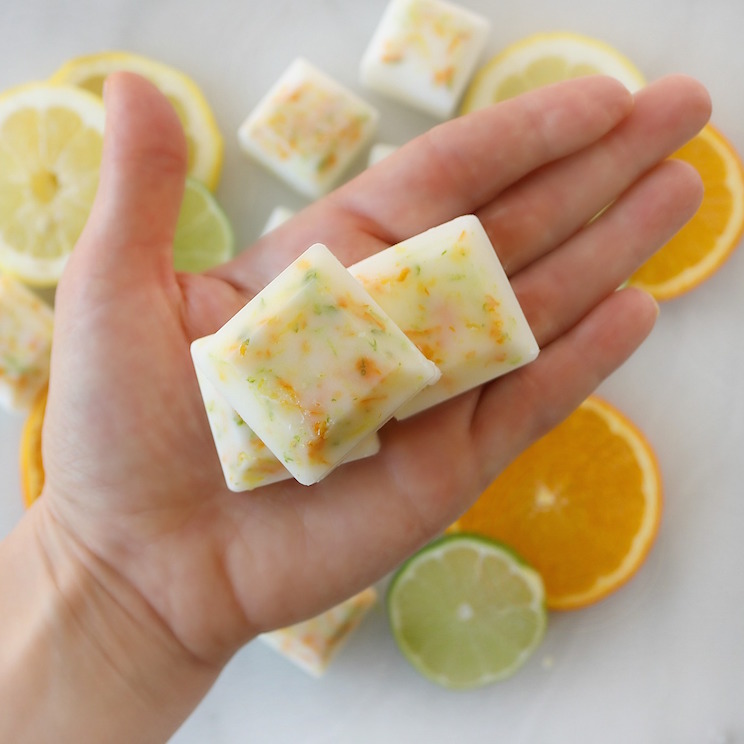 All you need to get started is virgin coconut oil, the unrefined kind that smells like coconut and fresh citrus zest. I like to use a combination of a few citrus zests for a colorful design on the cubes. The smell of the citrus combined with coconut is reminiscent of sherbet (Yum!). To add even more citrus aroma, you can stir in a few drops of lemon or orange essential oil.
Coconut Oil has hundreds of health benefits – learn how you can experience them with our FREE guide to Coconut Oil & its benefits. Click Here to get your FREE Copy!
To make the melts, place coconut oil in a double boiler and melt until liquid. Carefully remove from the double-boiler and stir in citrus zest. Using a silicone ice cube mold or ice cube tray (make sure they're BPA-free), spoon the mixture in. I recommend using the silicone variety for super easy removal once the cubes are solid. Next, set your tray in the refrigerator and let them solidify for 20 minutes or until completely solid. Run a bath and drop in one of the melts. Soak for 20 minutes and pat skin dry for a dewy appearance and texture. These melts also double as an oil treatment for hair, and are great for replenishing moisture and nourishing the scalp.
For more variety, try these natural scents in your melts…
Dried lavender buds or lavender essential oil
Vanilla extract or vanilla powder
Eucalyptus oil
Jennafer Ashley
Coconut Oil Bath Melts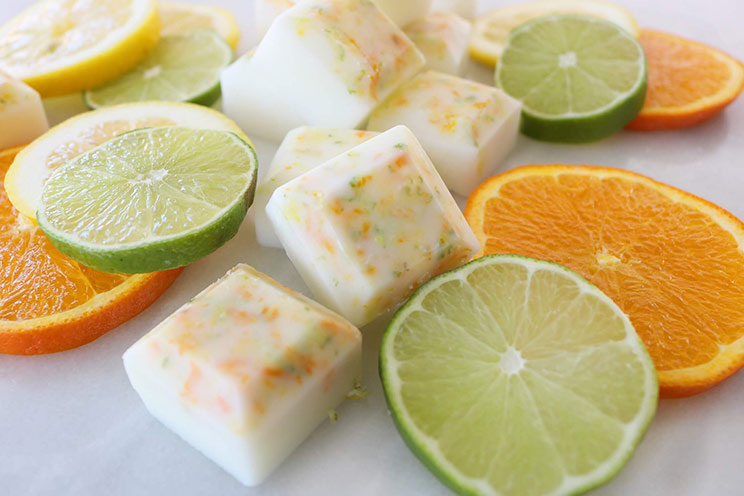 Cook Time:
5 mins
5 minutes
Prep Time:
10 mins
10 minutes
Coconut Oil Bath Melts
Get dewy, supple skin with these ultra-moisturizing, 2-ingredient bath melts.
Tools
Double boiler

Silicone ice cube tray
Ingredients
2 cups virgin coconut oil

2 T citrus zest of choice (lemon, lime, orange, etc.)
Instructions
Using a double boiler, melt coconut oil until just melted. Remove from heat and stir in citrus zest.

Using a tablespoon, pour mixture into silicone ice cube molds. Place in refrigerator for at least 20 minutes or until solid. Pop out and melt under warm water in bath.
Tip: Due to the oily nature of the melts, your tub will be slick afterwards, so give it a quick rinse to remove oil.
Looking for Paleo ingredients? We recommend:
Organic Virgin Coconut Oil (Thrive Market)

(You'll Also Love: Muscle Relief Bath Bomb Recipe)