A better-than-store-bought bath bomb with ingredients to soothe and relax aching muscles.
Who doesn't love those fun and fizzy bath bombs from luxurious bath and body boutiques? Not only do they make great gifts, but they are a nice change up from the typical bubble bath.
However, some store-bought bath bombs contain toxic dyes and fragrances that can be harmful to your health in the long run. Luckily, making your own is super easy and lets you control the quality of the ingredients. For this homemade version, we'll be using coconut oil, peppermint oil and Epsom salts for a bath bomb that's perfect for soothing sore muscles.
Want naturally radiant skin? We've created a FREE guide to give you the best tips & tricks for natural skincare.
Click here to get your FREE copy of our Skincare Guide!
To start, you'll need two metal bath bomb molds. Molds can be purchased online or at hobby stores. You can also use ice cube trays or silicon cookie trays in fun shapes. I've even seen muffin tins used, which is totally ingenious! In a large bowl, whisk together Epsom salts, baking soda, and cream of tartar, breaking up any lumps. Epsom salts are known to soothe itchy skin and sunburn, and thought to relieve sore muscles. Citric acid is typically used in bath bombs but can be harsh on skin, so cream of tartar is substituted to create the fizzing effect. I added rosemary for its calming aroma, but you can add any dried, chopped herb you prefer, like lavender, thyme, or mint.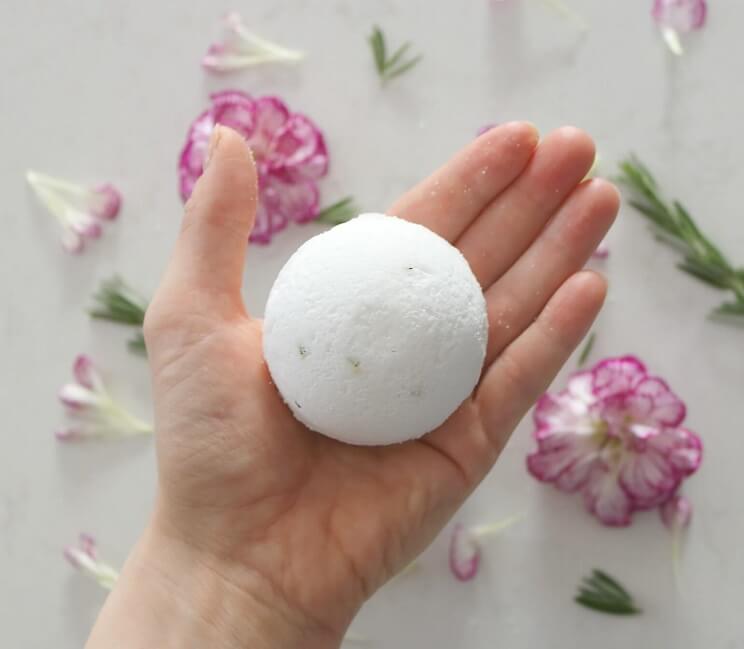 Next, blend in coconut oil and peppermint oil. Coconut oil is a rock star ingredient for beauty products, leaving skin soft and supple. Use a spray bottle to lightly mist the mixture as you stir. Be careful not to add too much water to the mixture; it should be slightly moist and hold together when squeezed, but still crumbly. If the mixture is too wet, it will activate the cream of tartar and create a very hard bomb.
Spoon mixture into molds, slightly overfilling, and place one on top of the other, squeezing to seal. If you are using trays, press mixture firmly into tray to take its shape. Allow bombs to set at least 4 hours in a cool spot. Once solid, pop bombs out of trays or loosen from molds. If bombs are resistant to release from the mold, run the tip of a sharp knife around the edges to loosen. Run a warm bath and drop in your bomb. Slip in and inhale the scent while your worries fizz away.
Tip: If your mold has a more detailed shape, let the bath bomb set for an entire day to prevent the shape from breaking when you take it out of the mold.
Jennafer Ashley
Muscle Relief Bath Bomb Recipe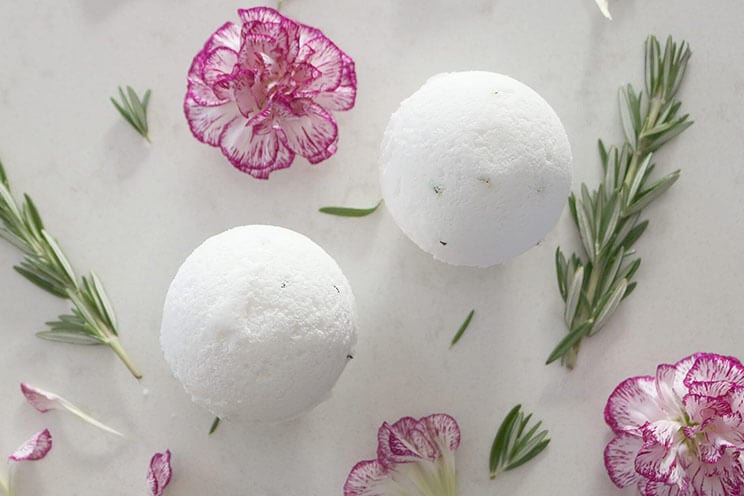 Prep Time:
10 mins
10 minutes
Muscle Relief Bath Bomb Recipe
A better-than-store-bought bath bomb with ingredients to soothe and relax aching muscles.
Tools
Spray bottle filled with water

Medium glass bowl

2 Metal bath bomb molds
Ingredients
1/2 cup baking soda

1/3 cup Epsom salts

2 T cream of tartar

2 T coconut oil, melted

1 t peppermint oil

1/2 t fresh rosemary, chopped (optional)
Instructions
Start by combining dry ingredients and chopped rosemary in a medium glass bowl. Whisk to blend. Whisk in coconut oil and peppermint oil.

Using a spray bottle, spritz water to moisten mixture as you stir. The mixture should be crumbly, but hold when squeezed.

Use a spoon to scoop mixture into bomb molds or ice cube trays. Press firmly. If using a bomb mold, overfill each side slightly before putting together. Allow to set at least 4 hours in a cool, dry area.

Loosen bombs from molds and place in warm bath water to dissolve.

(Read This Next: Aloe Vera Ice Cubes for Soothing Sunburn Relief)