Whip up this creamy Cauliflower Potato Salad as a healthier alternative to the classic you crave.
Cauliflower florets step in for potatoes using this Paleo-friendly recipe. Without sacrificing flavor, this creamy side dish combines oven-roasted cauliflower with a decadent dressing, rich in probiotics. As a backyard barbecue essential, it's packed with extra vitamin C, fiber, and healthy fats. Pair it alongside grilled entrées like juicy skirt steak or smoky maple-glazed chicken.
Roasting the cauliflower creates a tender crisp crunch while adding a deeper flavor than simply boiling or steaming. It's a natural stand-in for white potatoes and blends seamlessly with added red onions, celery, capers, and parsley. If red onions and capers aren't your thing, try subbing in green onions or sliced olives instead. Along with powerful antioxidants, this dish packs in heaps of immune-boosting vitamins to improve your health and defend against cancer.
Add power-packed superfood veggies to every meal with these easy cauliflower recipes.
Click here to get your FREE copy of our Cauliflower Recipe Guide!
Apple cider vinegar flavors the dressing by adding a kick of tang. Make sure to give the bottle of ACV a shake before pouring, since the strands of good bacteria can often settle to the bottom.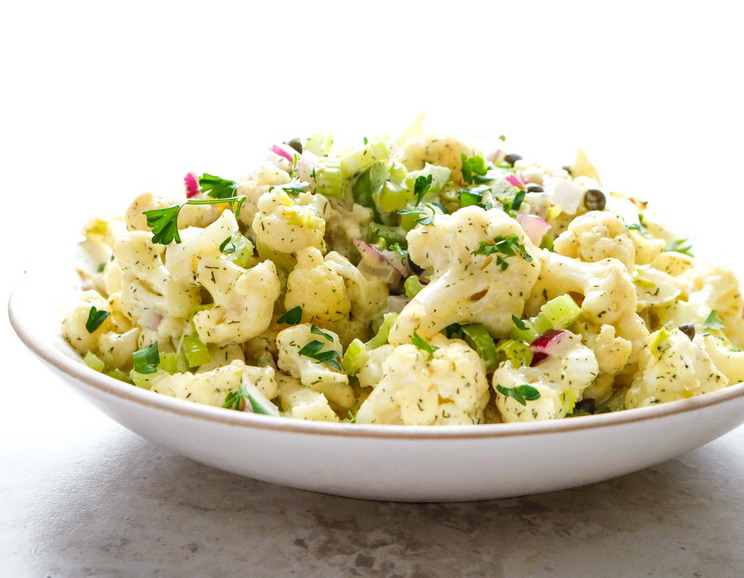 Paleo mayonnaise creates the creamy texture of the dressing. Using our favorite homemade mayo recipe, this easy-prep mayo is made with heart-healthy avocado oil and plenty of healthy fats. Whip up a batch of your own or find it pre-made in most health food stores.
To get started, begin by baking the cauliflower florets for 15 minutes. Remove them from the oven and set aside to cool slightly. In the meantime, place the dressing ingredients in a small bowl and stir to combine. When the cauliflower has finished cooling, combine it with additional salad vegetables in a large mixing bowl. Pour the dressing on top and stir well to coat. Refrigerate for one hour and serve chilled. For best results, prepare this salad up to 24 hours before serving.
Jennafer Ashley
Healthy Cauliflower 'Potato' Salad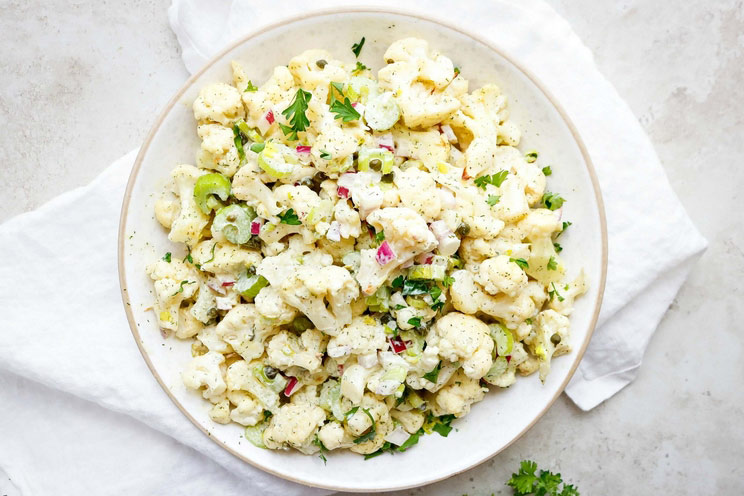 Inactive Time:
1 hr
1 hour
Cook Time:
15 mins
15 minutes
Prep Time:
10 mins
10 minutes
Healthy Cauliflower 'Potato' Salad
Reduce starches and whip up this Cauliflower Potato Salad as a healthier alternative to the creamy classic you crave.
Tools
Parchment paper

Baking sheet

Small mixing bowl

Large mixing bowl
Ingredients
For the Salad:
6 cups cauliflower florets

1/4 cup red onion, finely chopped

1/2 cup celery, thinly sliced

1 T capers

2 T parsley, chopped
For the Dressing:
½ cup Paleo mayonnaise

1 T mustard

1 T apple cider vinegar

1/4 t dried dill

1/4 t black pepper
Instructions
Preheat oven to 400ºF and line a baking sheet with parchment paper.

Spread cauliflower florets on a baking sheet and bake for 15 minutes. Remove from oven and set aside to cool for 10 minutes.

Combine ingredients for dressing in a small mixing bowl and stir to combine.

In a large mixing bowl, combine cauliflower florets, red onion, celery, and capers. Stir in dressing to coat vegetables and refrigerate for one hour.

Garnish with fresh parsley before serving and enjoy!
Looking for Paleo ingredients? Here are a few we'd recommend:
Primal mayonnaise (Primal Kitchen)
Apple cider vinegar (Bragg)
Black pepper (Frontier)

(You'll Also Love: Cauliflower 'Rice' Tabbouleh
)