Start your day with a warm bowl of Paleo chocolate cauliflower 'oats' that taste like chocolate pudding!
There's nothing like waking up to a warm bowl of Paleo-friendly oatmeal, except, of course, when it's oozing with chocolatey goodness! Cauliflower stands in for the oats in this recipe for a wonderful, grain-free breakfast with the same hearty texture.
Low carb and packed with fiber, protein and antioxidants, these chocolate cauliflower oats are healthier than the traditional breakfast fare. To boost the nutritional profile even further, grass-fed collagen is added for protein while thickening the oatmeal. Coconut cream rounds it out with healthy fats, adding an irresistibly smooth texture.
Love Paleo Desserts? Then you'll love our FREE Paleo Dessert Cookbook.
Click here to get your FREE copy of our delicious Dessert Recipes!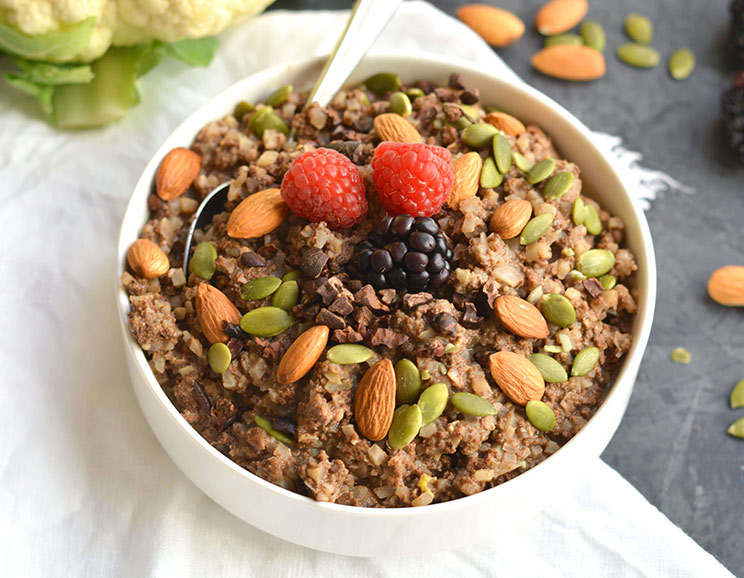 These chocolate cauliflower 'oats' are naturally sweetened with cinnamon, nutmeg and raw cacao powder. You can also add a touch of coconut sugar, maple syrup, or raw honey if you'd like your cauliflower 'oats' sweeter.
The entire recipe comes together in less than 10 minutes on the stovetop. Start by warming coconut cream with vanilla and cauliflower rice until boiling. Bring down to a simmer, then mix in the eggs and the rest of the ingredients until smooth. Cover the pot to cook two more minutes, then serve!
The best part is loading up your bowl with your favorite toppings. Try experimenting with different combinations of almonds, pepitas, shredded coconut, cacao nibs and fresh fruit.
Megan Olson
Healthy Chocolate Cauliflower 'Oats'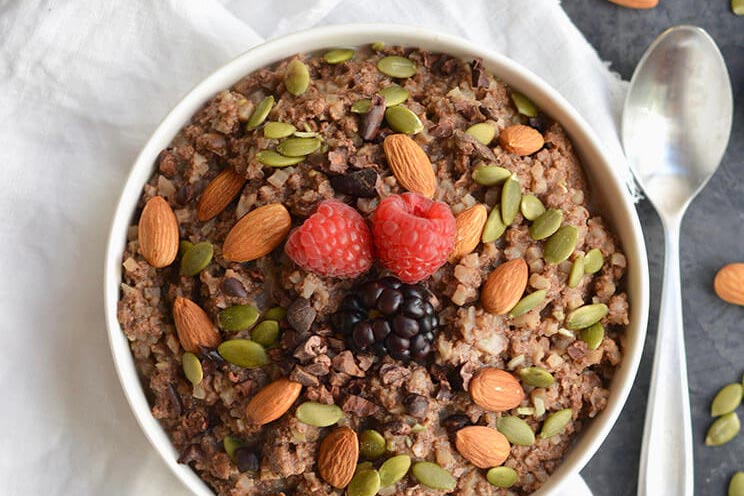 Cook Time:
10 mins
10 minutes
Prep Time:
5 mins
5 minutes
Healthy Chocolate Cauliflower 'Oats'
Start your day with a warm bowl of Paleo chocolate cauliflower "oats" that taste like chocolate pudding.
Ingredients
1 15 oz. can full-fat coconut cream

½ t pure vanilla extract

2 cups cauliflower rice

4 large eggs

2 t raw cacao powder

1/8 cup grass-fed collagen

½ t cinnamon

¼ t nutmeg

1/8 t sea salt

Optional toppings: cacao nibs, dairy free chocolate chips, raw nuts and seeds, fresh fruit
Instructions
Bring a saucepan to medium heat. Stir in coconut cream, vanilla extract and cauliflower rice.

Bring the ingredients to a boil, then reduce to low. Simmer 2-3 minutes.

Next add the eggs, cocoa powder, collagen, cinnamon, nutmeg and sea salt.

Quickly whisk the ingredients together with the cauliflower mixture until the eggs are broken down and smooth.

Cover the pot and simmer another 2 minutes.

Stir again, then transfer to a bowl with your favorite toppings and enjoy!
Looking for Paleo ingredients? Here are a few we'd recommend:
Coconut cream (Native Forest)
Raw cacao powder (Healthworks)
Collagen (Vital Proteins)
Dairy-free chocolate chips (Enjoy Life)

(You'll Also Love: 4 Ways to Make Kid-Friendly Overnight Oats)
Eat cinnamon apple-crusted doughnuts… zesty lemon scones… and even breakfast chili all while staying healthy with the Paleo diet!
Enjoy 101 delicious Paleo
Breakfast recipes that melt fat, fight inflammation, and keep
you healthy
Enjoy 101 delicious Paleo
Breakfast recipes that melt
fat, fight inflammation, and
keep you healthy