Whisk your senses away with the sweet flavors of pineapple over juicy grilled chicken.
When summer rolls around, grilled fruit is a delicious way to upgrade any meat dish. In this recipe, you'll be grilling pineapple slices next to chicken marinated in a mouthwatering, sticky-sweet glaze. The combination makes for the perfect sweet and savory dish!
The marinade has six simple ingredients found in every primal pantry. Coconut aminos – the Paleo answer to soy sauce – are full of amino acids and minerals. Coconut aminos is a great substitute to soy sauce and adds that signature umami flavor without the soy. You'll also be using coconut sugar to sweeten the marinade with a rich molasses flavor. To tenderize the meat, apple cider vinegar is added and whisked together with extra virgin olive oil, garlic and cayenne pepper (for a spicy kick). You'll use this marinade to glaze both the chicken and the pineapple, so make sure to reserve half of the mixture.
Trying to figure out exactly what to eat on Paleo? Look no further than our FREE 21 Day Paleo Meal Plan.
Grab Our FREE Paleo Meal Plan By Clicking Here!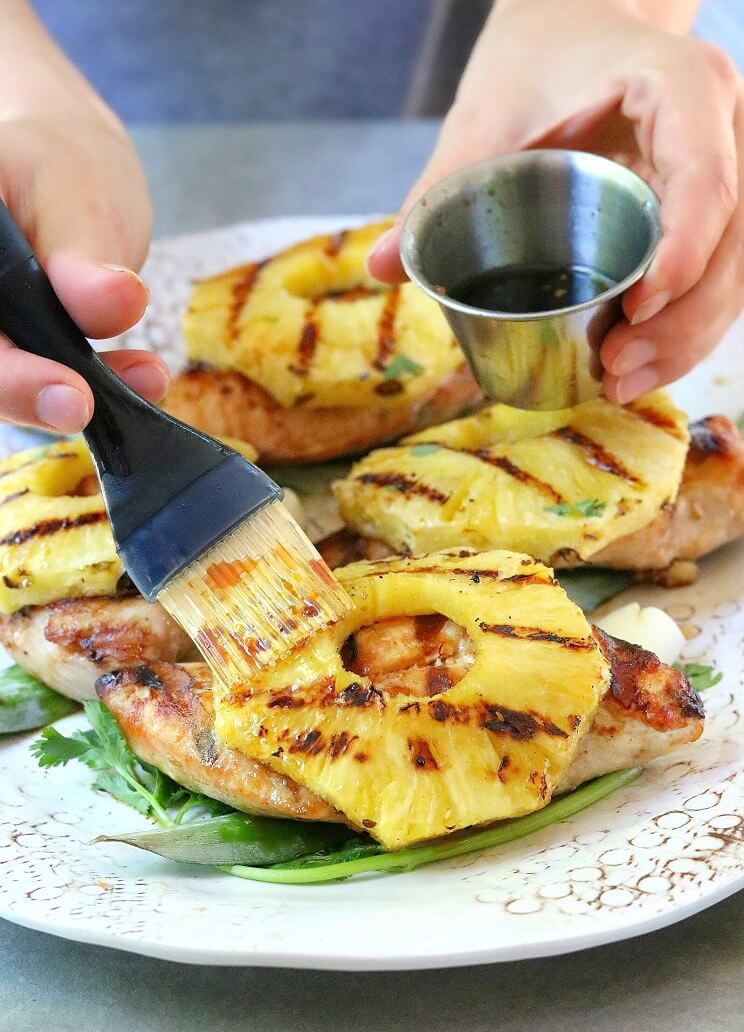 When ready to cook, preheat the grill to 400°F over direct heat. Place chicken on the grill and cook 10 minutes. While the chicken cooks, baste pineapple rings with marinade and place next to chicken. Grill pineapple for 3 minutes on each side. Flip chicken and brush with reserved marinade. Grill for 10 more minutes or until chicken is cooked through. Serve chicken with grilled pineapple rings on top. To finish it all off, garnish everything with chopped cilantro. This is a great herb to brighten any savory dish!
For more great grilling recipes, try one of these summer favorites:
Jennafer Ashley
Grilled Hawaiian Pineapple Chicken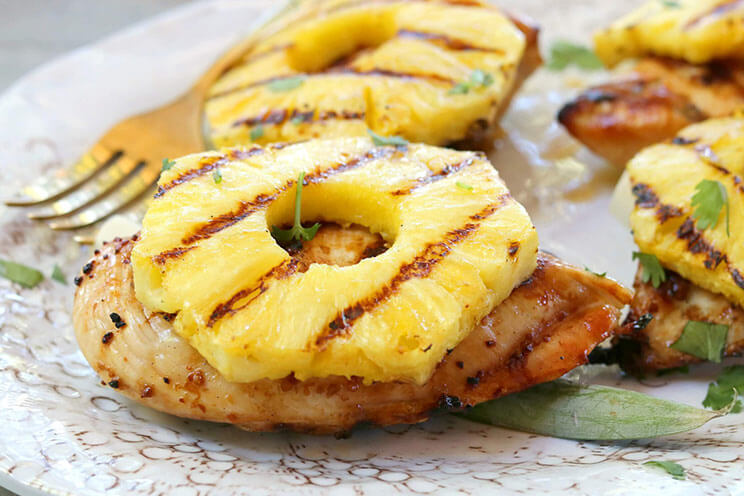 Cook Time:
20 mins
20 minutes
Prep Time:
10 mins
10 minutes
Grilled Hawaiian Pineapple Chicken
Whisk your senses away with the sweet flavors grilled pineapple chicken.
Tools
Shallow dish

Basting brush
Ingredients
For the Chicken:
4 chicken breasts

4 pineapple rings

1 handful cilantro, chopped
For the Marinade/Glaze:
1/3 cup extra virgin olive oil or avocado oil

1/4 cup coconut aminos

2 T apple cider vinegar

2 t coconut sugar

1 t minced garlic

1/4 t ground cayenne pepper
Instructions
Whisk together ingredients for marinade and divide in half. Pour half of marinade into a shallow dish. Add chicken breasts and swish around to coat. Marinate at least 2 hours but no longer than 4 hours.

Preheat grill to 400°F. Remove chicken breast from marinade and place on grill. Grill 10 minutes.

Brush pineapple rings with reserved marinade and place on grill. Cook 3 minutes each side.

Flip chicken and use remaining marinade to baste. Cook chicken 10 minutes longer. Remove from grill.

Serve chicken with pineapple rings and garnish with chopped cilantro.
Watch the Recipe Video Below!


(You'll Also Love: Smoky Maple Glazed Chicken Legs)