Fire up the barbecue for these Hawaiian chicken wings and grilled pineapple.
Chicken wings are a party favorite. They grill up quickly, they're easy on your wallet, and they're great for serving large crowds. To make chicken wings even better (as if there is such a thing), coat them in a sticky-sweet Hawaiian marinade and grill up some pineapple while you're at it!
These Hawaiian chicken wings are a snap to prep. In no time you'll have those wings covered in an addictive tropical sauce that'll have your guests begging for more!
Trying to figure out exactly what to eat on Paleo? Look no further than our FREE 21 Day Paleo Meal Plan.
Grab Our FREE Paleo Meal Plan By Clicking Here!
Choosing Your Chicken
You can buy chicken wings either whole or broken into two parts: the drumette and the wingette. The drumette is what you get when you order a basket of wings at a restaurant. These are the ones that contain the most amount of meat.
You can also use drumsticks, which look like large drumettes. This cut of chicken is sold with the skin attached and is great for soaking up the marinade.
If your budget allows, try to opt for pasture-raised chicken whenever possible. This will cut down on added antibiotics and hormones typically associated with conventional chicken products.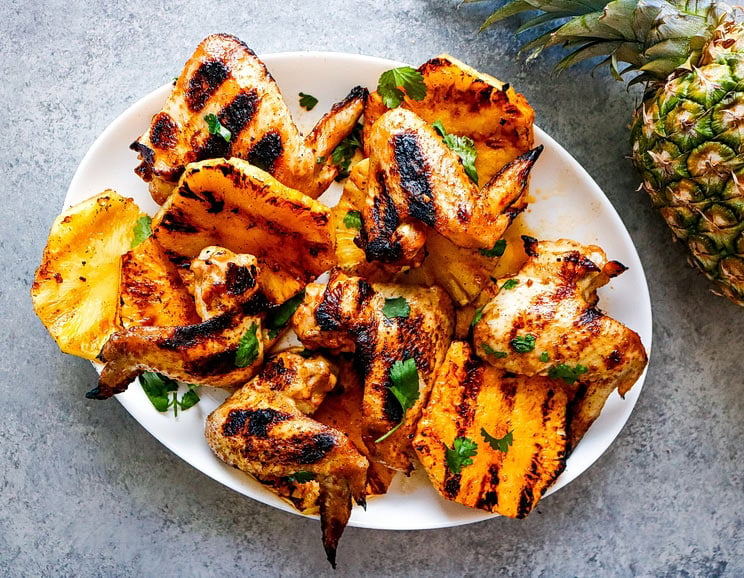 Creating An Island-Style Marinade
The minced garlic and ginger paste add extra zing to this Hawaiian marinade, while the coconut sugar bumps up the sweetness. To keep things soy-free, we opt for coconut aminos to add a rich, salty flavor.
The marinade also pulls double duty as we brush it onto the pineapple slices before grilling. Its savory flavor compliments the sweetness, while the coconut sugar helps them caramelize during the grilling process.
For a bolder flavor, try marinating the chicken wings overnight or up to 24 hours ahead of time. If you want to try it with other recipes, you can also add it to grilled favorites like steak kebabs or pork chops.
Helpful Tips To Get Started:
Discard the tips of the chicken wings during prep. The tips are made of inedible bone and cartilage.
Prep the Hawaiian marinade ahead of time. Store it in the fridge for up to two days and keep it on-hand when ready to use.
Reserve some grilled pineapple for dessert. You can serve them with a scoop of Paleo ice cream for a sweet treat.
Jennafer Ashley
Hawaiian Chicken Wings with Grilled Pineapple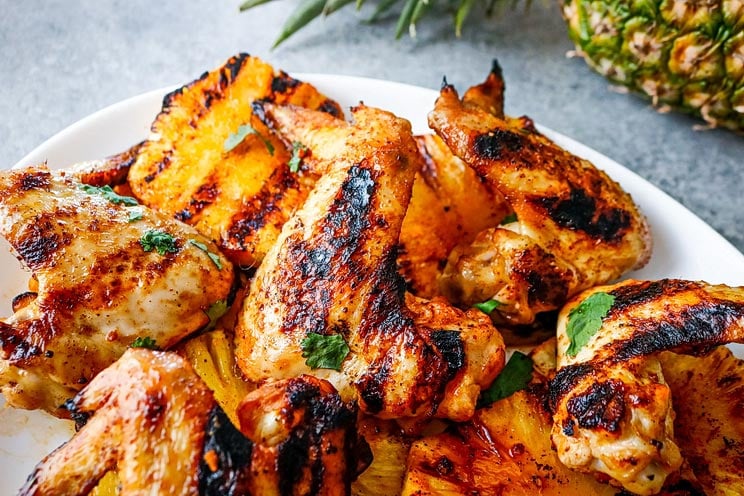 Inactive Time:
2 hrs
2 hours
Cook Time:
24 mins
24 minutes
Prep Time:
10 mins
10 minutes
Nutrition facts:
43 grams of protein
30 grams of carbohydrates
50 grams of fat
Hawaiian Chicken Wings with Grilled Pineapple
Fire up the barbecue for these Hawaiian chicken wings and grilled pineapple.
Tools
Whisk

Small bowl

8-by-8-inch glass dish
Ingredients
For the Marinade:
¼ cup avocado oil

¼ cup coconut aminos

½ cup pineapple juice

2 T coconut sugar

1 t ginger paste

1 t minced garlic

1 t paprika
For the Chicken Wings:
2 lbs chicken wings

1 T avocado oil, for greasing

1 pineapple, cut into ½-inch slices

2 T chopped cilantro
Instructions
To Make the Marinade: Whisk together the ingredients for the marinade in a small bowl, until the coconut sugar is dissolved. Reserve a ¼ cup of the marinade and set aside.
To Make the Chicken Wings: Place the chicken wings in a glass dish and pour the marinade on top. Cover and refrigerate for at least 2 hours.

Heat the grill to 400ºF and lightly grease the grates with avocado oil.

Brush the pineapple slices with the reserved ¼ cup of marinade and set aside.

Place the chicken wings onto the grill, skin side down. Grill for 16 minutes, flipping halfway through.

Place the pineapple onto the grill and heat for 4 minutes on each side.

Serve the pineapple and chicken hot, garnished with chopped cilantro.
Looking for Paleo ingredients? Here are a few we'd recommend:
Avocado oil (Bella Vado)
Paprika (Simply Organic)
If you liked this recipe, you'll love the fat-burning, inflammation-fighting recipes in Paleo Plenty! Eat gourmet meals like apricot glazed chicken wings with a side of sesame zucchini noodles, finished with a scoop of maple raisin ice cream. Sound good? Get started on your Paleo journey today with this FREE cookbook.