This colorful broccoli toast is a simple, grain-free breakfast alternative that's quick to make and calls for just five ingredients!
This is not your typical gluten-free toast. Broccoli toast is high in protein, low in carbohydrates and nutrition dense. Fresh organic broccoli as the main ingredient adds the deep green color and packs an excellent source of vitamin C. It's also a great source of dietary fiber to help keep your digestive system in shape.

With just five ingredients, this recipe comes together in a matter of minutes and combines a ton of nutrients for a budget-friendly, healthy snack that can be enjoyed anytime of the day. Almond flour adds a sweet roundness but if you're allergic to nuts, swap in sunflower seed meal instead. Once you've mastered the basic recipe, feel free to get creative. You can add in nutritional yeast, garlic or herbs to change things up a bit and give your toast a different flavor.
Love Paleo Breakfasts? Then you'll love our FREE Paleo Breakfast Recipes.
Click here to get your FREE copy of our delicious Breakfast Recipes!
With a stack of these in the fridge, there are multiple ways to enjoy this recipe. This vegetable toast can be enjoyed plain or jazzed up with almond butter, smashed avocado, or even just grass-fed butter. You could also leave the dough as one big base and enjoy it as a broccoli pizza crust. The possibilities are endless.
Zoe Raissakis
Grain-Free Broccoli Toast Recipe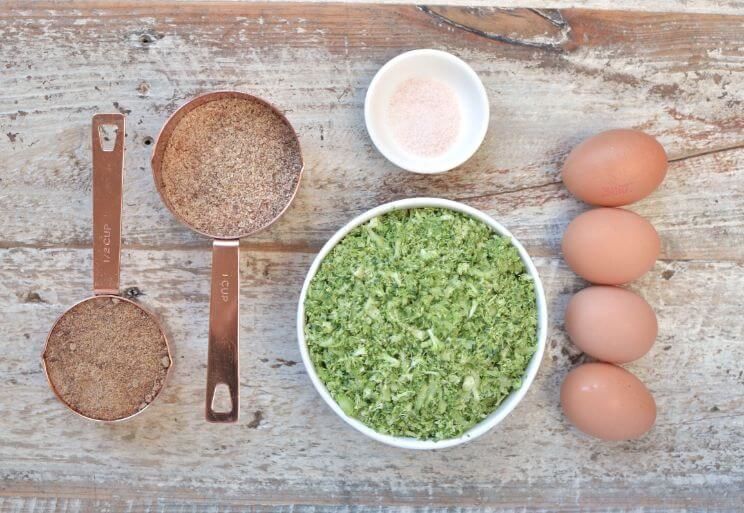 Cook Time:
30 mins
30 minutes
Prep Time:
10 mins
10 minutes
Grain-Free Broccoli Toast Recipe
This colorful "toast" is a simple, grain-free breakfast alternative that's quick to make and calls for just five ingredients!
Ingredients
2 cups raw grated broccoli

4 eggs

1/2 cup almond meal

1/2 cup ground linseed

½ t sea salt
Instructions
Preheat oven to 350°F. Line a baking tray with parchment paper.

In a medium bowl, mix all ingredients and combine well with a spoon.

Transfer mixture to the lined baking tray and evenly press it into a rectangle. Make sure the layer is about 1 centimeter thick.

Bake for 30 minutes, or until golden.

Once baked, cool completely and gently peel the parchment paper from the toast.

Slice toast into 6 pieces.

Store toast in a container in the refrigerator for up to one week. You can also make a larger batch and freeze it.
Watch the Recipe Video Below!

Pro Tip: You can swap the almond meal for any kind of seed-based meal, and make it nut-free.

(You'll Also Love: Golden Cauliflower Turmeric Flatbread Recipe)
Eat cinnamon apple-crusted doughnuts… zesty lemon scones… and even breakfast chili all while staying healthy with the Paleo diet!
Enjoy 101 delicious Paleo
Breakfast recipes that melt fat, fight inflammation, and keep
you healthy
Enjoy 101 delicious Paleo
Breakfast recipes that melt
fat, fight inflammation, and
keep you healthy