Use macadamia nuts in place of flour for crunchy, high-protein chicken nuggets that keep you coming back for more!
Crunching into these macadamia chicken nuggets will take you back to childhood. They're baked until golden brown, packed with a herby flavor, and pair easily with your favorite Paleo sauces.
Why Use Macadamia Nuts?
Macadamia nuts blend with arrowroot flour and dried herbs for a fine "breadcrumb" coating. This adds extra fiber and protein without all the processed oils of deep frying. Dip them in Paleo ketchup or honey mustard for game-day appetizers, movie night munching, or after-school snacking.
Trying to figure out exactly what to eat on Paleo? Look no further than our FREE 21 Day Paleo Meal Plan.
Grab Our FREE Paleo Meal Plan By Clicking Here!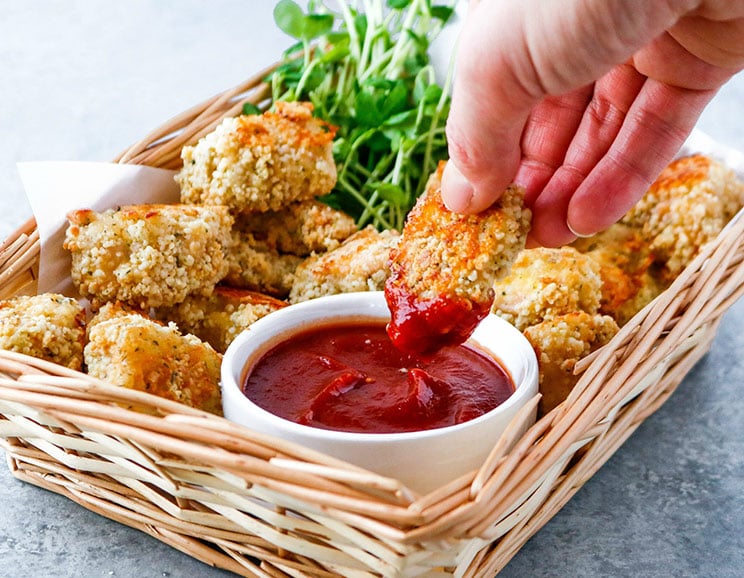 Quick Notes On Substitutions
If you're out of macadamia, you can also sub in cashews or almonds to achieve a similar texture. Just make sure to scrape the sides of the food processor with a spatula to ensure there are no large pieces left behind!
Arrowroot powder helps the coating stick to the chicken easily, while herbs like thyme, basil, onion powder, and garlic powder pack in extra flavor and aroma. As an alternative, tapioca, or cassava flour can be also used in place of arrowroot flour.
Helpful Tips To Get You Started:
Prep the "breadcrumbs" ahead of time. The macadamia coating can be prepared up to 48 hours ahead of time for less hassle. Store the mixture in an airtight jar and keep it in a cool, dry spot for easy access.
Set your prep station like an assembly line. Have the egg wash, macadamia mixture, and the baking sheet laid out in order.
Avoid over-mixing. The macadamia nuts tend to release oils that can make the mixture too sticky. Just a few minutes of processing should do the trick.
Jennafer Ashley
Macadamia-Crusted Chicken Nuggets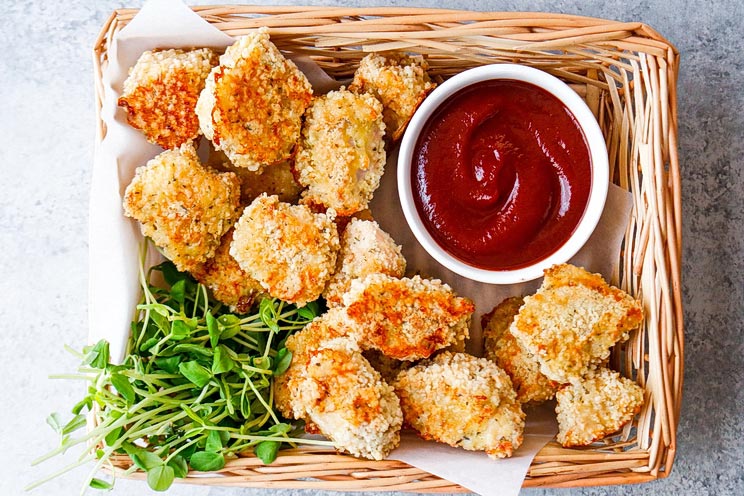 Cook Time:
30 mins
30 minutes
Prep Time:
15 mins
15 minutes
Nutrition facts:
56 grams of protein
12 grams of carbohydrates
29 grams of fat
Macadamia-Crusted Chicken Nuggets
Use macadamia nuts in place of flour for a crunchy, high-protein nugget that keeps you coming back for more.
Tools
16-by-12-inch baking sheet

Parchment paper

Food processor

2 shallow medium bowls
Ingredients
1 cup raw macadamia nuts

¼ cup arrowroot flour

½ t dried thyme

½ t dried basil

⅛ t onion powder

⅛ t garlic powder

½ t sea salt

2 lbs chicken breast, cut into 2-3 inch pieces

1 large egg, beaten
Instructions
Preheat the oven to 400ºF and line a baking sheet with parchment paper.

Combine the macadamia nuts, arrowroot flour, and all the spices in a food processor and pulse until finely crumbled, about 15 seconds.

Transfer the nut mixture to a medium shallow bowl. Pat the chicken pieces dry with a paper towel and dunk each piece in egg, shaking off the excess. Dredge the chicken in the nut mixture to coat all sides.

Place the nuggets onto the baking sheet, setting them one inch apart. Bake for 30 minutes, flipping halfway through.

Serve hot and enjoy!
Looking for Paleo ingredients? Here are a few we'd recommend:
Raw macadamia nuts (Food to Live)
Arrowroot starch (Authentic Foods)
Onion powder (365 Everyday Value)
Garlic powder (Frontier)
Coarse sea salt (AztecSeaSalt)
Enjoy more simple yet gourmet recipes in our Paleo Eats recipe book. Cook up meals like Bacon Bars, Mongolian Red Pepper Beef, Pulled Pork, and over 75 more ridiculously tasty recipes. Get the book shipped to your door for FREE – just pay for shipping!